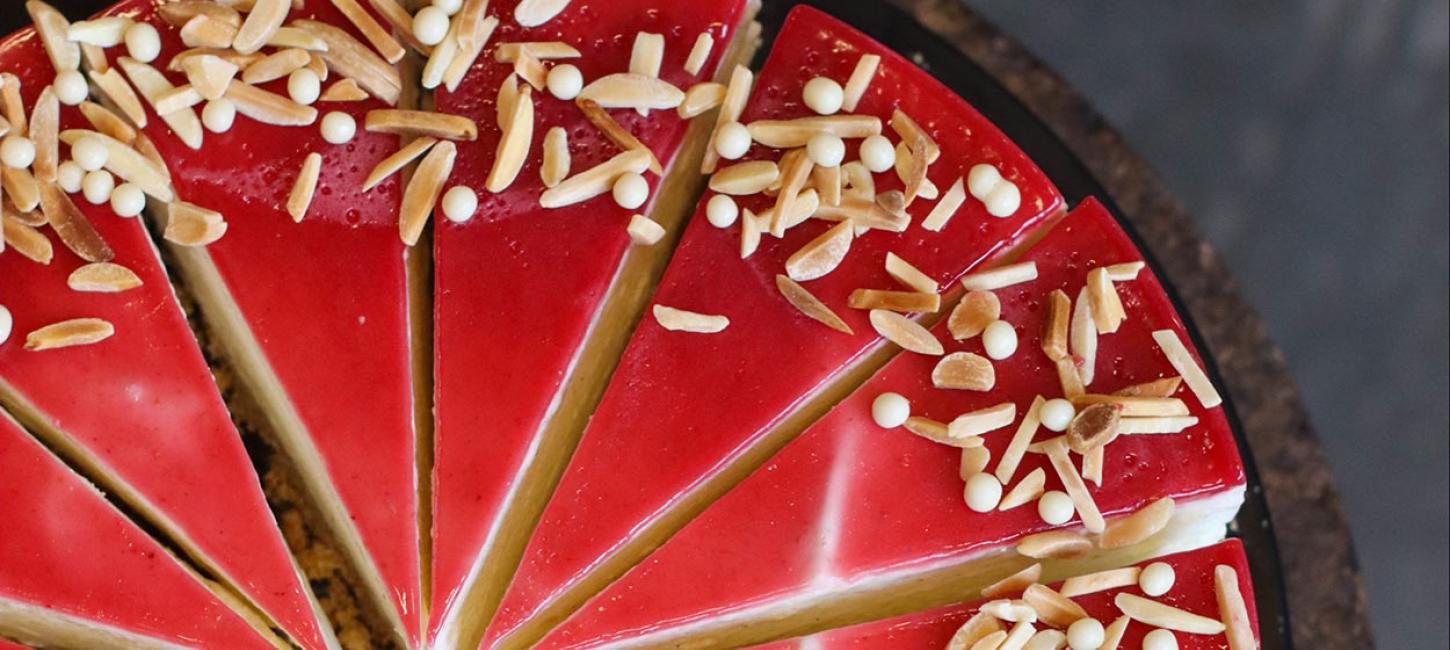 Have a Christmas Bite of Aarhus
The taste of Christmas is something very special. And where will you find the most scrumptious Christmas treats when you are hunting for the best of them all around Aarhus? Jon Edlund has the answer to that.
Jon Daniel Edlund is an Aarhus boy through and through, who won the hearts of every Danish TV viewer in 2018, when he was a contestant on The Great Danish Bake-Off and dazzled everyone with his baking skills as well as his infectious enthusiasm for food and cakes.
Meet Jon here →
Where will I get the best Christmas pancake-puffs?
You cannot say the word CHRISTMAS without also saying home-made Christmas pancake-puffs – not in my book, anyway. And luckily, several places in Aarhus agree with me on that and manage to create the most amazing puffs.
To me, the choice has to be made between the stalls in Den Gamle By – The Old Town Museum, which excel when it comes to atmosphere, and Popsicles, that sells freshly baked and home-made Christmas pancake-puffs in the Æbleskivehuset at Aarhus Street Food. Both of these lovely places live up to my requirements when it comes to great puffs – nice and warm, soft, and right out of the pan! 
And of course with a touch of cardamom. Mmmm. Not to mention the enormous importance of the toppings when it comes to ranking a pancake puff. Here, you can have the classic version served with strawberry jam and heaps of icing sugar. The only way to go!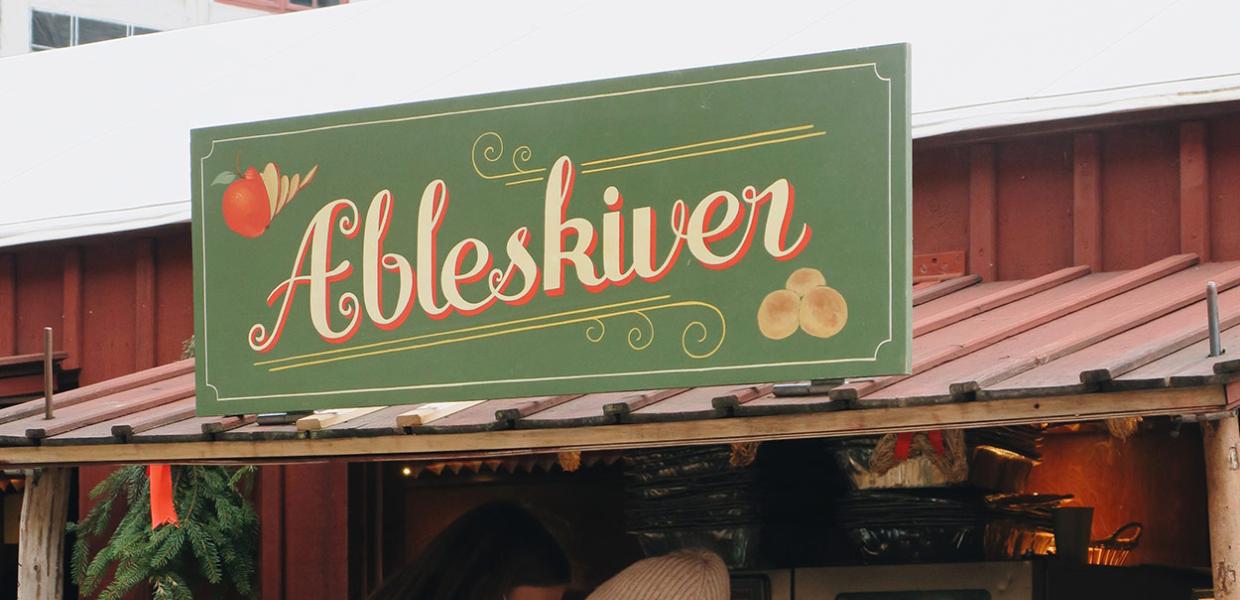 Where will I get the best Christmas bun with a cup of hot chocolate?
To me, Great Christmas cakes and biscuits are closely linked with amazing experiences. With long walks in the cold winter weather in the company of great friends and family. Where you can almost taste the loving atmosphere in every crumb. This is something that Restaurant Skovmøllen sure knows how to deliver. Here, they make the softest Christmas buns with lots of butter and the most lavish cup of hot chocolate you will ever see! Now, that's Christmas for you!
Sink your teeth into Skovmøllen's delicious buns and hot chocolate all year round.
You will find Skovmøllen in the stunning forest, Moesgaard skov, where me and my family often went for walks when I was a child, got cooled off by the fresh air before we, red nosed and all, went back into the lovely warm house for hot chocolate and lovely, soft buns (with extra butter, of course!). 
Is there some kind of untraditional Christmas cake that I simply have to try?
Cheesecake might not be what you think of first when it comes to Christmas. But it is never too late for picking up new traditions! Actually, it is a type of cake that I bake quite often and that goes very well with that special time of year and with the flavours, that we usually associate with Christmas.
If I am getting shop-made cheesecake, I stop by Aarhus Street Food for a slice of Christmas cheesecake from the cheesecake stand. It happens to be the only actual cheesecake place in town. So, they have that all to themselves. You will always find a rich selection of various flavours, and for Christmas, they even have several Christmas flavours for you to choose from. Well, they even almost measure up to the cakes that I make myself.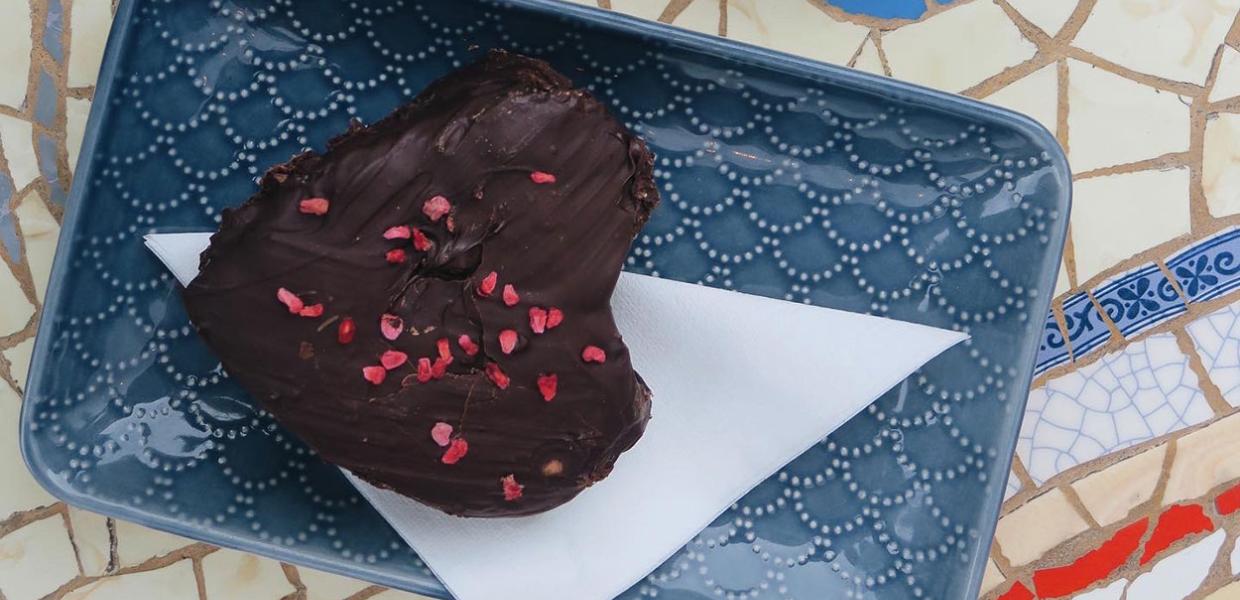 Where can I sink my teeth into the best honey biscuit heart in town?
Christmas and a traditional Danish honey biscuit heart – that is an absolute match made in heaven! This soft, heart-shaped biscuit can be the most delicious piece of cake ever, and at the same time, the kind of cake in which I find the most erratic quality across town – with regard to taste as well as texture. Unfortunately, if you end up in the wrong bakery, you just might end up with a piece of incredibly dry cake.
However, it certainly can just as well be one of the most tasteful pieces of Christmas cake you can ever imagine. And the best kind is sold at Moccacity – a small place in the very heart of Aarhus, and which oozes authenticity. Here, you get to watch as the delicious food is prepared. First-hand. As soon as you step into the shop, you will be greeted by a real confectioner baking the delicious honey biscuits. And she is making them from scratch. The smell, the sensation, and the sense of presence. Mmmmm. This is just about as good as it gets.
Where can I get the all-time classic – the best Danish deep-fried biscuit, the klejne?
The Danish klejne is my all-time favourite Christmas cake, and I just cannot get enough of them! This is a very traditional and old type of Christmas cake, that is very dear to me. It just so happens that I have been buying them the very same place since I was a child. Right at my little, local bakery, Schweizerbageriet, in Aarhus.
Because this is a place where they honour tradition.    And every year, they make them from the very same recipe – and I actually do trust that they do just that. Because WOW, they are delicious! This is the perfect combination of a soft, light cake and a crumbly biscuit, all merged into one! I simply love them, and this year, I certainly am going there again to get some. Nowhere else but there.