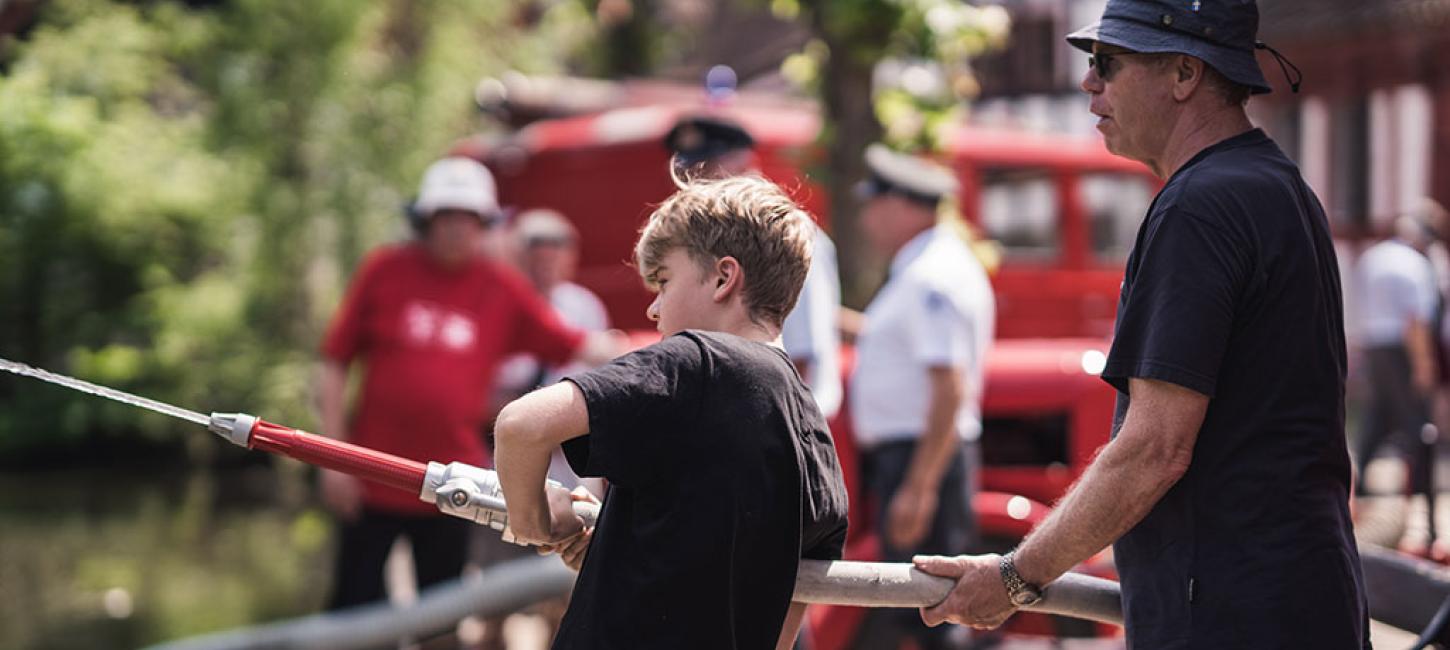 Fall in love with Aarhus as a Family
This city is perfect for you as a family to immerse yourself in fun experiences for both children and parents. Lots of playgrounds, nice food spots and known attractions to spark great conversations. Let me introduce you to Aarhus - enjoy.
Maries starttips for your day
Avoid having too jam-packed of a schedule. Aarhus is filled with surprising curiosities, and very often, the unexpected turns out to be the highlight of the day – to kids in particular. Pick one or two attractions and set aside time to stroll or laze in the park.

---

You should not let your meals be a challenge on your city break. Pack a sandwich that can be eaten in the pushchair, a juice, and preferably a bottle of water. Children always get thirsty when you are out of water, and you cannot be sure that there is a kiosk right around the corner.

---

Check your weather forecasts. If the sun is out, remember your sunscreen (not least on the hands that push the pushchair the whole day). If it is supposed to rain, the ARoS art museum is extremely popular with kids as well as adults.

---

Bring a blanket. During the day, you can use it to sit on, and at night, you can use it for wrapping the little ones.

---

Skip the lines by purchasing your tickets in advance. Keeping your children calm while you are queueing is quite a tiring task. By planning a bit ahead, you can get so much more out of your day in Aarhus. 

---
Why is Aarhus a great place for us as a family?
I find that city breaks together with children work the best when you plan your day according to their schedule – as you would at home. We like to plan our outings so that we visit at least one playground along the way. And other than that, we see what will work. Of course, you need to bring a pushchair or a pram for the youngest in the family. That way, you have somewhere to put your bags, too.
And remember to bring sensible shoes. Aarhus is not exactly a stiletto city. Unless you are up for a challenge walking down the many cobbled streets.
How do we get around the city?
In Aarhus, the city centre is quite compact in the sense that everything is close. Walking from one end to the other takes about 30 minutes, and no matter which diagonal you go, the route will be beautiful and urban. Aarhus has a well-established network of public transport that will take you directly to lots of cultural attractions.
We have bus services as well as light rail. And remember your travel card! Or you can get your ticket in the centre of the bus or at the Midttrafik's ticket app.
Are you going around Aarhus by car?
Parking is available at the multi storey car park by for instance Dokk1, at the railway station, or at the Salling and Magasin department stores. You will find paid parking at Den Gamle By – The Old Town Museum, Godsbanen, and at Filmbyen.
Consider taking a bus from your hotel when you go to see the city, as traffic into and out of Aarhus can be rather time consuming. If you are staying in the city centre, there are plenty of bus services available. Most of them stop at the railway station/Park Allé.
What should we see?
Den Gamle By – The Old Town Museum – our kids love to visit the craftsmen in the rear building and the smithy, in which my wife, Sara's uncle used to work. They love the toy museum in there and going on the horse carriage. After that, they are exhausted and want to go out "on the other side" and play.
And on the other side of Den Gamle By – The Old Town Museum you will find the Botanical Garden, complete with playgrounds, sunny spots, and shaded areas. There are benches, narrow paths, and a mill. If this is your last destination of the day, you may want to bring food, spend a couple of hours in the garden and end your day with a walk through the luxuriant surroundings in the greenhouses – admission is free. We go there several times a year – to check up on the giant water lilies and the butterflies. The Væksthusene Greenhouses even have a cafe in which you can get a light meal and a cup of coffee at reasonable prices.
If you are up for more after a visit to the park, you can cross Vesterbro Torv square and reach the charming Vestergade, which is always buzzing with a great energy, old buildings, and amazing coffee. Go ahead – get a sniff at the atmosphere around the city!
Where can we get great food for the entire family?
Den Gamle By – The Old Town Museum has several bakeries and restaurants (and an extremely popular hot dog stand!). And we usually pack an extra couple of sandwiches and bottles of water – just in case.
Have your food delivered from the family-owned Toast-it in the Botanical Garden, or walk to my favourite restaurant, Hamanns, Emma 1990. Behind the wonderful facade, you will find pink tables, home-made butterflies, flowers, and an utterly magical backyard, not to mention a menu featuring classic as well as new dishes.
What should we bring back to the hotel as an evening treat?
I highly recommend any one of Moccacity's pies or the many different kinds of cheese at Arla Unika Store; the shops are found at Gammel Munkegade and Klostergade. For the perfect night in, I would get pies as well as cheeses, have fun with a board game or a card game before I prepared a footbath after a long day of walking. The kids can freshen up after being in the sun and having fun all day by jumping in the bathtub to relax and get ready for a good night's rest.
In the Latin Quarter, you will find the RAA shop with the most lovely organic soft drinks, Pilsners, and ciders. The adults can have a taste of these once the children are asleep. Perhaps you would like to see Aarhus by night, one of Denmark's oldest cities and very first seaports. Or maybe you are up to nothing but watching Netflix and your shared guilty-pleasure series. When you have made it through a day of big-city vacationing with children, you have done good. And it is totally worth it – to young and to old.