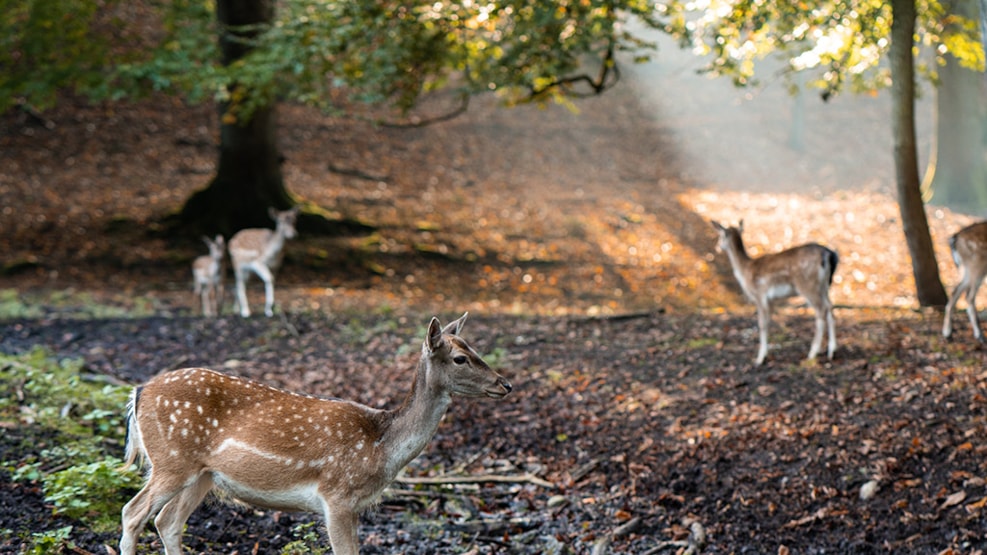 The Deer Park
South of the Aarhus city, in the Thors woods which are part of the larger Marselisborg-Moesgaard forest, lies the Deer Park. The area houses a wonderful population of sika and fallow deer which you can get really close-up to. The wild boars live in their own enclosure.
Picnicking
In the Deer Park there are plenty benches and table-and-bench sets, so feel free to bring along a picnic basket for a pleasant lunch or a snack in the wonderful surroundings.
Guidelines for public access to the park
Please show care when in the Deer Park. In the park you may go tobogganing or skiing in winter, you can feed the animals fresh apples and carrots, feed the ducks, and take photographs / film.
Show care for the animals
You are not allowed to bring dogs, cycle, jog, or go orienteering, or gather chestnuts and acorn from the ground as the deer feed on these. Leave the Deer Park the way you would like to find it and walk quietly; it will give you a much bigger experience.
Opening hours
The Deer Park is open from 8 am until sunset, and admission is free. At night the animals require peace and quiet in order to rest undisturbed.
See what others are sharing on Instagram