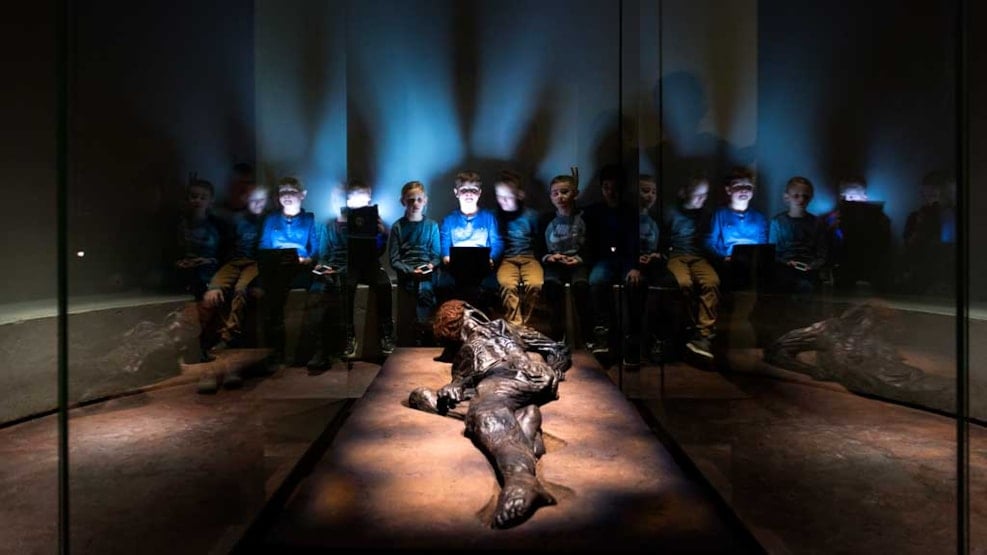 The Grauballe Man
'The Grauballe Man' has been surrounded by mystery and intrigue ever since a local team of peat diggers happened to uncover a body in the Nebelgaard Mose peat bog in the village of Grauballe, just west of Aarhus. This fortuitous find took place on 26th April, 1952.
2,000 years old
Due to the unique conditions in the peat bog, the body was exceptionally well preserved, even after being deposited in the bog for more than 2,000 years. For example, you can still see the finger nails, the toe nails and hair on the body.
The Grauballe Man was, and still is, the best-preserved peat bog body ever found in Denmark.
The Grauballe Man lived in the Iron Age
For archaeologists and historians the uncovering of the Grauballe Man has been uniquely important. By using modern technology to examine the well preserved peat bog body, an almost infinite number of details about the Iron Age have been discovered. It was during this age that the Grauballe Man lived, and died in the peat bog. Without this unique find, this knowledge may never have been acquired.
The bed of the Grauballe Man
Standing face to face with the Grauballe Man when visiting Moesgaard Museum is a very special and moving experience. In a small, dark room he has been placed, carefully and gently, in an exhibition case where he can be seen from all sides. In this room you get a quite remarkable feeling of what it must be like to be down in a peat bog.
See the entire exhibition
You can see the entire exhibition about the Grauballe Man and the times in which he lived, at Moesgaard Museum where they offer various theories as to why it was that this man ended his life in a bog south of Aarhus.
See what others are sharing on Instagram