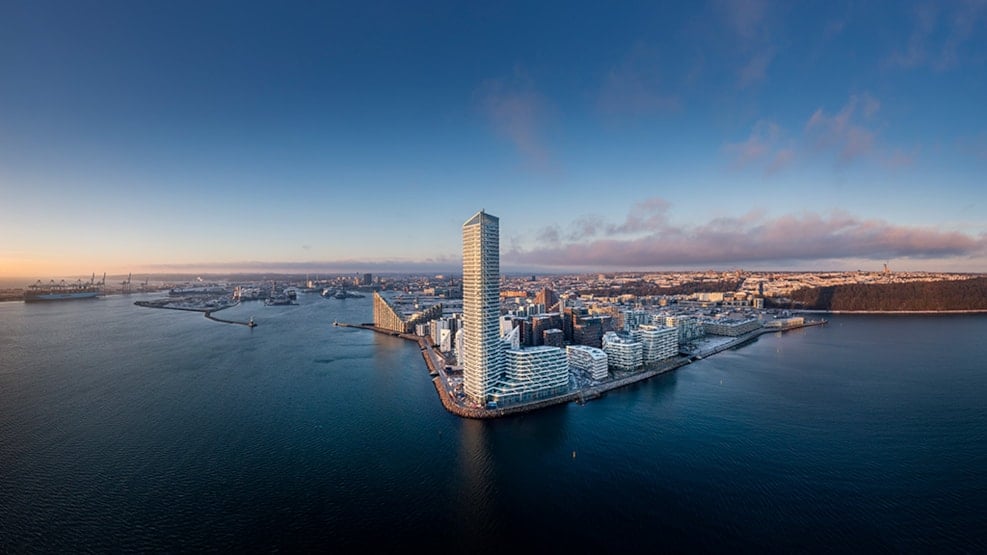 Aarhus Ø - Aarhus East
Aarhus Ø is a neighborhood located in the harbor area near the city center of Denmark's second largest city. Here, you will find unique architecture, a maritime vibe and watersport activities.
Aarhus Ø is the newest part of Aarhus
The new part of town is well under way and is now a modern and charming mosaic separated by canals. From the downtown cafés there is only a few minutes' walk to the south facing ledges in front of the educational campus, Navitas, where you can dip your toes in the cool sea water.

One of the most distinctive structures is the Iceberg by the Aarhus Ø waterfront. Lighthouse is another magnificent building at the very tip of the island. 

Don't miss the new Aarhus Ø city quarter, an area full of vibrancy and activity:
The Market Hall Nicolinehus is a food market located on a gastronomic journey. With food from all over the world, you can enjoy everything from dumplings and falafel to oysters and smørrebrød.
In July and August you can go for a swim or hang out at the new Harbor Bath, a vibrant meeting point and oasis. The Harbor Bath is designed by the famous Danish architect Bjarke Ingels Group BIG. The triangular floating complex comprises a rectangular 50-metre-long swimming pool, a circular diving pool, square children's pools and two saunas. Take a walk on the elevated plan walkway, which doubles as a viewing platform overlooking the pools and water beyond. The promenade deck is open 24 hours a day throughout the year. 
There are lots and lots of new things going on in Aarhus Ø, and it also has its very own observation tower. You can climb the tower and enjoy a panoramic view of the city and the bay of Aarhus.
Sea swimming has become the new black in Aarhus. Once you are smitten by open sea swimming it is a habit which is hard to let go of. The swimming course is for sea swimmers.

Navitas Science and Innovation is one of the many buildings which have recently emerged on the waterfront in Aarhus, close to the new Aarhus Ø city quarter. The 38,000 sq m star-shaped building, which was designed by architectural firms Kjær & Richter and Christensen og Co., is well worth a visit simply because of its architectural presence and the marvellous outdoor areas around the building have become a popular oasis on the waterfront with stepped levels, perfect for taking a break.
See what others are sharing on Instagram