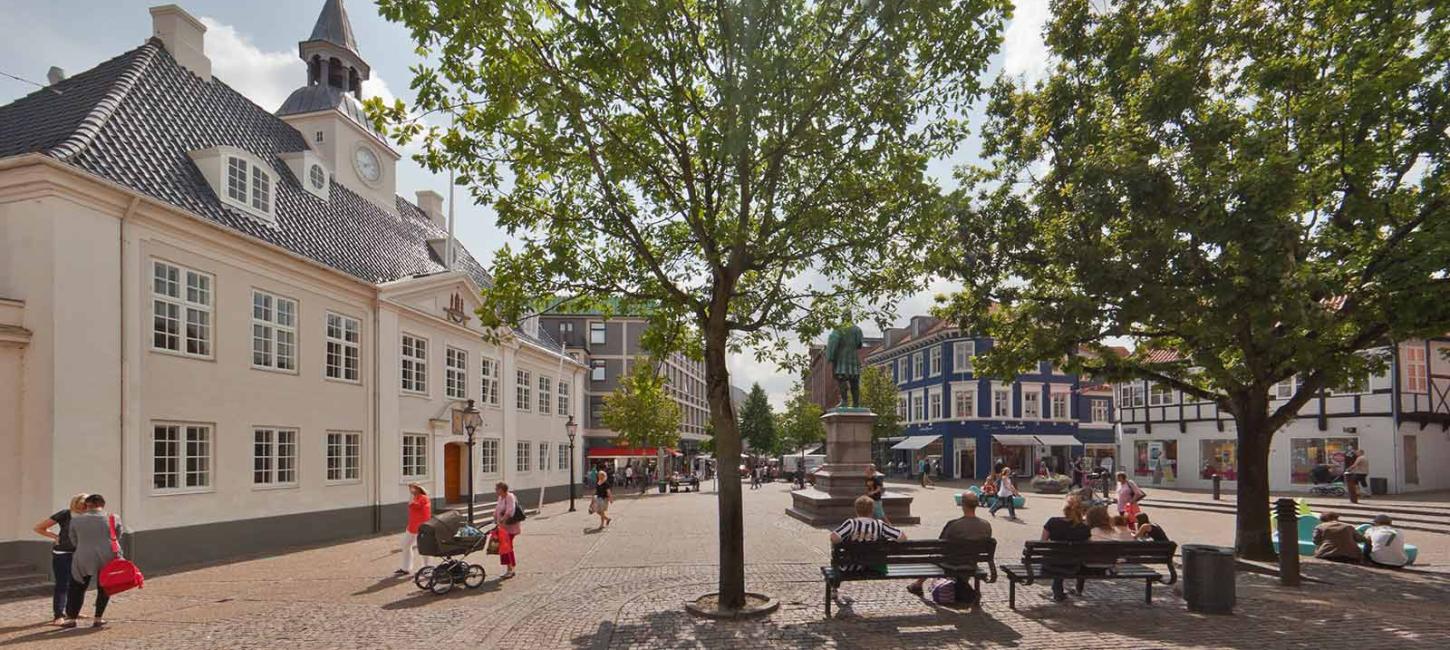 Randers - old market town in beautiful nature
You should absolutely come to Randers if you would like to combine experiencing stunning scenery with having a lovely day in one of Denmark's oldest market towns.
📝 By Kristian Kajhøj
Randers by locals
Perhaps enjoying the view from a canoe on the Gudenåen stream or strolling down the cobbled pedestrian street, Houmeden, which is in fact the oldest one of its kind in Denmark.
Kristians best tips for a great start
Kristians Guide: Let's go!
I love that Randers has town life as well as a wonderful landscape – and the fact that the two are interconnected by the blue bridge. The bridge is one of my favourites and an iconic landmark representing this town by the inlet. The view is an amazing panoramic picture of the duality of town life alongside nature that Randers is famed for.
Where will we get the most amazing outdoor experience?
Start your walk at Naturcenteret by the Gudenåen stream. I grew up in the country and simply love the fact that wonderful scenery is just a stone's throw away from the town's centre. Naturcenteret is for everyone and has a wide array of activities that will educate you on plants as well as animals. An observation post has been set up by Gudenåen from where you can take in a panoramic view of the vast meadow. Or perhaps you would like to explore the paths than run alongside Gudenåen.
Where should we go to experience the town's local atmosphere? 
In Randers, the locals will always greet and sincerely welcome you to their town. And would you like to get a sense of the creative feel that characterises the town in particular to me, I recommend a visit to Café Von Hatten in Von Hattenstræde, the oldest volunteer-run music venue in Denmark. Everyone is welcome in the cafe's backyard, and this is the kind of place where you can bring your children in diapers as well as well-behaved pets. I used to work at the bar there, and I promise you that this is one of the best venues in town for an intimate music experience!
Where should we go to experience the historical charm of a market town?
A stroll down Houmeden is an absolute must, as this is Denmark's oldest pedestrian street. I have always been a great fan of Randers' architectural diversity – I often look for this when I go on holiday in other cities.
In Houmeden as well as in the rest of the town, you will find half-timbered houses that almost pose in harmonious contrast to modern buildings, and at street level, cafes and shops will tempt you. It just will not get any more charming than this. You will pass by Helligåndshuset, in which the famous Danish writers Steen Steensen Blicher and Henrik Pontoppidan went to school. They happen to also be the main characters in an audio walk that you can embark on from Sct. Mortens Kirke church just around the corner, free of charge.
Do you have a special spot in town?
Yes, the area by Jens Otto Krags Plads square – named after the former Danish Prime Minister who is present in the shape of a bust in front of his childhood home. The public square has green as well as paved spots, and at my favourite cultural civic centre, Underværket, nearby, you will find anything from a tailor to ceramics, theatre, and musical performances. Not to mention my favourite cafe, Café Jens Otto. The decor there always makes me feel that I have arrived at a small, French village, and the food there is absolutely incredible!
If you are up for an adventure, Klatresiloen climbing park at Fladbro is the perfect place for you to experience nature from a bird's perspective while jumping from treetop to treetop. And if it rains, you can go to Klatreautomaten and have the same great experience, only indoors.
See more local recommendations
Canoeing is an incredible outdoor experience. Families with children, groups of friends, and people of all ages. Most people can go canoeing.