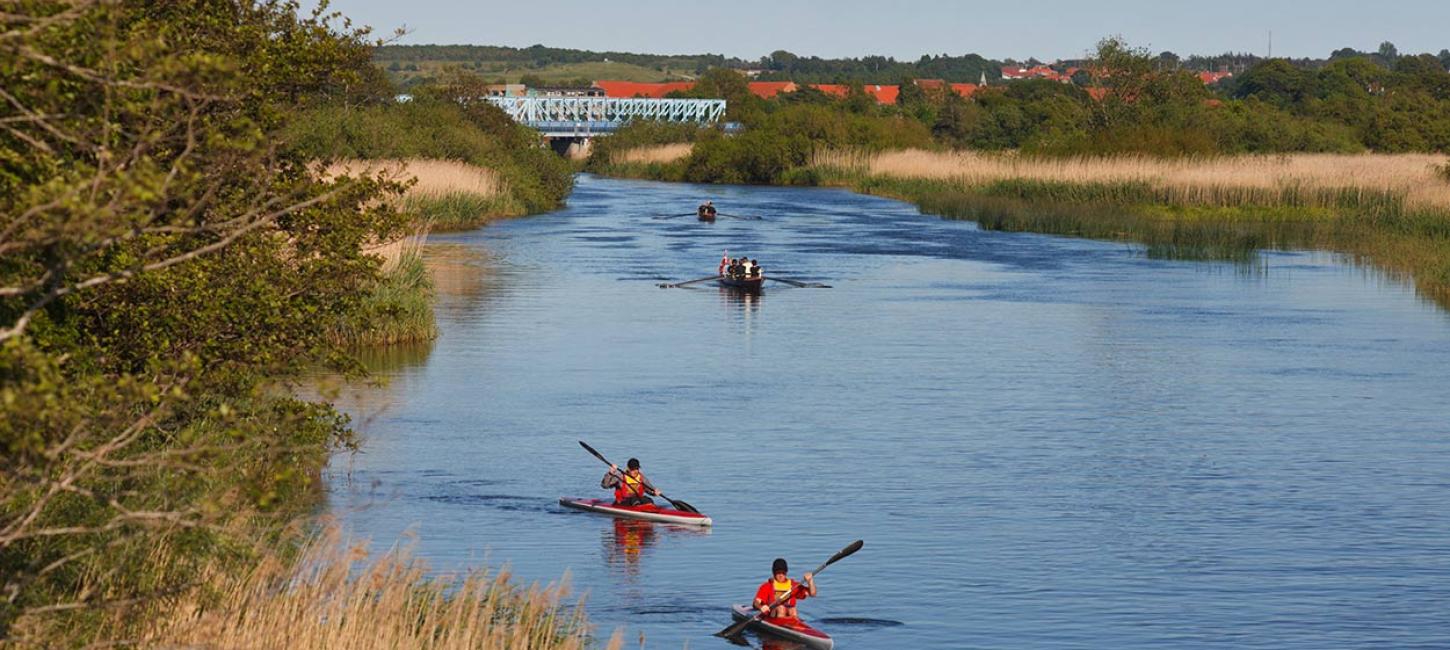 A canoe for two
The second you climb on board a canoe to sail down the Gudenåen stream, unforgettable quality time kicks in. 
? By Asser Øllgaard and Brian Rasmussen 
Randers by locals
Paddling calmly with the current while looking for birds and taking in the fascinating damselflies dancing on the surface is not only a beautiful sight, it creates an amazing atmosphere, as well.
Asser and Brians tips for your trip
The weather has an enormous impact on your outing. If rain is pouring down or a storm is blowing, you are in for quite a different experience than if the sun is shining and the birds are chirping. Follow the weather forecasts and select a day that fits your sense of adventure and your temper.

---

Bring lots of water, food, and snacks. You will not be able to stop at a petrol station for a hot dog along the way. And a Thermos filled with hot coffee or cocoa is as close as you get to a must-have. And chocolate biscuits! Never forget chocolate biscuits! And bringing a bag for collecting your waste in is a good idea – it certainly is not going into the stream!

---

Along the way, you will come past several spots where you can go ashore when nature calls. However, taking care of this before you get on board is always a great idea.

---

And do not forget your sunscreen; you will be exposed to the sun from up above as well as from the surface of the water.

---

And of course – remember your life jacket. Shocking orange is flattering on everyone!

---
Brian and Assers Guide: Let's go!
In some spots along the way, you will feel as if you are under distant skies with settings buzzing with life and wilderness. In other places, you go past fields and motorways. No matter what, observing the world from a different perspective is always interesting.
How come sailing in a canoe is the best way to see Gudenåen?
The atmosphere. There is nothing like it. And it simply just appears. However, there are plenty of options if you would like to do more than just relax and let the fingers break the surface of the water. Sailing in a canoe is a bit of a work out, as well – and requires coordination skills. And you will probably have a laugh, as well, if it is your first attempt together to make a canoe move. And preferably forward, too.
Is it easy to do even if we are new at sailing a canoe?
Absolutely! All you have to do is make it go forward – and perhaps even with a bit of direction. This can be an excellent co-operation exercise – not least for the children on board. It is easy enough for you to succeed. And challenging enough for it to be lots of fun!
Where can we rent a canoe?
You will find several canoe rental places along Gudenåen, however, Bamsebo Camping is usually a great place to book. Here, you get to choose between a wide selection of different stretches, and then the canoes, life jackets, and paddles are laid out for you and picked up again once you reach the destination. It could not be any easier!
Where should we go?
Most canoeing trips begin at Amtmand Hoppes Bro in Langå and end at Justesens Plæne in the heart of Randers, right by Randers Regnskov Tropical Zoo. It will take you about half a day, however, make sure you have plenty of time available so that you do not have to rush to get to your destination. There are train as well as bus services to Langå, and the walk to the stream from the bus stop is quite short.
Remember that this is the perfect opportunity to go several families or groups of friends together – in a canoe caravan, if you will – and the setting is perfect for the mandatory sailing songs and a lovely picnic with the front ends of the canoes parked gently in the reed.
Which wildlife will we be able to see from the canoe?
Bringing binoculars and a camera is highly recommendable if you want to catch some of the many impressions along the way. For instance, steer the canoe towards the bank and look for fish or other sorts of little creatures between all the plants in the water. Looking into their world is always fascinating.
One particular spot in the heart of Randers should be mentioned as a favourite spot – right across from Randers Regnskov Tropical Zoo and Naturcenteret, where the stream branches into a mini-delta. Here, you are quite likely to forget how close you are to civilization. Perhaps you will come across the incredibly beautiful kingfisher. And if you manage to go on a particularly lucky day, you might catch a glimpse of the otter!
Looking for more
What makes you heart skip a beat?