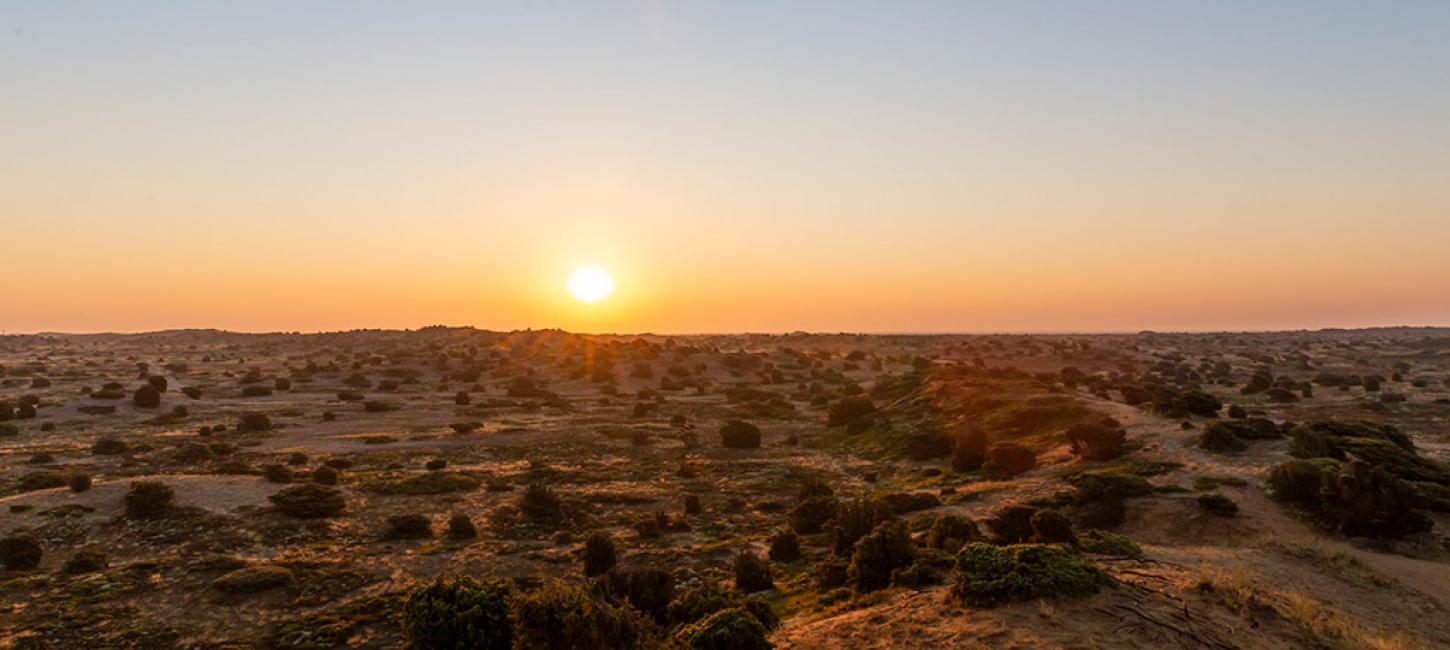 Anholt - A paradise that feels like going back in time
Anholt is a place quite out of the ordinary. The island is famed for being the most isolated place in all of Denmark, which creates a very unique atmosphere that you do not want to miss. 
? By Jakob Kjærgaard
Anholt by locals
Jakob's tips for your day
Before leaving for Anholt, make sure that you have a place to stay. This may sound a bit strange, but if you arrive at peak season without a room reservation, it is quite likely that you will have a hard time finding a place to stay.

---

Do not forget all your usual necessities; a phone charger, your contraceptive pills, and your contact lenses. None of your usual stores are at hand; when you are at Anholt, you are at Anholt ?

---

It is a myth that there are no cars on Anholt. You will see private cars as well as cars that secure the infrastructure. So remember to bring your respect for the locals as well as your traffic regulation skills when visiting Anholt! For instance, pedestrians should walk on the left side of the road, even when walking in a group.

---

Remember that we are very few residents on the island, and we are doing the best we can!

---
Why should we travel to Anholt?
At Anholt, you will find a genuine sense of serenity. Life on Anholt takes place at its own pace and in its own special way. The island has its very own unique atmosphere, and here you will meet both stray dogs, chickens, and ducks on your way through Anholt town. Even children run freely around!
With only four weekly departures outside of the summer season, we as permanent residents have to be able to get by on our own. We cannot rely on the fire department rushing over from the neighbour town, and we cannot make a quick run to the shop when we are out of milk. Therefore, Anholt has everything we need to make everyday life work: a school, grocery shops, a doctor, home care, every kind of tradesmen, etc.
How much time should we plan on spending on Anholt?
If you choose to go to Anholt – and you really should! – you have to look into the ferry's timetable and available accommodation on the island. A visit to Anholt requires that you stay for at least one night. During summer, the ferry leaves once a day, and off season, it does not leave on Wednesdays, Saturdays, and Sundays. Therefore, if you arrive on a Tuesday, you cannot return until Thursday. And do note that accommodation on the island is easier off season, and certainly during the schools' summer holiday, it can be quite challenging.
It is highly recommendable that you do not plan too short of a stay at Anholt, as the island has quite a lot of unique attractions you will want to experience. Often, a two-day trip will be too short, and a one-day trip is definitely too little, as the ferry arrives on the island in the afternoon and sails again the following morning.
Take us around Anholt – what should we experience?
The desert Ørkenen and the lighthouse. The desert is a remarkable stretch of unique land that covers nearly 80 percent of Anholt. Here, you will see untouched landscape as far as the eye can see. The desert is protected, but you are allowed to walk through it in order to reach Anholt's lighthouse at Anholt's eastern most spot.
 
The starry sky above Anholt is absolutely incredible and an unforgettable sight. There is as good as no light pollution on the island, and your eyes are not disturbed by artificial light as they typically are in larger cities. The night there is pitch-black which makes the stars shine even brighter. In fact, Anholt is currently working towards becoming DarkSky certified.
 
Anholt Museum. If you are interested in local history, you will simply love a visit to Anholt Museum. Information on practically everything that has taken place on the island can be found here, and that happens to be quite a lot. Anholt Museum offers guided tours during which you can hear about the history of Anholt and about life as it is lived there.
 
The Path of Love, Kærlighedsstien, is a path that stretches between the town of Anholt and the harbour. It winds its way along the edge of Nordbjerg, from where you will have an amazing view of the desert. When the time is right during the year, you can find chanterelles and penny buns along the path while enjoying the serenity and the unequalled scenery.
 
The beaches. If you think that you have to travel south to find all the great beaches, think again. They are right here. On Anholt, there is actually just one beach, but it happens to encircle the entire island. The beach has cleverly been divided into the harbour beach, the camping beach, the North beach, the West beach, and the South beach. Every one of these are incredible beaches to go swimming at. Some are more child-friendly than others, and if you are visiting with very young children, the harbour beach, Havnestranden, and the camping beach, Campingstranden, will be your best picks, as the water does not get deep so quickly. The much-coveted blue flag, that is a sign of clean water, safe swimming, great beach facilities, and environmental awareness, flies above the beaches of Anholt, and certainly not without reason.
 
Harbour life. Anholt harbour is the place where the locals and visitors to the island hang out all summer long. Here, you can buy fish and langoustine fresh off the fishing boats, if you do not mind getting out of bed rather early. The boats come in around 7 a.m. and from there on, it is first come, first served. When you go to buy fish, you should be sure to bring cash, as this works best with the local fishermen.

You can also come to the harbour for a bite to eat or to quench your thirst. Here, you will find everything from light snacks to large steaks, locally brewed beer, and Anholt Gin. Restaurants and cosy pubs are found side by side at the harbour, and the buzz is fantastic. In fact, during summer, something goes on there round the clock. As the last guests from the night before are leaving to go home, the harbour is filling up with dog walkers, joggers, fishermen, and people bringing home paper bags of delicious breakfast delicacies.
Please note! Open Fire in nature is strictly prohibited due to fire risk❗
On Anholt, the landscape is extremely dry, and therefore the fire risk is extremely high. Anholt is covered by heath, moss, and lichen. Woodlands and moorlands are rooted in sand, and when it rains, the water does not connect with the soil as it does on the mainland, but it trickles right through the sand.
Therefore, even when it has been raining recently, everything is very dry on Anholt. And to make matters worse, the island is recorded to be the most sunny place in all of Denmark, which does not reduce the fire risk.
Open fire in nature is strictly prohibited.
You must refrain from smoking in the forest or in the desert, just as there is a ban on using a disposable grill, lighting a campfire, and anything similar to that. Anholt Fire Department is quite small, and since help from the mainland is at least three hours away, it will be too late by then!
These will sweep you of your feet
Looking for more
What makes you heart skip a beat?