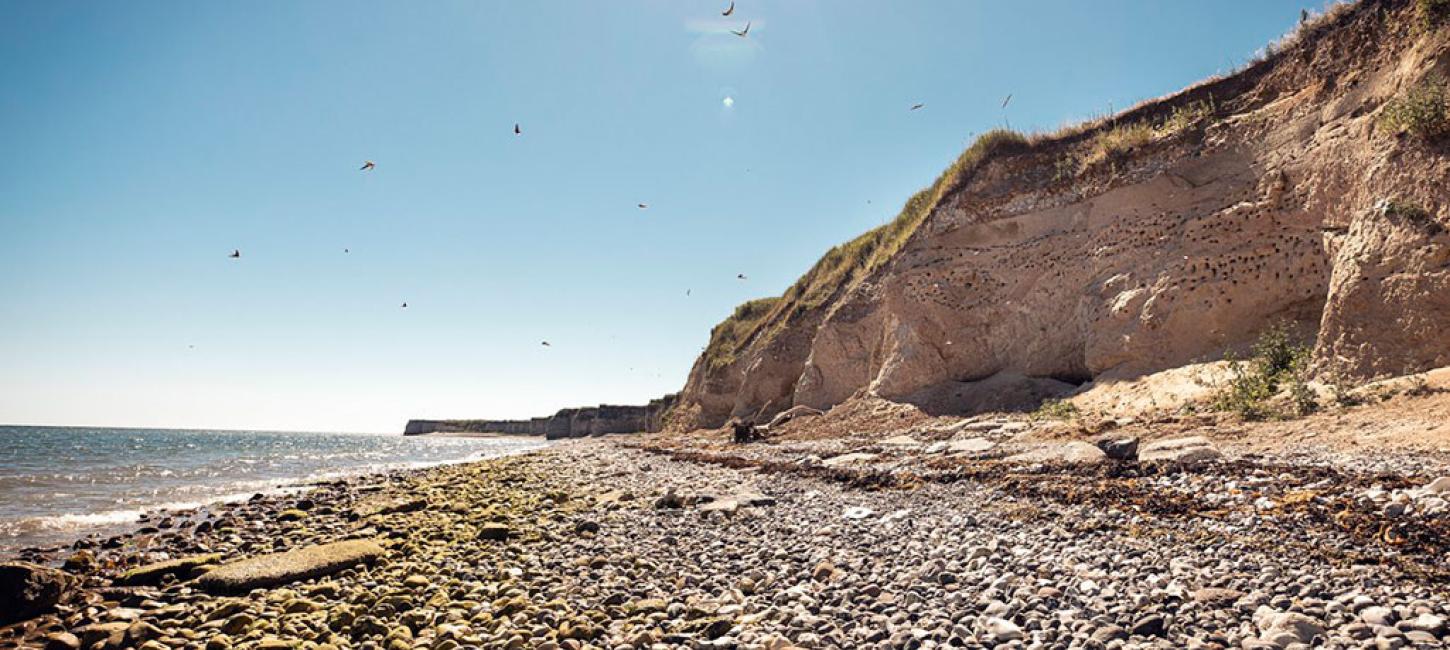 Magnificent beaches that will charm you
Love a great beach? Look no further! Pack your picnic and your bath towel – and whatever you do, don't forget a shovel and a bucket for the kids to build the biggest sandcastle on the beaches of Djursland. Enjoy!
📝 By Kim Rath Kofoed
Djursland by locals
As a biologist, I may not be wearing my goggles, but at least my professional glasses when I visit the coast of this region. I cannot help it. And most places, you are in for much more than just a nice, refreshing swim among the waves.
Kims tips: Make your very own sea buckthorn schnapps
You need to do a bit of work before you can wash down your first sea buckthorn schnapps. And first, you have to locate the fruit, which I recommend that you do at Glatved Strand. The fruit of the sea buckthorn is gathered in the autumn when the fruit has turned a bright yellow or reddish orange.

---

Picking sea buckthorn tends to be rather arduous work, as not only are they quite firmly attached to the bush, but they also squish quite easily – especially when they are ripe. And prepare to get pricked quite a few times while gathering the berries.

---

A smart and practical way to reap the fruit is to cut off a few branches with lots of berries, put them in the freezer, and easily pick off the frozen berries later on. It does not take a lot of berries to make a light and slightly golden schnapps.

---

Keep the schnapps in your freezer – then it is ice cold, whenever you want a glass. Sea buckthorn schnapps can and should be enjoyed at all times of the day, and it is particularly delicious with fish and shellfish.

---
Where should we go for a swim – and to fish?
Go to Bønnerup in the northern part of Djursland and park your car at the harbour. From here, you have a long list of options when it comes to cultural, outdoor activities! If you bring your fishing rod, you will find great fishing spots along the outer jetties. All year round, your chances are good for catching a flatfish there. At first glance, the shallow water may seem barren, but I assure you that as soon as you put in your shrimp push-net or crab-fishing rod, a world of life will appear before your eyes.
You do not even need to bring your own bait, as you can get it around town. However, if you are up for digging for them yourself, the shallow water around the harbour is practically calling you.
If you bring company that prefer getting sand between their toes to getting a fish on the hook, the harbour is flanked by spectacular beaches with shallow water that allows you to go out quite far before the water reaches your belly button.
Where should we go for a swim – and to build sandcastles?
You are allowed to boast when you have something that is out of the ordinary. And Gjerrild Nordstrand is an amazing beach. End of story. This is an extremely child-friendly beach with shallow water and the finest, soft sand, probably Djursland's version of a Mediterranean beach – except that here, you do not have to make hotel reservations to be allowed onto the beach. Fortunately, as every Danish beach, Gjerrild Nordstrand is public property and free to use for everyone.
Pack your picnic and your bath towel – and whatever you do, do not forget a shovel and a bucket for the kids so that they are properly equipped to release their inner engineer when they are building the biggest sandcastle on the beach.
Just a tip: A nice sandcastle only takes three things: sand, water – and a great imagination! Sand is great building material, but it requires just the right amount of moist in order to be able to hold itself together. If it is too dry, it cannot stick together and is therefore impossible to work with. And at the same time, if it is too wet, it will be too heavy or sludgy and will soon slide down and collapse. Experimenting with trying to find just the right sand texture is very educational for children. And when they have managed that, only the sky is the limit.
Where should we go for a swim – and to gather fossils?
Just like Sangstrup Klint, the limestone cliffs at Karlby Klint is a fantastic place to visit if you would like to see the raw power of nature unfold before your eyes. You can walk almost 'dry-shod' at the beach at the base of the cliffs, but slowly, the water surrounding the cliffs licks away more and more of the spectacular cliffs.
Wear practical shoes when you visit the beach – the ground is very rough. The beach is covered in stones which makes it the perfect place to skip stones – who can make their stone skip the most times? Pick three stones each!
I grew up in Voldby, a small town near Karlby. I know that for a fact, because in gym-class at school, we held 800 m races between the two towns. I remember finding my very first fossilized sea urchin at this beach, and it was probably not too much of a miracle, as the area overflows with various kinds of fossils. This is a perfect excursion spot when you want to go outdoor treasure-hunting. A fossil is the preserved remains of organisms that lived here on Earth several million years ago.
Where should we go for a swim – and to forage?
Glatved Strand is a beautiful beach area and the perfect excursion spot for nature lovers who like to dive, sunbathe, or hike. It is not the most child-friendly of beaches, as the water gets quite deep rather suddenly. However, for those who like to fish with a rod or even go underwater hunting with a harpoon, it is a lovely spot. Along with a limy soil, the fact that the area along the beach is heavily exposed to the sun and to salt makes the area the natural habitat to several rare plants and animals.
Furthermore, Glatved Strand is famous for its large amounts of sea buckthorn – and I highly recommend that you make an amazing schnapps from the fruit! Sea buckthorn blooms in March-April, the fruits develop during the summer months, they ripen in the late summer, and in the autumn, they have turned a bright yellow or reddish orange colour. The natural habitat of sea buckthorn is in barren, limy soil near coastlines where most other plant species would not be able to grow.
The berries are good for you and rich in vitamin C, in particular. And once you have begun picking, besides the fruits for your schnapps, you might as well take home a handful to use in a wide variety of dishes in which the fruits can replace lemon or other citrus fruits.
See more local recommendations
"Most people can go canoeing. Your excitement about going is the most important thing along with choosing a stretch that matches your skills and level of experience."
Looking for more
What makes you heart skip a beat?