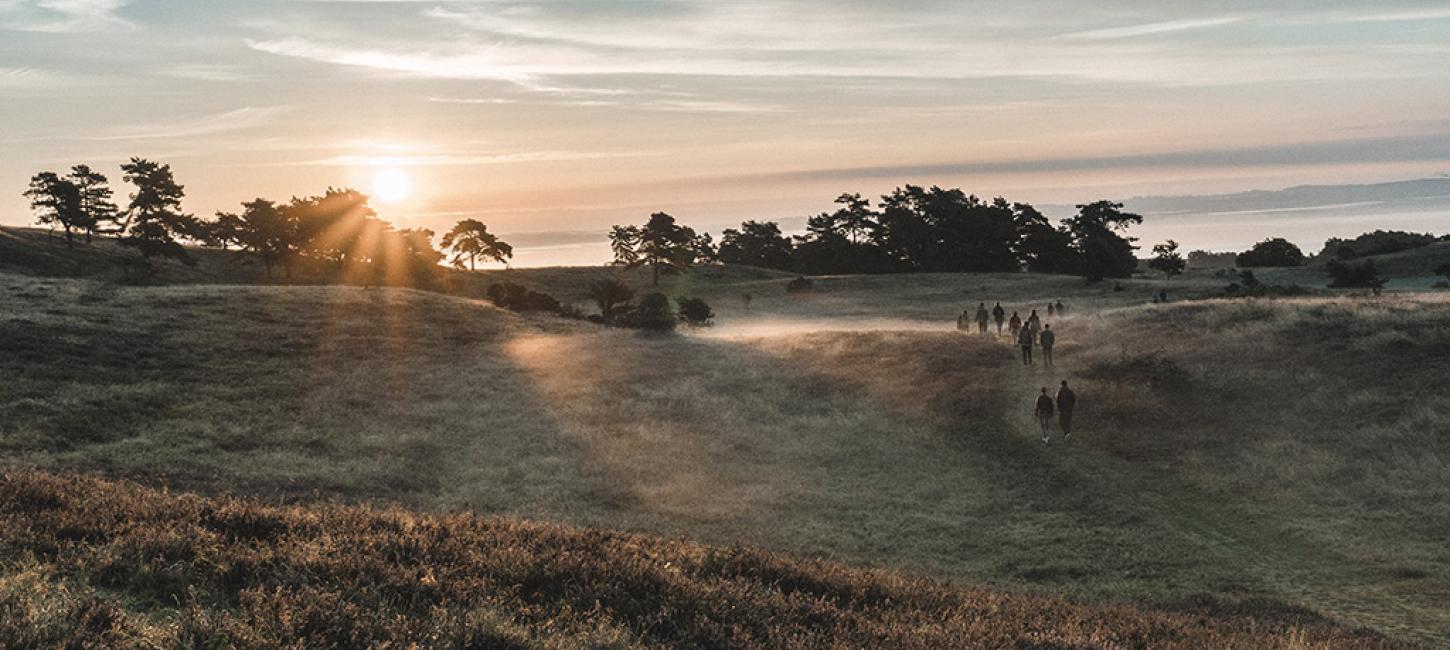 Mols Bjerge – a hike that will make your heart skip a beat
Photo:
Nationalpark Mols Bjerge
Eastern Jutland's wilderness – this is how I like to describe Mols Bjerge National Park. One of the most beautiful, unique, and wild places in all of Eastern Jutland. You will love this one, I am sure.
📝 By Line Wagener
Djursland by locals
You get to experience vast landscapes, a plethora of rare animal species, an abundance of plant species, and breathtakingly beautiful, rolling Ice Age terrain.
Lines tips for the hike around Mols Bjerge
Bring full water bottles as well as food/snacks – you will be far from any shops.

---

Leave any glittery sandals and shoes you use at the office at home and put on your hiking shoes or boots. The trails around Mols Bjerge are wonderfully natural: bumpy, steep, and quite possibly muddy.

---

Get on bus line no. 123 if you do not have your own car. The bus goes between Aarhus and Ebeltoft and it stops in several places along Mols Bjerge Stien, by the ruined castle of Kalø Slotsruin and Femmøller, to name a few. Find your trip on

Rejseplanen.dk.

---

Prepare from your couch: When you spend 10 minutes reading about a few of the sights or the particular animal and plant species found in the area, your experience will be ten times as interesting. You can bring a smile to the faces of your hiking buddies and you will have lots to talk about, when you share anecdotes, facts, and stories along the way.

---
Can everyone go hiking there – young, old, experienced as well as new hikers?
Most trails around Mols Bjerge National Park are hilly, bumpy, and narrow. Visitors with a walking disability as well as families with prams should stick to the handicap-friendly trails and to the area's gravel and forest roads. To everyone else, who would like to get away from the pavements and asphalt of the city, Mols Bjerge is a challenging hiking-heaven.
Why is Mols Bjerge the perfect place to go hiking?
The way I see it, hiking does not get any better than in areas, where there is a diversity in the flora and the landscape; where the routes are well-marked, where you are away from the hustle and the bustle of civilization, but still come across exciting culture-historical landmarks.
Mols Bjerge gets a full ten out of ten on all of these parameters. It is no coincidence that Mols Bjerge are featured in The Danish Nature Canon, that the area has been declared a national park, and that a big part of the area is preserved land.
Which route should we choose if we go as a family?
When hiking with children, it always adds to the fun when you put in little tasks along the way. It could be to climb a mountain top, explore a dolmen, or reach a certain shelter campsite for a break and a snack. Very few children see the fun in 'just walking'. These four, short routes all have little highlights along the way: Toggerbostien (5 km), Den Italienske Sti (3.5 km), Helligkildestien (5 km), and Ørnbjerg Mølle (1.6 km).
Which route is best if I am by myself or we are two experienced hikers?
If you are an experienced hiker and are in good shape, you should treat yourself to the full hike along Mols Bjerge Stien, the 21 km Mountain Route. You will be rewarded along the way with stunning views, jungle-like scenery here and there, and culture-historical traces from ancient times. The route primarily runs along narrow herd paths and you will find yourself far from any traffic noise and any sort of fun-fair entertainment.
Mols Bjerge Stien is a trail that has been internationally certified as a top-quality hiking route (one of only two in all of Denmark). This hike should be your plan for the day, and you will want to get off to an early start. This way, you are in for a world-class hiking experience. My personal favourite spots along the route are the stretches around Toggerbo and Trehøje, Den Italienske Sti – the italian trail, as well as the climb of Agri Bavnehøj.
How do we best take good care of the landscape around Mols Bjerge while we experience it, too?
Leave nothing behind, except your footprints. This is an easy rule to live by, and even the youngest hikers can learn it. In Mols Bjerge National Park, you will see wild horses, large cattle, and sheep, and walking past the animals can be a great experience. They keep down unwanted plants and help other rare plant and animal species to be able to live around the area. In other words, the grazing animals are 'working' so that we humans can continue to experience the Ice Age landscape and the wide variety of unique species. Enjoy the sight of the big animals – and keep your distance, they are not pets.
These will sweep you of your feet
See more local recommendations
The Best Local Outdoor Tipps
"As a biologist, I may not be wearing my goggles, but at least my professional glasses when I visit the coast of this region. I cannot help it. And most places, you are in for much more than just a nice, refreshing swim among the waves."
Looking for more
What makes you heart skip a beat?