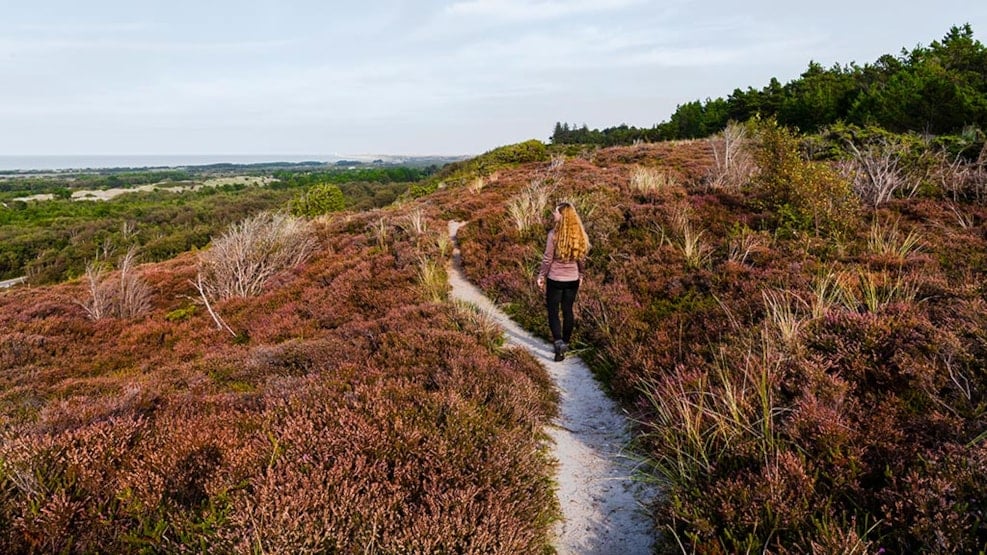 The desert Ørkenen at Anholt
On the small island of Anholt is Northern Europe's largest low-lying heath, Ørkenen (the desert). Put on your walking shoes and explore Ørkenen's impressive expanses, weather-beaten nature, and rare plants.
The desert Ørkenen Anholt
The landscape of Ørkenen consists of dunes, beach ridges, and low plant growth. Most of the terrain is covered by grey hair grass, crowberry, heather, and creeping willow. You can find wild orchids, ferns and juniper bushes on the island. The heath landscape may seem flat, but some hills rise up to a height of 25 metres.
Anholt is an island that experiences low rainfall and where the vegetation grows slowly. Therefore, you can still find old wheel marks that have not yet been covered by wild plants, even though today the area is a conservation area. Up to 500 different types of plants grow on Anholt. 
Ørkenen is best experienced on foot. At the observation house, Sælspotten, you can find a good pair of binoculars and observe the seals close up. To get to Anholt, you need to either sail to the island yourself or take the ferry from Grenaa.
See what others are sharing on Instagram