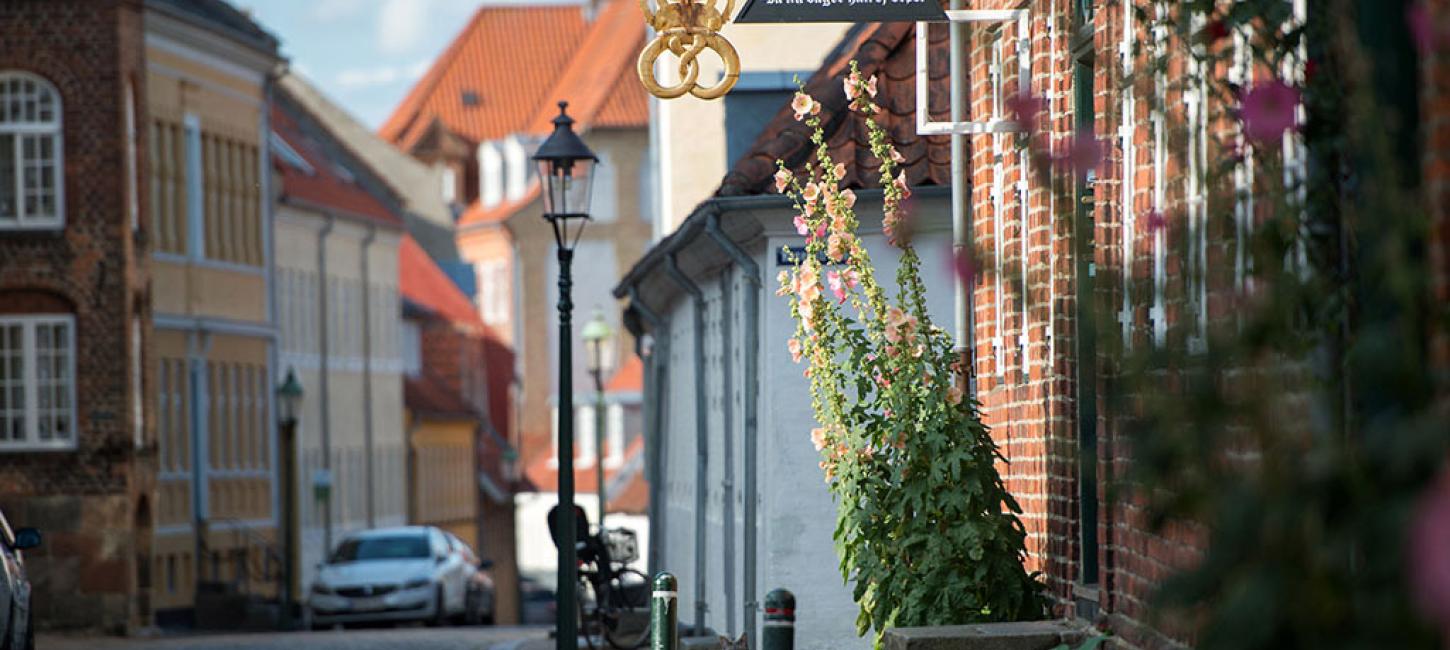 A charming historical walk through Viborg – with a modern twist
Are you into history? If so, Viborg is sure to absolutely blow you away. Let me introduce you to my exciting and charming home for the past 20 years.
Rikke's tips for your day
Be sure to have enough time to explore the many details you will see along the way.

---

The weather may be unpredictable – dress accordingly. A rainy day can be just as magic as a sunny day.

---

Viborg caters to all generations. The heart of town has lots of activities for you as a family, and you can also find plenty of great options if you wish to go into separate groups, some looking for an active day of fun and some looking for a day of immersion in Viborg's many interesting facets.

---

Ask a local. The people of Viborg are very proud of their town – when it comes to history and culture as well as sport.

---

Get ready to meet a town where you cannot help but fall in love with the atmosphere there.

---
1. Why should we make plans to visit Viborg?
You really should because you will get to experience a very special atmosphere much like the one you will find in the small villages around Southern Germany. Are you into history? If so, Viborg is sure to absolutely blow you away.
Immediately, you will feel the charming atmosphere around the town's lovely square lined with nice cafes serving great coffee and cool draught beer – make a stop there and take it all in. Move on to the open spaces around the town's two beautiful lakes. The old cathedral and museums are well worth a visit, just as you are sure to enjoy a family-friendly city walk focusing on the town's exciting history. If you are looking to have an active day, jump on a mountain bike and ride along one of the highly popular mountain bike trails outside of town.
So, to sum up all the good reasons: In and around Viborg, you will find a serene atmosphere, cultural activities, lovely scenery, great shopping and gastronomy, all within an easy accessible area.
2. How much time should we set aside for a historical city walk?
In Viborg, you can get a lot done in a short amount of time – you can get through almost a thousand years of Danish national history in just an hour.
Expect to spend about half a day in the centre of town if you want to really dive into the area and its historical background. You can even combine the experience with a 13 km bike ride to Hjarbæk harbour, which historically was considered to be Viborg's official harbour. Himmerlandsstien is a picturesque bike trail that will take you through stunning scenery. Or, you can ride south along Hærvejen to Hald Hovedgård – an area with 800 years of dramatic national history of power held by noblemen, bishops, lords, and squires.
3. Where should we begin our historical walk?
You should begin at a place that you do may not expect – namely, at the eastern end of Sortebrødre Kirke church. The view from there will give you an idea why Viborg originally got that particular name. Before Viborg even became a town about a thousand years ago, the area was known as 'Wibergis', which means 'the holy place on the mountain'. Overlooking the spectacular Søndersø from the church, you will get a clear sense of the old plateau the town was founded on.
4. Where should we go?
Stroll along one of the town's oldest streets found around Sct. Mogens Gade. If you pass an open door leading into one of the courtyards, pop in and find out how some houses have been constructed from old ashlar from one of the 15 medieval parish churches that were once found around town.
A visit to Nytorv square on a summer Saturday is an absolute must. Here, you will find handicraft products, locally produced food, bread, beer and wine from the lovely stalls. Sit down at one of the great local restaurants and enjoy a delicious lunch. In the wintertime, a visit to the market can be replaced by a stroll through the charming streets of Viborg, where you will find known chain shops as well as shops with a wide range of exclusive products.
Walk through Borgvold park and jump aboard the lovely vessel, Margrethe I. Kick back and enjoy the view as you pass SøNæs water park – a visionary climate project near Søndersø, where water treatment, climate proofing, and recreative facilities intertwine. From seaward side, it is easy to imagine how Viborg has been a gathering point for powerful and highly esteemed people through a thousand years.
5. Where should we end our walk?
Round off your day in front of Hjultorvet, which is a modern as well as a historical square. Is it time for dinner, Café Morville is a great choice. The place oozes with a French cafe atmosphere, and if you sit at one of the tables outside, you even get to enjoy the rays of the evening sun.