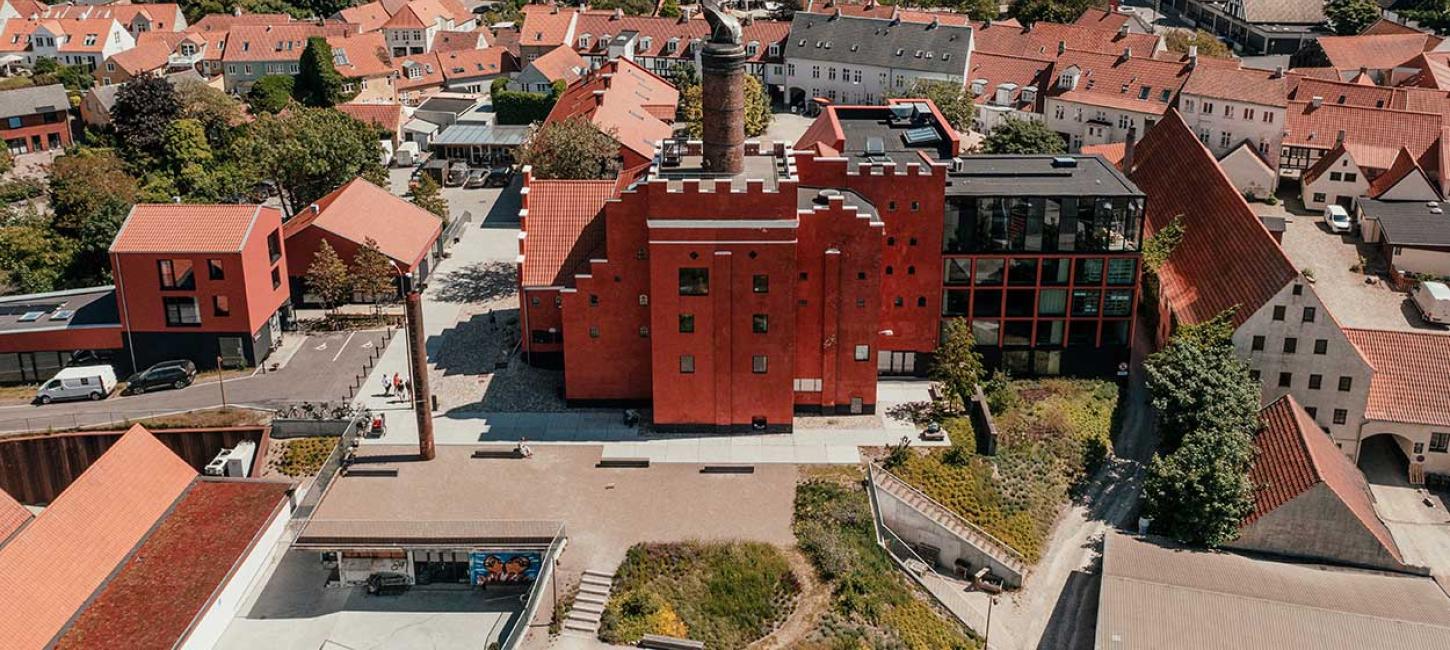 What makes Ebeltoft a great holiday destination for families with children?
Ebeltoft is a town filled with heart and soul, a rich selection of lovely experiences for visitors of all ages and situated in the midst of diverse scenery. Enjoy Ebeltoft together with the local guide Irene Olsen.
This guide will take you on a tour through Ebeltoft in Djursland.
Irenes best tips for a great start
What to wear: If it is a cold day, you should bring warm clothes and shoes – and perhaps even a pair of wellingtons for your visit to Ahl. If you are visiting on a sunny summer's day, your sunscreen should be within reach.

---

Parking: Park your car right across the street from Maltfabrikken – by Langhoff & Juul – and walk through the unique, flat front garden leading up to Maltfabrikken.

---

Playground: One of the area's best playgrounds is found at Horisonten. You will see it when you walk on the path past Fregatten Jylland in the direction towards the harbour. Summer is the best time for a visit there, as it is quite windy, but with the right clothes, anything is possible. During summer, a bar is set up at the funny building at the area with room for community singing and picnics.

---

Beach: An incredibly long and child-friendly beach lines the bay, and along the road leading into Ebeltoft, you will find parking for when you want to go to the beach. During summer months, an equipment box is available there with fishing nets, buckets with magnifying lids, and all sorts of other practical gear.

---

Ice cream: There are numerous places to go for a delicious ice cream: At Vaffelbageriet in Gågaden with their homemade waffles, coffee etc., at Paradis at Rådhustorvet, or at the little, old-fashioned ice-cream shop at the harbour, right across from Fiskebutikken, the restaurants, and the cafe.

---
You will be met by a unique atmosphere in every corner of town. Strolling along the cobblestone streets, at the charming harbour, at the serene beaches, or in the magnificent landscape around Mols Bjerge.
I recommend a tour of the town with a children's twist where you can have the experience of seeing it through their eyes. You will experience the town as well as various parts of nature surrounding it – and all within walking distance. The route will take you app. three hours – unless, of course, you get tempted to linger at certain spots along the way. 
Where should we begin when visiting Ebeltoft?
Begin your visit at the Maltfabrikken cultural centre – yours, mine, and ours. A colossal, red lady towering over the beautiful bay. The former malt plant has been carefully renovated, and today, it houses a library, a museum, as well as an archive. It has artists' residences, workshops, a restaurant, a brewery, a cultural venue, pop-up shops, and a wide variety of events.
Before entering to explore the building, perhaps you would like to get a cup of coffee to go for the adults and delicious cardamom rolls for everyone at Lundbergs Spisehus right there in the courtyard. Bring your fresh supplies into the "chimney" at Maltfabrikken and install yourself at the bench.
And how about counting every step on your way up? Silently, of course – do not reveal your result until you are all the way up. So, how many were there? Children and adults never agree, and often times the adults do not either.
From the top of the chimney, the view of the bay is magnificent with a beautiful beach, kayaks, and little boats – you can practically see the entire world. Right in front of you, you have Fregatten Jylland – the world's largest wooden ship. Towards the right, you can see the hills of Mols Bjerge, where you must visit, as well – some other day, though. Towards the left, you will see the beach area around Ahl and the entry to Ebeltoft, while straight ahead in the horizon, you will see Helgenæs and Dragsmur.
Which children's activities are on at Maltfabrikken?
The possibilities are endless at Maltfabrikken. While descending from the chimney, you can watch some of the little films that are on in the conservatory, showing the Ebeltoft of today and as it once looked. Have a look into the round room dating back to when the place was a malt plant.
Do not forget to stop by Malthasar when you visit with children; this is the lending machine at the children's library, made by the malt caretakers from old bits and bobs from the former plant. Furthermore, there are lots of little mice – hidden, forgotten, or simply right in front of you. See if you can locate them all. The kind volunteers at the entrance will hand out a mouse card that you can use for your mouse hunt.
On your way out, you will pass the playground built in wood through and through. Depending on your time schedule, you have to consider whether you have time to stop here – there is so much to try.
Where should we go to have both shopping and a great atmosphere?
Leaving Maltfabrikken, you step right into the narrow and charming cobblestone streets. Here, you can take in the lovely atmosphere of the town, stroll past the shops offering handicraft items, silk dresses, ceramics, glass, Mols candy, and the list goes on. Pop into some of the galleries, into the Tinghuset museum or the old town hall where several couples get married every weekend. You will find lots of little fun and quirky restaurants and cafes. You will probably also notice a place with "unusual cream puffs", but do not go in – we will get back to that place a bit later on.
Where should we go to find outdoor activities for children?
From the top of Maltfabrikken, you looked as far as to Ahl beach. The walk there is quite long, but if you take your car there, you can walk around the area. You will be met by a stretch of preserved salt meadow with little lakes in which birds breed in peaceful surroundings. This natural area is quite different from the rest of the landscape around Ebeltoft.
Keep right and walk along the water on the beach, where you can jump from sand hill to sand hill. You will reach a clearing with tall trees, grassy mounds, and cannons. This is the perfect spot for having fun! Find long sticks to use as your weapons when defending Ebeltoft from the large ships with the vast sails that enter the bay. You may even have to fire the cannons. And while you are at it, you might want to plan a visit to Fregatten Jylland where you can try one of the hammocks that were used back in the day.
Where should we end our day?
The perfect end to your day is at Usædvanlige Flødeboller – unusual cream puffs, where you can have a lovely cup of coffee and an incredible, homemade cream puff with a rich layer of chocolate. Relax and enjoy the thought of how blessed you are.
See more local recommendations
Pack your picnic and your bath towel – and whatever you do, do not forget a shovel and a bucket for the kids so that they are properly equipped to release their inner engineer when they are building the biggest sandcastle on the beach.