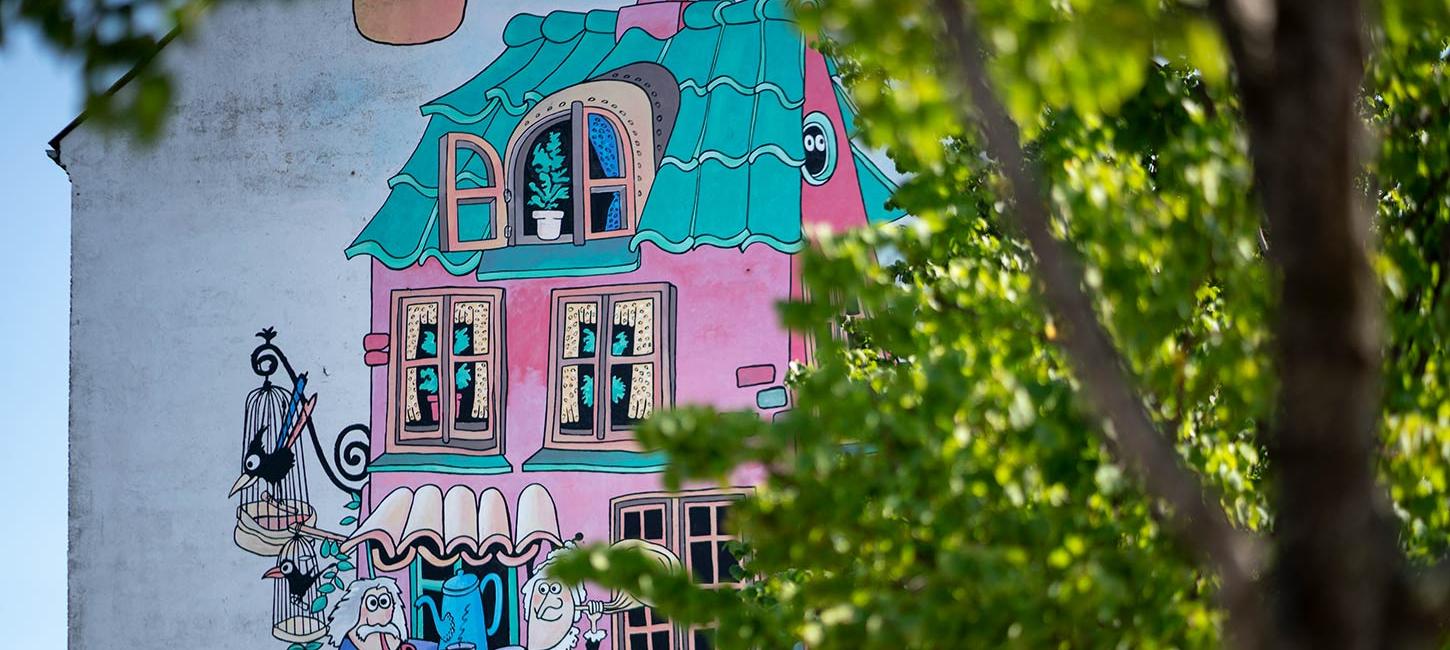 In the fun footsteps of Ole Lund Kirkegaard
'Otto er et næsehorn', 'Lille Virgil' and 'Gummi Tarzan' is just some of the known children's stories from the Danish writer Ole Lund Kirkegaard. Jump into the stories and experience the magic yourself in Skanderborg. 
? By Martin Graakjær Nielsen
I have put together three stops for you and your family that you can visit if you are prepared to use your imagination during your holiday.
Martin's tips for a day in Skanderborg
Transport: Skanderborg is a logistic centre, so getting there by car as well as public transport is never a problem. The train ride from Aarhus is just 12 minutes, and it is even easier if you go by car. Free parking is available all across town.

---

Remember: To bring your imagination! You just might need it ...

---

Eat: A huge ice cream for lunch! It is what everyone wants. You can get it ready-to-eat at Føtex or Super – or perhaps you would like it freshly baked at Chokolade-Fabrikken. And do not forget to have a raspberry pop as a starter.

---

Preparation: Be sure to read one of Ole Lund Kirkegaard's classics before your visit. They are all perfect introductions to the world of Ole Lund Kirkegaard, and even adults will get a kick out of the stories.

---

The secret: Actually, it is a secret secret – and for kids only. When you throw a handful of water from the lake on the grown-ups, they turn into kids again and start remembering their own childhood – and then they are so much fun to be around! Until they turn back into boring adults again, that is. But they have been known to keep a little bit of the fun inside.

---
Step 1: Scavenger Hunt for the Entire Family
Start out by Kulturhuset! This is the beginning of an entertaining scavenger hunt that will send you out into town in the footsteps of Ole Lund Kirkegaard. The hunt will take you across cast iron flagstones displaying different scenes from the books, past murals, dragons, and the grocer's house. Maps for the hunt are handed out by the library at Kulturhuset, which is also the final destination of the hunt. If you are smart, clever, and lucky, you may win a prize! It is a big advantage to you if you have read or heard some of Ole Lund Kirkegaard's books before you go.
Head out as soon as the library opens at 9:00 a.m. Or get your treasure map here and get going as soon as you like.
Step 2: A Rascals' Playground
You have to visit Skanderborg's amazing park, Byparken! Here, you will find the best (!) playground in the world: Sløngel Pladsen. Sløngel means rascal, and there is nothing dangerous about being a rascal. It is simply something that every child is, once in a while. When you are a sløngel, you can pretend to be strong. So strong that you can lift a huge canon! A sløngel may play tricks on you and in particular on his or her mum and dad. But parents were sløngler themselves, once.
Sløngel Pladsen will take you deep into a fantastic world where children (and adults) can pretend to have their very own rhino or can use their tiny muscles to climb trees with. Sløngel Pladsen is brand new. It opened on 28 August 2021 and is designed for children of all ages, however those under the age of 8 might find it the most amusing. Let your imagination have a rest and enjoy your packed lunches at the tables around the park, from where you can take in the stunning view of the lake. If you have forgotten to bring lunch, Kafe K serves some delicious dishes, or you can run around the corner to Lagkagehuset for some sausage rolls.
Step 3: Time to Reflect and Listen to Great Stories
If you have time to spare, stop by Kulturhuset to complete your day. Apart from a library, you will find a cinema there, along with an art exhibit with free admission and lots of fun events.
The library is well worth a visit in itself, as it offers a wide selection of great experiences from children's literary world as well as the perfect time and place to reflect on what you see. And what better time to pull down some of Ole Lund Kirkegaard's classics from the shelf. The grown-ups can read aloud, the children can relax – and everyone gets a chance to digest the events of the day before you say goodbye to Ole Lund Kirkegaard and Skanderborg.