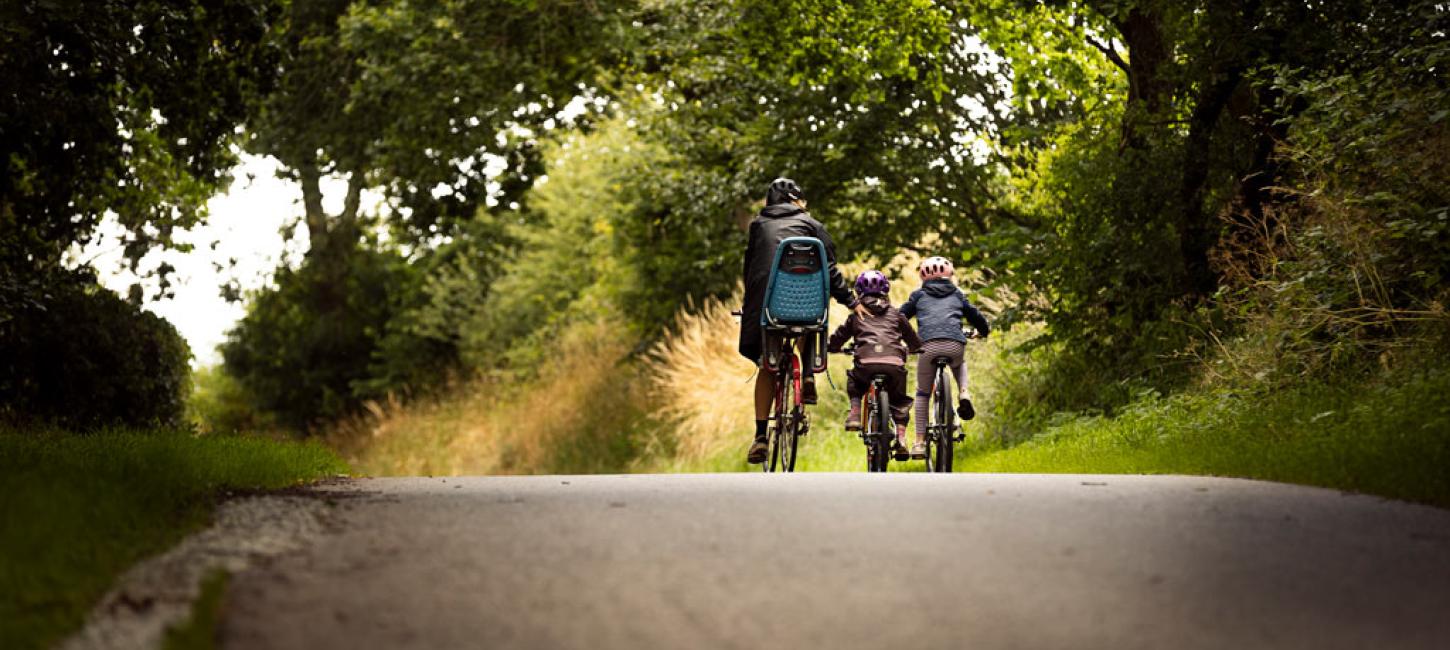 Cycling holiday around the Lake District with the Lava Carlsen Family
Golden fields, green hills, deep forest lakes. Wild raspberries and raptor silhouettes against the sky. The second best thing about the slow pace of bike riding is the fact that you suddenly sense and experience the landscape in a whole new way.
This guide will take you on a cycling holiday from Aarhus to the Lake District with Roar Paaske and his family.
The Family's 5 Pieces of Advice (and an Extra Tip) for Your Cycling Holiday
Make sure that you have plenty of time for each daily leg. We made a point of never having any deadlines, which made it possible for us to take the breaks and rests that we felt were necessary along the way.

---

Remind one another that the bike ride IS the holiday. As you ride along, the landscape unfolds, so remember to keep your eyes open and stop if you see something of particular interest to you.

---

Roar introduced the rest of the family to sign sprints and hill sprints – and it worked like a charm. Nor, in particular, soared up those hills to be the first one at the top. So do not forget to have fun along the way.

---

Snacks! On a cycling holiday, you need a lot of energy, so in addition to a large lunch, you have to pack scrumptious snacks. For instance, it could be fruit, biscuits, candy, juice, or whatever you like. 

---

It may seem obvious, but remember to check your bikes before departure: Wash your bikes, pump up the tyres, and grease those chains.

---

And a sixth and final piece of advice … plan your route quite meticulously in advance so that you do not end up riding down large roads with heaps of traffic. There are many charming and quiet roads where you – most of the time – have it all to yourself.

---
You notice its colours, you feel the wind brushing against your cheek – not to mention the pain of the gradient in your legs.
However, the number one thing is experiencing how, when the landscape unfolds, so do the conversations. Suddenly there is room for talking about the tiniest as well as the major things. And for us as a family of four with everyday lives filled with homework, play dates, football competitions, and meal plans, this slow time on those bikes is absolutely priceless.
This is the reason why we recommend everyone to go on a cycling holiday – and the Lake District is the perfect place to do this.
Day 1: Risskov – Veng (37.5 km) 
Before we left, we made sure that the bikes were in tiptop shape and that the tyres had enough air in them. We then packed the essentials: light and practical clothes, a coat that matched the weather forecast, a puncture kit in case one of us had a puncture, a packed lunch, snacks, and lots of water. The girls packed a teddy bear, as well, a Harry Potter book for their goodnight story, and some felt tips.
And then we were off. Each on our own bike, but with the possibility of our youngest, Petra, taking a rest in a child seat. (Red. The family uses a bicycle trailer in which they transport their daughter's bicycle when necessary).
After about 10 km, we arrived at the cafe that has the best view in town, Æblehaven near Brabrandstien. Here, we had amazing coffee and cold raspberry fizz – highly recommendable. The girls played on a slide and climbed trees while the rest of us enjoyed the view of the lake.
We then continued our ride along Brabrandsøen lake. Around Aarhus Ådal Golfklub, we were met by brutal hills, and here, Petra temporarily gave up and climbed in her seat for a rest. 
She had to jump down and help Roar push the bicycle trailer up Kollens Mølle-bakken, though, as roadwork made it practically impossible. Luckily, we made it, and we arrived at our accommodation. If you are planning to stop in these parts, we recommend Nørre Vissing Kro inn.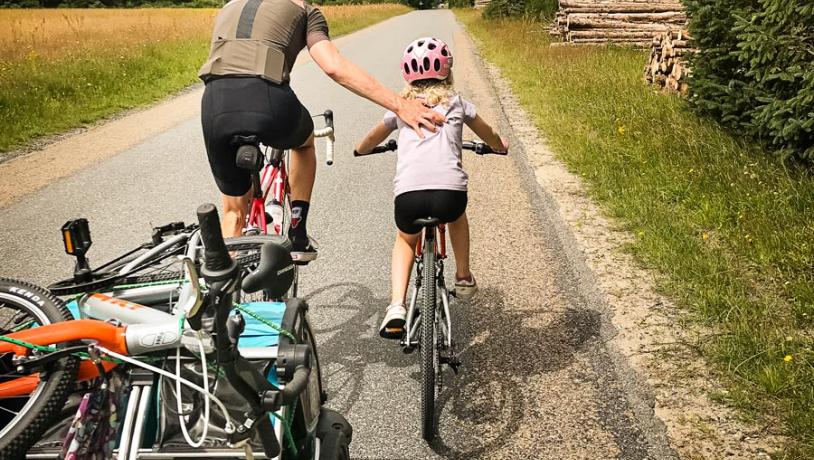 The family uses a bicycle trailer in which they transport their daughter's bicycle when necessary.Photo:Roar Paaske
Day 2: Veng – Vejlsøhus Hotel (40 km)
After having had a good night's rest, we headed out on the longest leg of the entire holiday – which happened to be a hot and hilly one, too. We very quickly worked up a serious sweat, and therefore, the girls burst out in happy shrieks when we arrived at Knudsø lake where they could jump in and get cooled off. If you bike past this spot on a warm summer's day, we highly recommend that you stop and dive into the clear and soft lake water. Furthermore, you will find a little ice cream shop and a beach hotel, there. However, we decided to continue our ride and enjoy our lunch by Gudenåen stream in Ry.
Later on, we came past Øm Kloster monastery, and from here, we continued on to Gammel Rye for a visit at the most charming little bakery named after a famous Danish children's song, Der bor en bager. Here, we recharged our batteries on coffee and delicious bread and cakes – do not miss their freshly baked cinnamon roll, yummy! – before the ride continued towards the iconic landmark, Himmelbjerget. They say that there are no mountains in Denmark, however, we sure did feel the burn while struggling our way up there. At Himmelbjerget, we simply marvelled at the view and had fun at the playground.
When everyone was done playing, we continued our ride towards Silkeborg and Vejlsøhus Hotel, which is a wonderful place to stay on your cycling holiday. Nature is right outside your door and if it makes you comfortable, you are even allowed to take your bike with you to your room. And their burgers are incredible, too!
Day 3: Vejlsøhus Hotel – Landal Feriecenter Holiday Resort (38 km)
After having enjoyed a delicious breakfast – the best of the entire holiday, as it were – we went to AQUA Aquarium & Wildlife Zoo and saw otters, goats, racoons, and fish in large numbers, just as we played at the water playground. After lunch, we hopped on our bikes and headed for the town of Gjern.
We had coffee and juice at Sindbjerg Stoubjerg – a stunning and dramatic landscape that is certainly worth a visit.
Then, some challenging hills awaited us. One of them was 1.4 km long Linå Vesterskovvej with a 4.5 percent gradient. Fortunately, two people stood on the very top cheering us on. This filled Nor with so much renewed energy that she won the final sprint.
"Allez, allez," another crowd cheered at us as we reached the base of Slangebakken in Gammel Laven. They had gathered around a TV at a cafe to watch the Tour de France. We sure did need that Allez, as the hills around the area turned out to be quite exhausting.
Luckily, we managed to make it to the top, and our prize was to be able to sink our teeth into the best apple trifle in the world at Svostrup Kro inn – it certainly hit the spot!
This energy boost was just what we needed for our final leg towards Landal Feriecenter Holiday Resort.
Having spent three days on a bike, a day off the pedals and just playing and having fun was much needed. Our resting day was put to good use in the water park, jumping on trampolines, playing miniature golf, exploring the beautiful surrounding scenery, reading books, and having a game of Yatzy in our cabin.
The options were so many that there was something for everyone. However, to Petra and Nor, the water park was the absolute favourite. As an adult, you could not help but being incredibly thrilled by the landscape surrounding the resort.
See more local recommendations
"Almind Sø is one of the cleanest lakes in Denmark and highly popular among families with young children – particularly since the lakeside baths were restored."