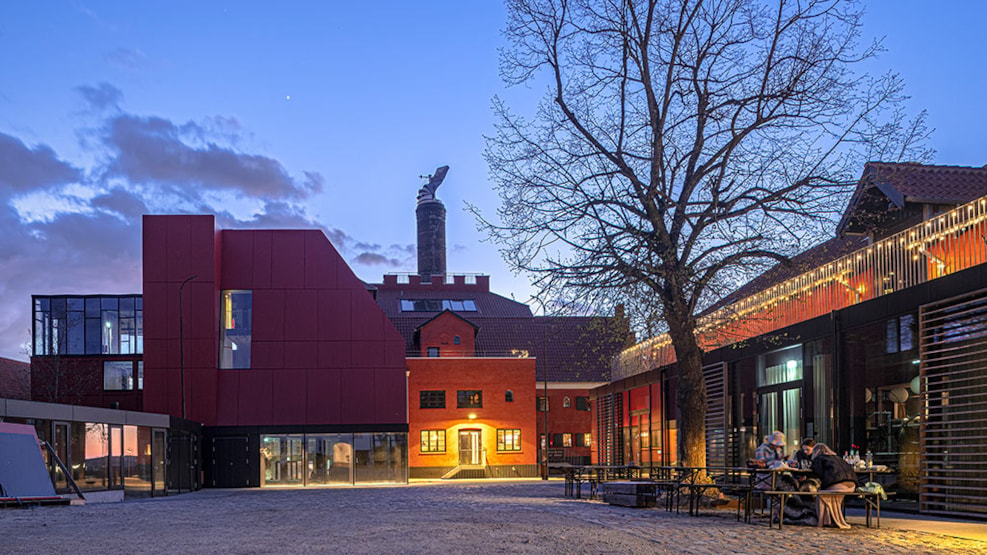 Maltfabrikken - the People's Factory
Explore BMA, where the public library has joined forces with with the local museum and the towns historic archives. Enjoy the local brew in the microbrewery and brewpub, visit the cosy eatery Lundbergs Spisehus, and check out the event calendar of Kulturloft – or visit Rampen, the youth culture club with its own café and skater pool.
Maltfabrikken also hosts an international artist residence and a creative coworking space, and visual arts/exhibitions/crafts is in their DNA.
Old and brand new
Maltfabrikken in Ebeltoft is both very old and brand new. Founded as a malting house in 1861 and closed down in 1998, the old factory was falling apart and facing demolition when a group of local people decided to save its iconic red buildings and turn them into a centre for all kinds of cultural and creative activities. After a fundraising tour de force and extensive redesigning and reconstruction, Maltfabrikken is now a living, breathing piece of cultural history as well as a welcoming creative community with a soft spot for the good life.
Maltfabrikken is also known as The People's Factory.
See what others are sharing on Instagram