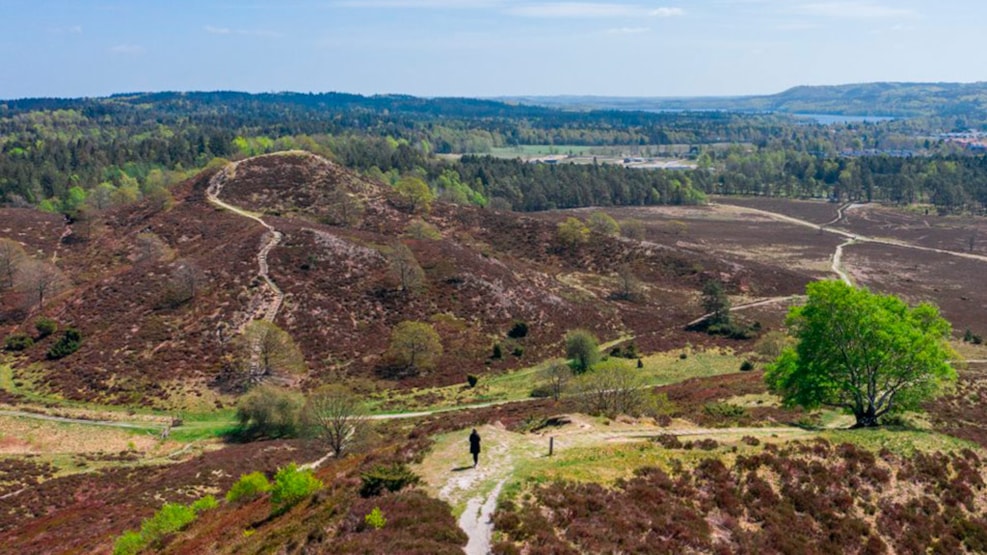 Sindbjerg and Stoubjerg
Sindbjerg and Stoubjerg are the names of two heather-clad peaks, located in a stunning heathland north of Sejs  - approximately 5 km south-east of Silkeborg.
From the top, you find an extraordinary view – you can e.g. see all the lakes right from Silkeborg to Himmelbjerget. Sindbjerg stands at 103 metres and Stoubjerg at 99 metres.
Explore the unique nature
Much like Himmelbjerget, Sindbjerg and Stovbjerg are considered what you call "fake hills", i.e. slopes that took form as ice eroded in the nearby countryside, a very long time ago.
Besides heather, the main vegetation of the area includes; crowberry, cranberries, tormentil, broom, juniper, aspen, wavy hair grass and a great variety of moss. The route for hill walking is indicated by a red dotted line. Additional trails of the area are marked with black.
Download a map of the area here.
The meaning of the names
The "sind" in the name Sindbjerg comes from the Old Norse "sinder", meaning "slag" (ash), a by-product of charcoal production, indicating that the trees covering the hill may once have been used to make charcoal.  
The "stou" in Stoubjerg is a form of the Danish noun "stue", or "room" in English. The hill might thereby have been the place of a fable – the legend of a dwelling for underground creatures. It coheres with the myth of Borke – a giant which is said to buried in these grounds.  
See what others are sharing on Instagram