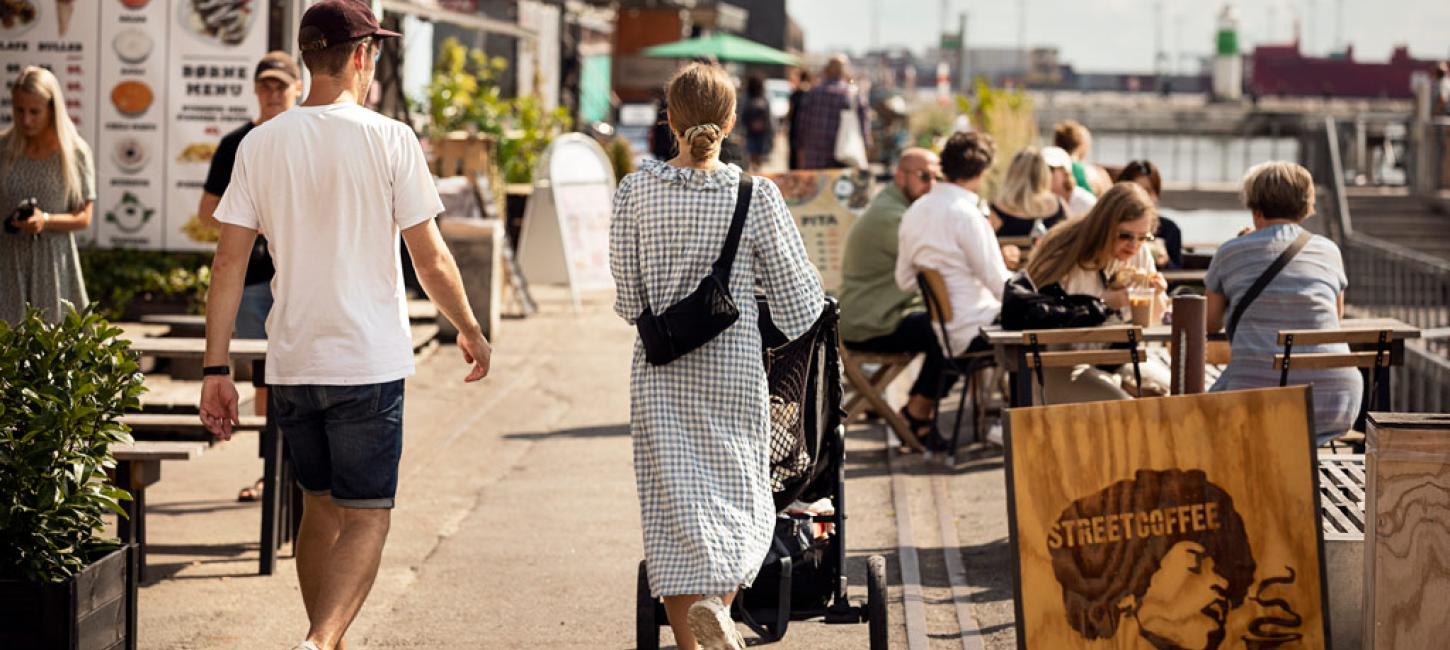 Aarhus Ø awaits You
Aarhus Ø, the youngest part of Aarhus, is experiencing rapid development these years. It overflows with architectonic masterpieces, water sports, and great taste experiences. And the hours simply fly by – there is so much to see and do!
Catrine's four tips for a great day at Aarhus Ø
Challenge yourselves and experience Aarhus Ø from the seaward side, either by jumping in the harbour bath or head out on a wake- or SUP-board. And remember to book an instructor to assist you – it could not be any easier.

---

Park your car along the middle of

Bernhardt Jensens Boulevard

or at the marina, as the first three hours of parking there is free. Some of the buildings on the island has underground parking facilities, as well, and this way you can park close to all the action – against a fee.

---

When you are in the city centre, the walk to and around the island is extremely beautiful. You can also get one of the city's many rental bikes and experience Aarhus from the saddle.

---

Remember your bathing suit, towel, and a blanket, and be sure to check the weather forecast before you decide what to wear, as the majority of the activities at Aarhus Ø are outdoors.

---
Note
Please notice that the promenade on Aarhus Ø is under reconstruction and will open again in summer 2023. 

Prices are from 2022 and not all mentioned locations are open for the season yet.
Catrines Guide: Let's go!
How will we get off to the best start on our day at Aarhus Ø?
By the new harbour bath near Bassin 7! Because this is where you will find Street Coffee, and from 8 am you can get a lovely cup of coffee or hot chocolate there. If you get hungry, MIBmadmarked is the place to go for the best freshly baked bread and the most scrumptious cakes. If you are off to an early start, pass through the architectonic gem, Isbjerget – the iceberg. This will lead you to the eastern side of Aarhus Ø where you can enjoy your food on one of the wharf benches – right in the rays of the morning sun.
What should we do after breakfast?
Begin with a stroll along Ø-linjen – the green streak that connects the four outermost islands at Aarhus Ø. There, you will find hammocks, trampolines, and a playground for the young ones to have lots of fun at. Remember to look at the beehives where the bees produce delicious urban honey or roast your own marshmallows around a fire.
At Aarhus Ø, water sports is a popular activity among those taking part in the activities and spectators, alike. Once again, the fun takes place around Bassin 7, where you will find Aarhus Watersports Complex (AWC). Here, you can try cabled wakeboards or slow down and have fun Stand Up Paddleboarding (SUP). And don't worry – the pace is entirely up to you. If you would rather watch others being active on the water, the rooftop terrace at AWC is the perfect spot, or you can go watch from the tower in the centre of the complex.
I am new to water sports, where should I start?
Aarhus Watersports Complex has skilled instructors and the right equipment ready for you. You will be taken very good care of so that you are sure to have a safe experience there. And who knows? Perhaps you will become hooked on using the water as your active playground. The fee is 300 DKK per person for two hours of SUP or wakeboarding. Remember to book in advance and bring your bathing suit and towel. Wetsuit, wakeboard/SUP, life jacket and helmet are included.
What should we do in the afternoon?
First and foremost, you need to boost your energy! Lunch is available to go at the different street food stands along the Ø promenade. Here, you will find a delicious selection ranging from pizza to sushi and everything in between, and I strongly recommend a pit stop at The Fish Project, where you get to sink your teeth into the most amazing fish & chips. Clausens Fiskehandel is a must for everyone who loves top-quality fish, as well. Either buy food that you can take with you to one of the many great spots around the island, or bring your fish home with you.
Weather permitting, you should jump in the harbour bath where you will find pools for all ages. And of course, Aarhus Ø is an absolute must if you are just the least bit interested in architecture! Stroll around the area and take in the spectacular structures each with their own distinctive architectural design.
Now, you might go and get a bit peckish from all the new impressions, but do not despair! At Hantwerk, you can sit down in the afternoon sun and enjoy a cool, micro brewed beer, right on the water front. There, you will find the most lovely terrace overlooking the old marina. Or cool down with a delicious ice cream.
Where should we go for dinner?
You should pay a visit to VinDanmark and have their delicious, Spanish tapas or fish tapas. During summer, lots of people usually find their way there, and if you prefer to enjoy your food in a more peaceful place, take it to the cosy marina wharf. Tapas is 129 DKK per person, while a glass of cool wine costs 60 DKK. You have the opportunity to sample different wines before you decide which one you would like. On certain days, you will hear live music there – however, the great atmosphere is guaranteed every day.