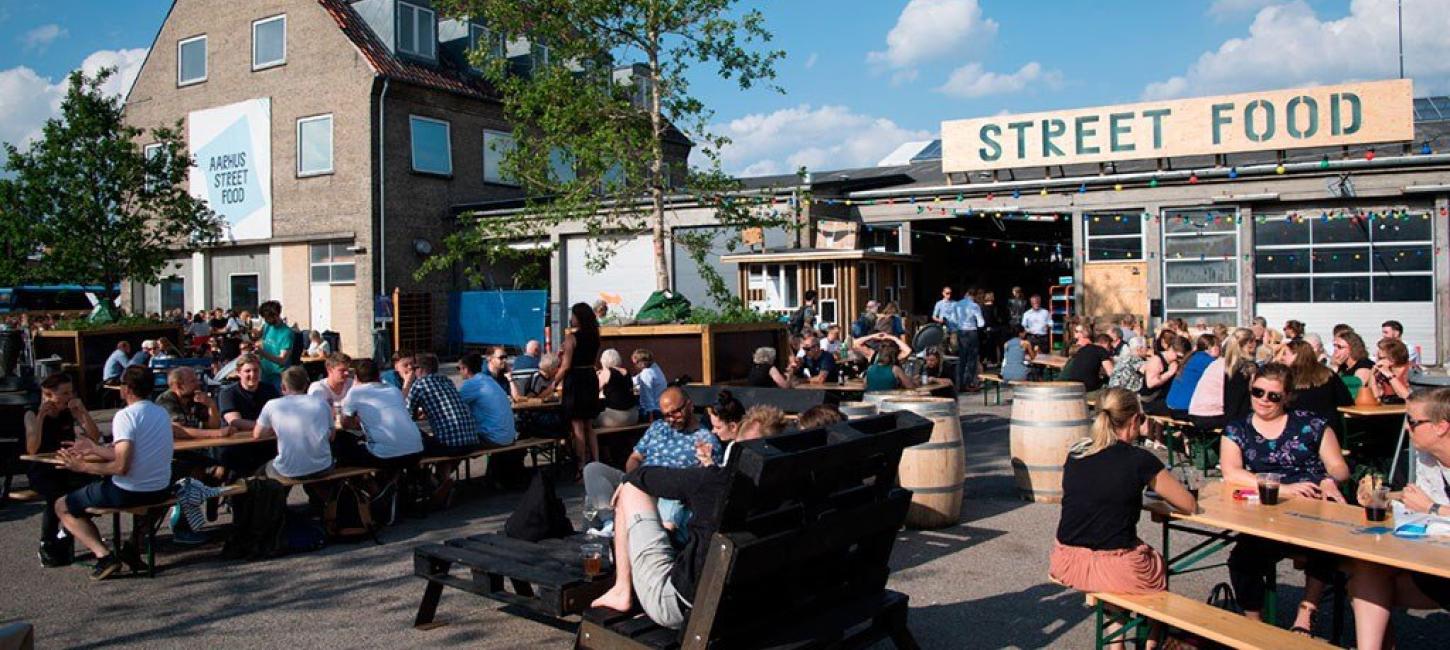 Aarhus - if you are hungry for love
Photo:
Aarhus Street Food
This city has it all when it comes to delicious food and great atmosphere. Let me introduce you to all my favorite places to eat. Get ready to fall in love - one bite at a time.
Jon's tips for your day
Four places you can quench your thirst in between your five stops in Aarhus' savoury and sweet cuisine:
1. Where should we go to have the best breakfast in town?
The best breakfast you could ever imagine begins in the early morning hours in the very heart of the city – at La Cabra. This is a coffee shop in the Latin Quarter, where you will get the best coffee and baked goods! Their amazing cardamom swirls are simply legendary! My dad is from Sweden, and since cinnamon and cardamom swirls are originally from there, I grew up with them (and had quite a few over the years). But the very best ones are the ones you get at La Cabra! So your breakfast kit should be: Get a cardamom swirl and a coffee to go. Go sit on a bench outside in the sun and enjoy the atmosphere while the city wakes up and people rush by in this extremely lovely part of the city. I just love doing that!
PS: I recommend that you come early; possibly between 8:00 (9:00 on Sundays) and 10:00. Then the swirls are FRESH out of the oven!
2. Where do we find the best burgers in town?
The best burger in town is found at Koedstaden. A real burger joint run by a couple of young lads who turned an old butcher's shop into their very own place. As authentic as it gets. You will find it on a street corner in the northern part of the city called Trøjborg – not far from the city centre. Their burgers and fries are incredible, just the right kind of greasy and simply top-quality, and the taste they manage to get out of their meat and bacon is unbelievable. You will not find this much taste and juicyness anywhere else! Get your meal, take the five-minute walk down to Risskov forest, and find a place to sit with your homies and enjoy the best burger in town in Aarhus' most beautiful forest and with a view of the Aarhus harbour! You are going to love it.
3. Where should we go for the best pizza in town?
There actually are quite a few great pizzerias in Aarhus. But the best of the best is found at Pizza Propria. Its location in one of Aarhus' loveliest streets, Jægergårdsgade, is very convenient in the heart of the city and very close to the train station, as well. This part of town is buzzing with life, a great atmosphere, and a wide selection of cafes and restaurants.
At Pizza Propria, they make brilliant, authentic Italian pizzas from authentic Italian ingredients. And you can taste it in every bite! And you can actually take some of the ingredients home with you. Italian flour, Italian tomatoes, delicious cheeses, hams, salamis and much more. So for your next home-cooked pizza or pasta dish, you can work your very own Italian magic! It is an exquisite little joint, so you need to bring your pizza home with you. Or you can choose to sit outside the pizzeria and have a pizza with your friends, or you can bring a game of pétanque along with your pizzas and have fun at Ingerslevs Boulevard just five minutes on foot from there. Here, you will find nice pétanque terrains and lots of open spaces for outdoor pizza fun.
4. Where do we get the best ice cream in town?
The indisputably best ice cream in town comes from Dolce Vita at Trøjborg. This was one of the first (if not the first?) Italian ice cream shops in Aarhus, and it has been there for as long as I can remember! It is on a corner of Tordenskjoldsgade in the upper part of Trøjborg.
You cannot help but feel the authenticity of the place when you enter the shop and hear the slight squeaking of the wooden floor. And behind the big counter filled with delicious ice cream, a smiling staff that loves to serve yummy ice cream or a great cup of coffee always greets you. Just as it is done in Italy, the ice cream is carefully put into your cup or cone using a flat spatula rather than shaped into scoops as we typically do here in Scandinavia.
I LOVE IT. And I usually have a very hard time choosing which flavours to pick – I tend to go with their liquorice ice cream topped with white chocolate mousse – a chilled, light mousse that is an absolute must on any kind of ice cream. It is incredible!
5. Where should we go for dinner, if we want the best view?
The best (food) view is from 'Red Wine Wharf' near Træskibshavnen at Aarhus harbour's outermost wharf at the end of Fiskerivej. On your way there, you will pass the iconic fishmonger's, Clausens Fiskehandel – the city's oldest (and finest, if you ask me!) fishmonger's that has the best fish cakes and remoulade dip to go with it.
Grab a cold beer and sit at the edge of the water, enjoy the atmosphere and the view of the wooden ships at the marina nearby. Incredibly relaxing and beautiful at the same time.
See more local recommendations
Remember your bathing suit, towel, and a blanket, and be sure to check the weather forecast before you decide what to wear, as the majority of the activities at Aarhus Ø are outdoors - Catrine Høy Hansen.
Looking for more
What makes you heart skip a beat?