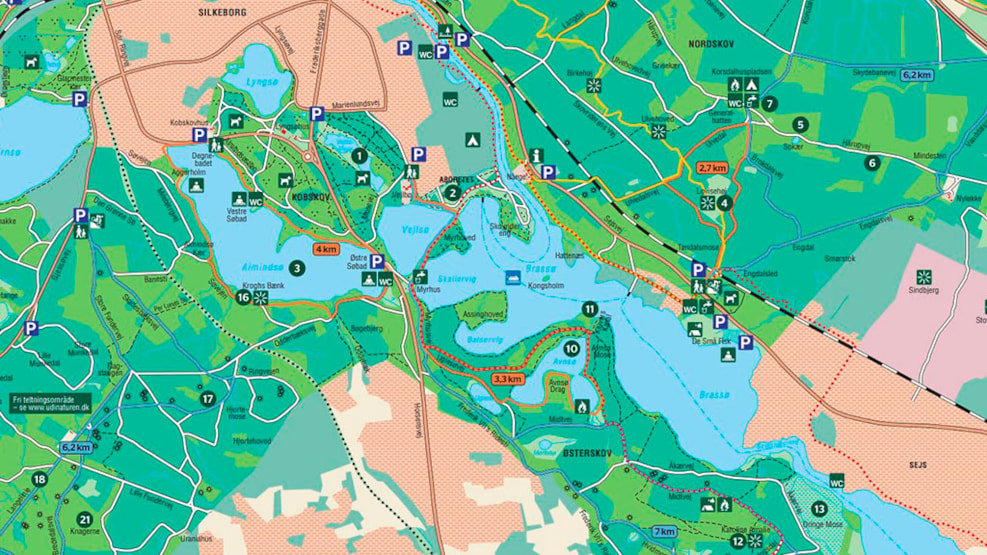 Hiking Routes in the Silkeborg Forests
A wide array of spectacular outdoor experiences await you in Silkeborg, where seven hiking routes around the Lake District meet.
Map of the Silkeborg forests (Text in Danish)
1. Around Odden
Odden is a forest and park area by Silkeborg Langsø lake which has always been one of the favourite recreational spots among the locals. Once upon a time, a lakeside bath and a tennis court used to be here, however, none of them exists today. Plans have been made to turn Odden into a lovely leisure area with various activities. So far, a running trail has been established there along with a 'picnic house' for visitors from the many child-care centres in the area.
Starting & finishing point: The car park by Søndre Ringvej – get your coordinates here.
2. Vesterskoven Forest
The aim with Vesterskoven forest is to increase and improve tree growth. Here, Douglas fir is top priority, and their growing conditions are great in this particular area. In the centre of the forest, part of the road is beautifully flanked by 150 year-old Douglas fir.
Or, you can visit 'Knagerne', which is a 12 acre piece of land with 230 year-old beech trees. The area was preserved in 1957 and has been left untouched ever since. The closed down railway track from Silkeborg to Horsens, Bryrupbanestien, runs through Vesterskoven, and if you are interested in archaeology, 32 burial mounds can be found in the area. And furthermore, the forest is home to quite a few bunkers dating back to World War II.
Starting & finishing point: The wooden pavilion at the car park across from Art Centre Silkeborg Bad – get your coordinates here.
3. Around Almindsø Lake
Almindsø near Silkeborg is one of Denmark's cleanest lakes. There is no nearby farming or polluting drains affecting the lake, and it is very popular for going swimming at its two big lakeside baths, Østre and Vestre, along with several smaller places to jump in at – for instance the beach at Aggerholm, which was established by German soldiers stationed at the German military headquarters nearby at Silkeborg Bad during World War II.
The place has a highly interesting flora and fauna with for instance 20 species of aquatic plants and 450 species of creatures living in the water. At the southern end of the lake, natural springs rich in ochre come out at the base of the high cliffs along with the two inlets, Skade Bæk and Odder Bæk. However, most of the water inflow comes from the ground water in the lake bed. With 20 m as its maximum depth, Almindsø is one of the deepest lakes in the Gudenå water system. It is an app. 4 km walk around the lake, and it is a spectacularly beautiful route with the vantage point Kroghs Bænk as just one of its many scenic spots.
Starting & finishing point: The car park at Almindsøvænget by Søndre Ringvej – get your start and finish coordinates here.
4. Østerskoven Forest
Your possibilities of having an unforgettable experience at Østerskoven forest are endless. A beautiful option is a trip to the nearby Avnsø, around which you will find the short route. The landscape around Østerskoven is the Lake District's finest. Everything is covered in forest, plants and wood species change constantly, and you never lose the sense of being near the water, and if you do, you will frequently be reminded by the stunning view of various lakes. Choose between the long or the short route.
Please note! The hike around Avnsø is 5.8 km and not 3.3 km as it incorrectly says on the map.
Starting & finishing point: The car park by AQUA Akvarium & Dyrepark – get your start and finish coordinates here.
5. Nordskoven Forest
Because of Nordskoven forest's location close to Silkeborg, its rolling terrain, and its stunning beauty, it is a favourite among hikers, runners, and mountain bikers. The forest has lots of picturesque vantage points, and while some of them are left with their wild vegetation, the vantage point of Louisehøj is kept permanently trimmed. Trees are regularly being cut down to create wonderful views other places around the forest, and as signposting is great there, these points are easy to locate.
Beech and fir trees are growing around the forest – big, beautiful Douglas fir from North America. If you are lucky, you will see spotted as well as black woodpeckers – and even green woodpeckers, too. At the sandy plains of the forest, you can come across adders, forest lizards, and slow worms.
Choose between the long or the short route.
Starting & finishing point: The car park by Sejs Hundeskov dog forest – get your start and finish coordinates here.
See what others are sharing on Instagram