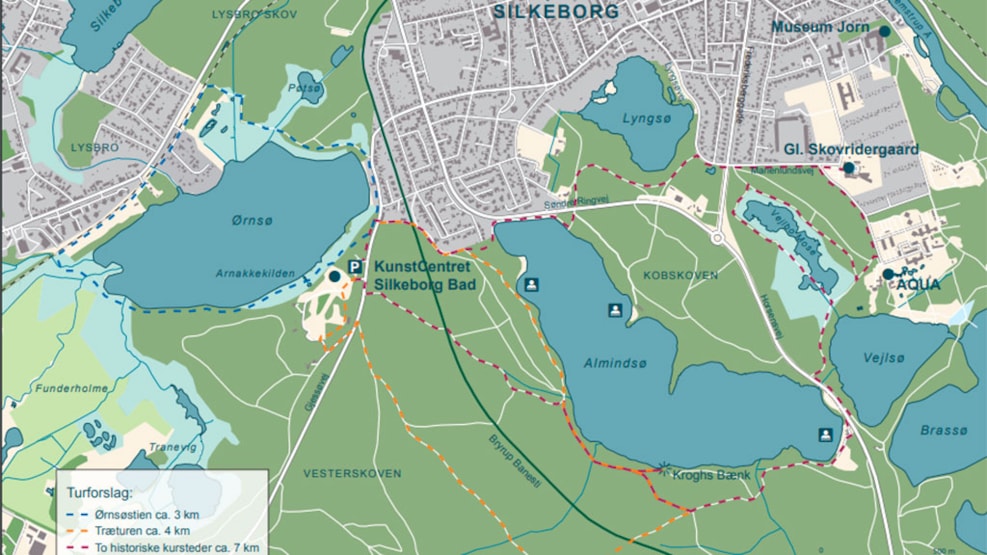 The Forest Walk Træturen
The forest walk Træturen goes through the forest of KunstCentret Silkeborg Bad, where you will pass by more than 40 different tree species. See if you can find some of the thickest ones, which have a circumference of more than 4 meters.
Explore the many fantastic and diverse trees on the hiking trail "Træruten". Here, you can experience more than 40 different tree species, including an area with over 250-year-old, hollowed-out beech trees that are home to bats, woodpeckers, tits, and other birds.
The forest consists mainly of large conifers, including Douglas fir, common Norway spruce, silver fir, and giant Norway spruce. The thickest tree has a circumference of 4.48 meters and grows where you cross the Bryrup railway. In the eastern part of the hike, a narrow path leads to the viewpoint at Krogh's Bench, from where you follow the lakeshore and the paths back.
Start the hike from the sculpture park at KunstCentret Silkeborg Bad.
Length: 3.5 km.
Estimated time: 1 hour and 15 minutes to 1 hour and 30 minutes.
See what others are sharing on Instagram