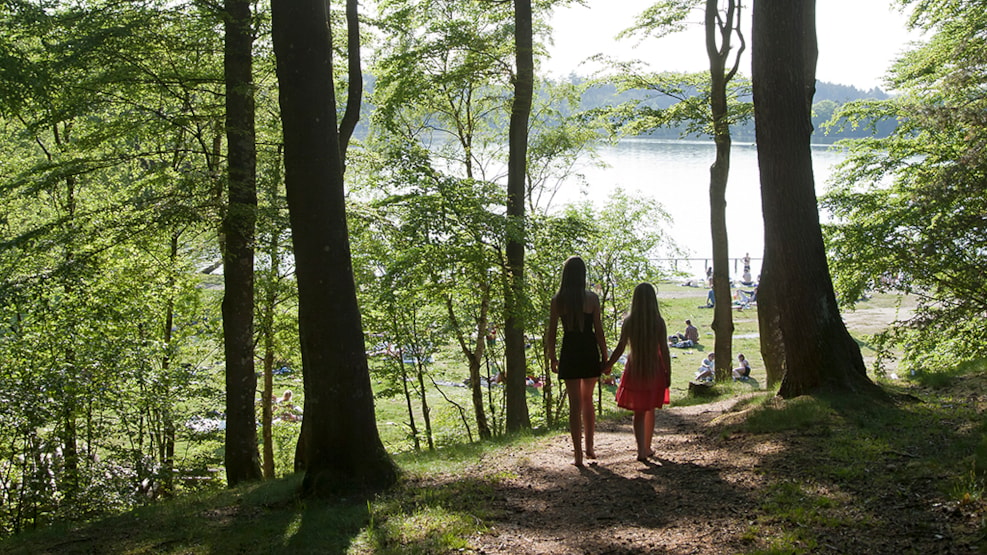 Almindsø Lake – Certified Family Trail
The trail around Almindsø lake is the only trail in Denmark that has been certified as a Family Trail by the hikers' guild, Dansk Vandrelaug. Here, you are guaranteed to have a stunning hike around the diverse woodland with a view of the lake most of the way.
You will find benches with lovely views several places along the route, one of them is named Kroghs Bænk.
The water in the lake is amazingly clean, and you can jump in for a swim at three different places. At the southern end, there is an area with sand and grass, so bring a ball, if you like, and have fun with a ball game during a well-deserved break along the way.
Tips for Your Hike
Begin your hike at the northern car park at Søndre Ringvej by Almind Sø lake. The route is 4.2 km long in total, and the level of complexity is low. This is a route for the entire family.
The route has been marked off with orange dots all the way around.
Activities along the Way
On the western side of the lake, you will see high cliffs, and some of them with natural springs rich in ochre. The water in Almind Sø lake is lovely and clean as there is no influx from field drainage or waste water, and the lake is primarily supplied from springs at the bottom of the lake.
Be sure to bring your bathing suit, because around the lake, you will pass three places perfect for taking a swim, two of which have a wooden pier and shallow water that is ideal for young children. Furthermore, you will come across narrow beaches where children can play in the sand – so bring some toys, as well.
If you bring older children or teenagers, you might enjoy the area around the southern end of the lake, where there is sand and grass and perfect surroundings for various ball games.
See what others are sharing on Instagram