Enjoy a girls' trip to Aarhus
Photo:
Kim Wyon, VisitDenmark
Take some time for relaxation, chatting, good food, atmospheric shopping, and self-indulgence.
Here are some places in Aarhus we would like to recommend to you:
Situated in the heart of the pedestrianised high street 'Strøget' is the city's oldest department store Salling offering a fascinating range of articles for the entire family. Fashion, design, and quality take first priority in all 35 specialty departments.
And, of course, there is the large delicatessen with specialties from all over the world, including home-made products, cheeses, a butcher's department, a wine department, chocolates, on-site bakery, and much more.
A trip to Aarhus isn't complete without a nice and cosy lunch or dinner at one of the city's many great restaurants. Try the amazing Langhoff & Juul in the Latin Quarter or eat alongside the locals in the informal setting of the city's popular food market Aarhus Street Food. Several of the city's restaurants have been awarded Michelin stars, Bib Gourmand and mentions in the White Guide - the level is high and there are gastronomic experiences for all budgets.
If you're not up for going to bed early, there are a lot of exceptional wine and cocktail bars in Aarhus.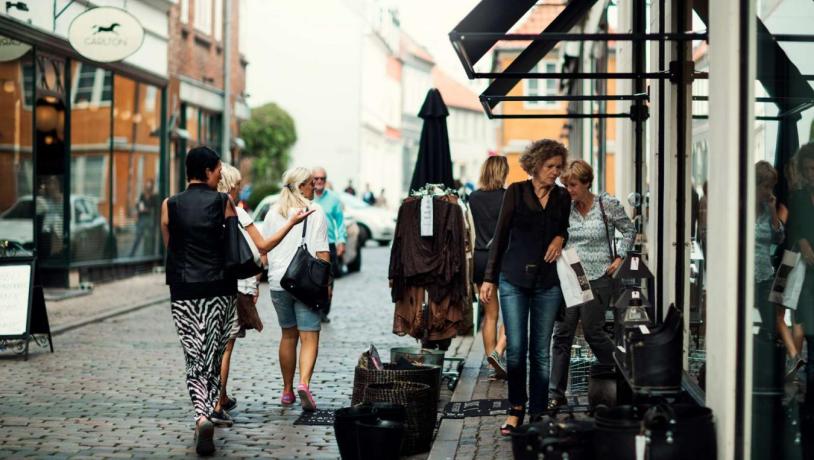 Photo:Kim Wyon, VisitDenmark
Frederiksbjerg shopping precinct
When visiting Aarhus you owe it to yourself to pay a visit to the Frederiksbjerg quarter which covers the streets of M.P. Bruunsgade, Jægergårdsgade, and Frederiks Allé. This quarter of the city is young and trend-setting. It is an area undergoing rapid development with new businesses popping up all the time. Locally the area has been called 'the larder of Aarhus' – and justifiably so.
Here you will find gorgeous specialist shops offering high-quality foods and delicatessens – side-by-side with charming cafés, classic Danish pubs, and excellent eating places. Jægergårdsgade – once a street of shabby pubs. Today there are a couple of the old wine bars left, and, in place of shabby pubs, lots of handicraft and design shops. There is an explosion of colours in the shops where they carry anything from Moroccan poufs to hand-thrown bowls.
You won't find a better selection in all of Aarhus when it comes to meat, wine and liquor, bread and cakes, and delicious specialties from all over the world. Pay a visit to Schweizer Bageriet, the best bakery in town, which has been here since 1897.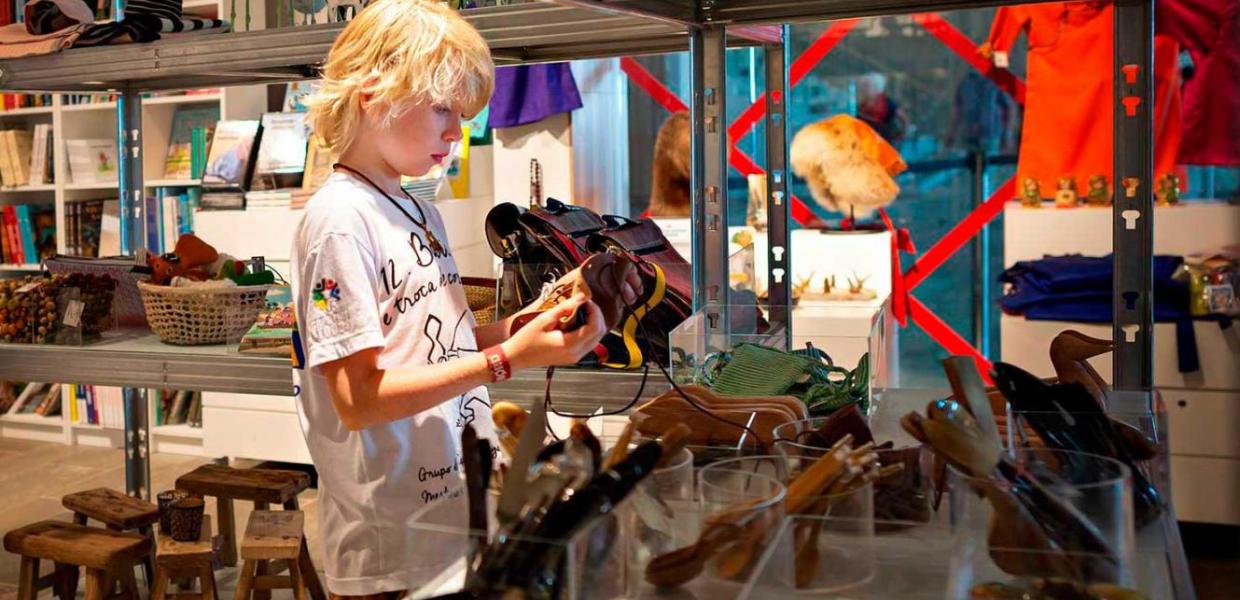 Photo:Medieafdelingen - Moesgaard Museum
Unique shopping in the museum shops
In Aarhus you will find large attractions like ARoS Art Museum with the incredible Your rainbow panorama on top, Den Gamle By - The Old Town which takes you on fascinating time travel through the history of Denmark, and the architechtonical wonder Moesgaard Museum which presents amazing prehistoric artifacts and the world's best kept bog body: Grauballemanden.
And you will find great shopping here too! All three museums have inspiring shops with design, textiles, books and unique things you will not find in other cities.