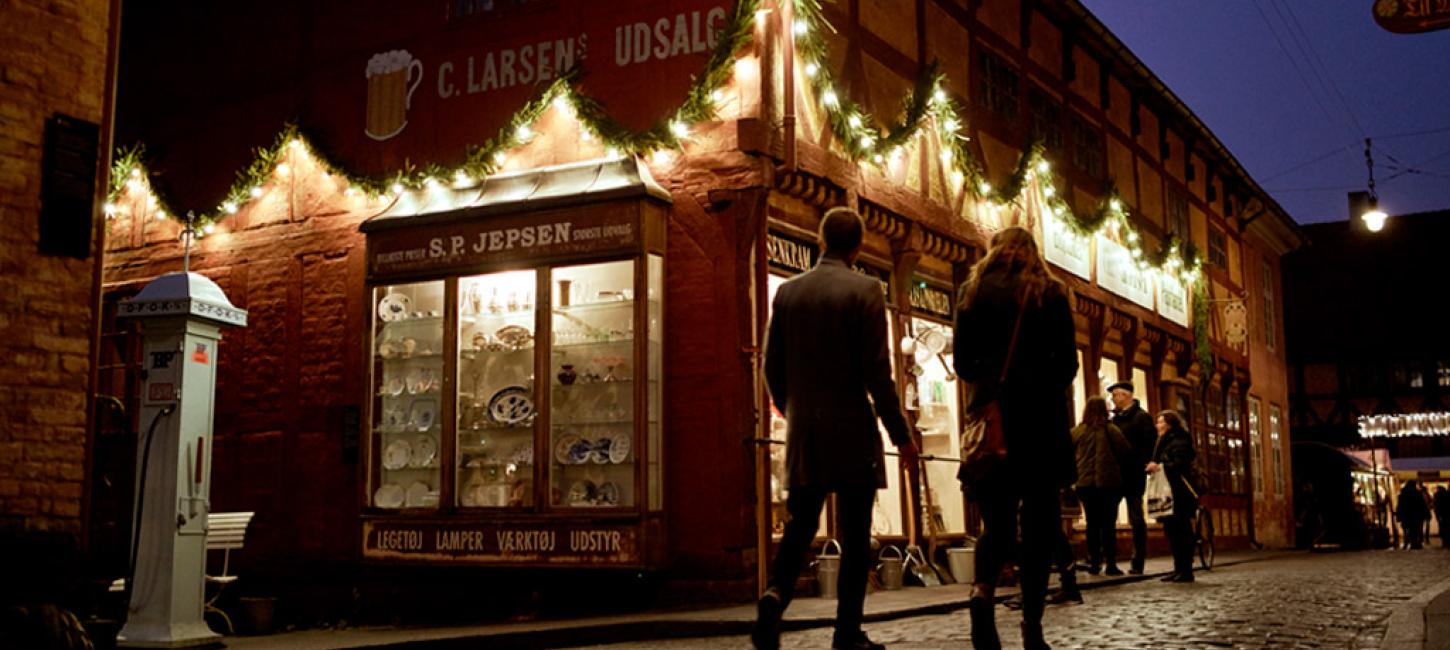 Five Christmas Traditions in Aarhus you do Not Want to Miss
Christmas in Aarhus is rather special, and all you have to bring in order to have a nice time is some warm clothes, sensible shoes, a sense of adventure, and a healthy appetite for Christmas and having a lovely time.
Benno was born in Østbirk south-west of Skanderborg, and today, he lives in Allingåbro in the peninsula of Djursland. The way he sees it, being as dedicated to your local region when you live in Eastern Jutland as he is, is not simply a choice, it is one's destiny.
Meet Benno here →
Throughout December, a very special and authentic Christmas spirit fills the Latin Quarter, the Cathedral Quarter, and the lovely pedestrian streets. Aarhus' city centre has just the right size for the city as a whole to create a spectacular atmosphere. Learn about Christmas as it is celebrated today as well as in the olden days, be enchanted by Cirkus Jul at the outdoor event venue, Tangkrogen, or enjoy strolling through an impressive world of Christmas in Tivoli Friheden.
Where should I go to experience traditional Christmas?
Den Gamle By – The Old Town Museum is just the place to go.
 
The Christmas route through the cobbled streets is the best time travel in the world, letting you experience 400 years of Christmas history. It will take you through houses and sitting rooms for an educational visit to Christmas in the olden days. This is a regular stock cube of concentrated Christmas spirit that will put your own Christmas celebration into perspective. 24 days will not be enough if you plan for go through the extensive Christmas programme there.
At several places in Den Gamle By – The Old Town Museum, lovely, traditional Christmas meals are served; just as you can enjoy your own packed lunch at 'Madkassen' – the lunch box.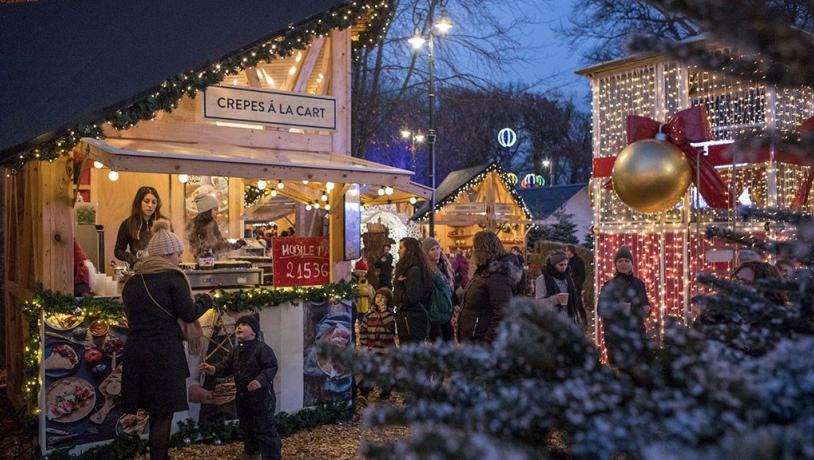 Photo:Bo Petersen, Tivoli Friheden
Where should I go for the most magical Christmas atmosphere in town?
For this, you should go to Tivoli Friheden – and you never get too old for Christmas at 'Friheden'. Every year for Christmas, the amazing garden turns even more magical when it is lit up by 16 km of Christmas lights.
Enjoy the delicious smell of 10,000 Christmas pancake-puffs and more than 20,000 cups of the traditional Christmas punch, juleglögg. Take in this magical atmosphere and enjoy every second of it; just remember to make it home in time for Christmas.
Where can I find the traditional Christmas markets?
You will find lovely Christmas markets at Ridehuset and Concert Hall Aarhus. Every year from 20 November to 19 December, the big, unique event venue, Ridehuset, is turned into a veritable Santa's workshop. There are so many 'elves' there that they have to take turn working at the stalls. This way, there are presents enough for everyone – as long as you show up between 11 a.m. and 5 p.m.
Right next door, you can experience Concert Hall Aarhus' rich Christmas Programme which ranges as broadly as from the Nutcracker ballet to Christmas concerts by Danish musicians Stig Rossen and Anders Blichfeldt.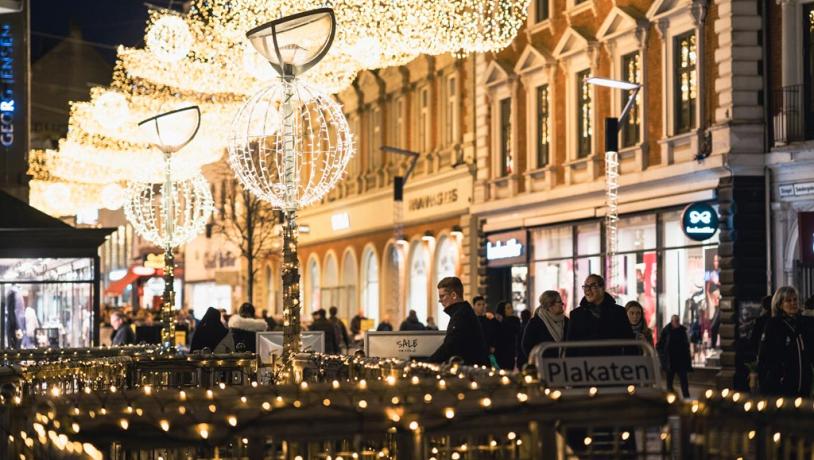 Photo:Photopop, VisitAarhus
Does Aarhus have a special Christmas tradition that I simply have to experience?
Come and be part of a lovely tradition when the city's Christmas tree and the starry sky above Denmark's most beautiful shopping street is lit.
In November, millions of eco-friendly LED-light bulbs turn Salling department store into the world's largest Christmas present. Probably the only Christmas present that has Christmas pancake-puffs and Christmas treats served on top of it; experience this at Salling Rooftop.
From the middle of November, the shopping street is covered by a carpet of lights that are switched on at a gigantic party hosted by Father Christmas himself.
Where can I find Christmas activities for children?
This you will find at Cirkus Jul at Tangkrogen. In December, a magical Christmas circus invites you in for a fantastic show with characters from Danish book classics such as Orla Frøsnapper, Otto the rhino, Cirkeline, Vitello, and so many more – and everything is live.
Benno's tips for your day – did you know that:
Denmark's very first outdoor Christmas tree was put up at a square in Aarhus in the 1820s? Donated by the mother of King Frederik VII, Queen Charlotte Frederikke, who lived near Clemens Torv square during several periods between 1809 and 1829.

a hundred years later, in 1922, the city's Christmas tree lit up at Clemens Torv with electric lights for the very first time?

Aarhus is home to the world's largest illuminated Christmas 'tree'? It is lit every year in Tivoli Friheden, soars 65 m in the air, and consists of 2.1 km of string lights.

every December on Danish TV, a 24 episode show counts down to Christmas, and that the very first one featuring a live cast, 'Jul i Gammelby', was taped in Den Gamle By – The Old Town Museum? The show aired for the first time in 1979 and for the fourth time in 2009.

the Christmas atmosphere in Aarhus is so magical and tempting that you have to really stay focussed if you want to be able to tear yourself away from it all and go home in time for Christmas?