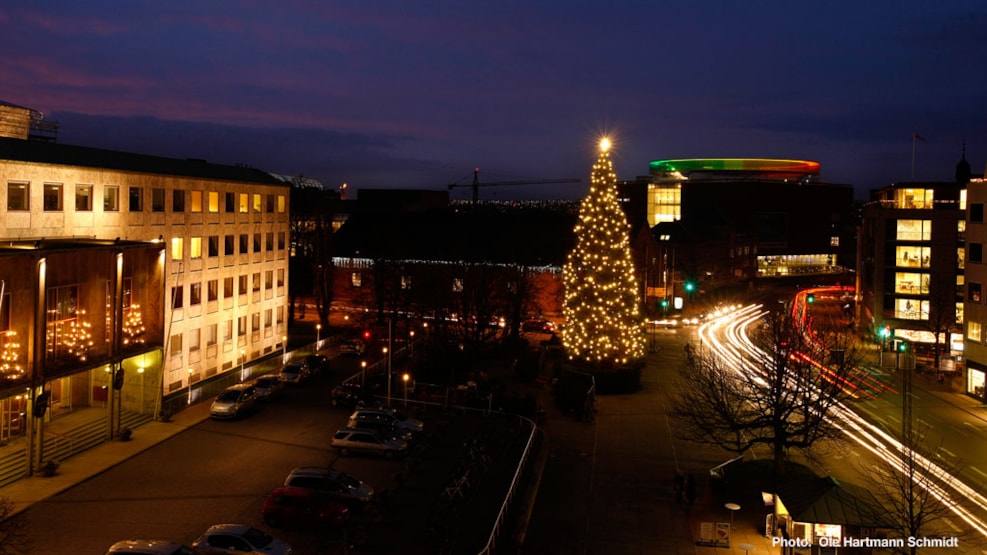 Christmas in Aarhus
Don't miss Christmas in Aarhus. Throughout December, a very special kind of magic descends upon the capital of mainland Denmark. Aarhus will simply be filled with that perfect Danish Christmassy feeling combining all the old traditions and the very latest trends of the times.
Step into a world of Christmas magic and excitement for both adults and children, enjoy the musical highlights of the festive season, and don't miss the wealth of opportunities for both indoor and outdoor activities.

Half a million pin-points of starlight are suspended above the city's pedestrianised high street, creating a positively magical effect – and the city's shops once again open their doors for Christmas shopping and wonderful experiences in that most charming and familiar of atmospheres.
Christmas in The Old Town is an atmosphere-filled nostalgia trip back to when Christmas in Denmark was still unspoilt, the way we remember it. What did Danish boys and girls get for Christmas? Why are we celebrating Christmas? How do pixies live? Learn everything about this, and enjoy the many Christmas exhibitions, shops, market stalls and events where great experiences await the whole family. The Old Town has a comfortable pace all of its own during Christmas, especially when darkness falls on the town and the gas lamps are lit.
Don't miss Christmas in Tivoli Friheden where the theme park is transformed into a enchanting Christmas market with Christmas lights, decorations, stalls with food and Christmas decorations and much much more. It is a true delight when the normal rides sets the scene for a magical Christmas day.
In December in Aarhus you can take a break from your preparations for Christmas and enjoy one of the many concerts in the churches of Aarhus. It is a very special experience to immerse oneself in a concert in a church atmosphere where the acoustics are quite unique. There are Yuletide concerts for the whole family in the churches in Aarhus. 
Concert Hall Aarhus has events both large and small on the bill – and within all genres. Concerts, theatre performances, shows, ballet, classical and modern music, musicals, opera, stand-up comedy, and much much more.
Buy truly unique Christmas presents and seek out some of the fun and very Danish traditional "climbing pixies" or some new decorations for your Christmas tree at the quite exquisite Christmas markets in Aarhus. Or what about a warming glass of Christmas grog og some traditional Danish doughnuts? The Christmas markets in Aarhus is where you and your whole family can experience a true Danish Christmas atmosphere.
Be sure not to miss a stroll down the pedestrianised high street 'Strøget' to enjoy the wonderfully decorated streets, lanes and shop windows throughout the city. Close to the city centre you can also visit one of Scandinavia's largest bazaars and treat yourself to a quite different shopping experience. Here you will find Turkish and Arab bakers, butchers, Oriental shops, cafés and restaurants, jewellery and gift shops, and much much more.
Treat yourself to magnificent views of Aarhus in Christmas attire from the Your rainbow panorama attraction on the roof of the ARoS art museum. Through all the colours of the rainbow you can take in the city's atmospheric and wonderfully decorated Christmassy streets in a whole new and colourful way.
On November 25 there is Black Friday shopping in Aarhus.
See what others are sharing on Instagram
#visitaarhus #christmas #visitaarhusregion