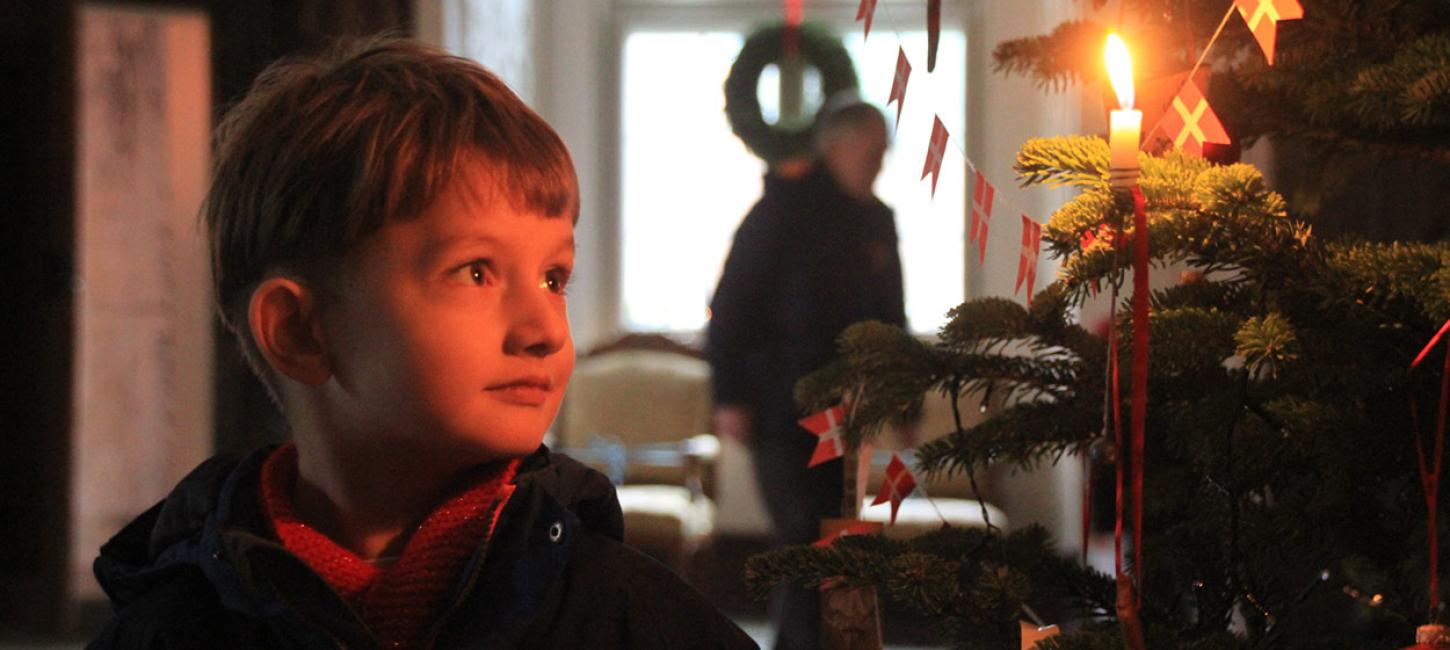 Four Spectacular Christmas Markets in Djursland
'Christmas was better in the good old days'. You have probably heard that said once or twice, but did you know that you can still experience the good old-fashioned Christmas?
According to cultural historian, Benno Blæsild, Djursland is the perfect place to experience a nostalgic Christmas. With its incredible coastline, the national park's 'mountain landscape', and the vast forest in its centre, the peninsula is the perfect setting for a day trip back to 'the good old days' where Christmas and true Christmas spirit belong.
By Benno Blæsild
Djursland by locals
Benno wurde in Østbirk südwestlich von Skanderborg geboren und lebt heute in Allingåbro in Djursland. Er meint, es sei keine Wahl, ein so eingefleischter Ostjütländer zu sein, wie er es ist – es ist ganz einfach sein Schicksal.
Meet Benno here →
Where can I experience Christmas as it was a hundred years ago?
This is possible at Gammel Estrup manor. Here, you can see the exhibit of Christmas as it was to the count as well as his servants back in 1918.
On December weekends, the manor kitchen serves samples of Christmas treats, choir concerts and events with dancing around the Christmas tree are put on in the banqueting hall, just as a Christmas service is held at the manor chapel on 23 December.
Is there anywhere I can experience a rural Christmas?
Yes, visit Det Grønne Museum, with more than 25 years of experience displaying rural Denmark. The museum's many volunteers bring Christmas of past generations to life – and you get to join in!
Have samples of delicious Christmas classics and Christmas treats that – with or without good reason – have 'fallen into oblivion'. The museum is full of Christmas stalls, indoors as well as outdoors, that hold everything from woollen goods and ceramics to Christmas ornaments and delicacies.
A train and charming horse carriages will take you around the manor landscape, and should you get hungry, the manor restaurant 'Den Gamle Stald' offers delicious Christmas lunch with a generous sprinkle of gourmet. Here, old Christmas traditions and contemporary gastronomy merge into the perfect taste experience.
Can I get to experience Christmas at a castle?
You certainly can! The Christmas market at Rosenholm Slot castle brings you on a time travel back to a time, when kings and princesses lived at the castle; at least, this was the story in a children's TV show counting down to Christmas back in 1986 that was taped at the actual castle, named 'Jul på Slottet'. The hit show was run again in 1991, 1998, and 2013.
In 2011, the Christmas market came about as a marking of the 25th anniversary of the first airing of the show. In 2016, the market was named the 3rd most nostalgic Christmas market in Denmark, and with good reason, as the lovely old castle is jam-packed with Christmas stalls offering everything your Christmas heart desires; presents, treats, food, and beverages.
Where can I find a unique Christmas market?
Come to Ree Park Safari for Christmas at Central Station. You enter a completely different world when you arrive at the wildlife park's amazing Central Station. Under its high ceiling, you will find a great selection of Christmas stalls and activities, and all profits go to the Karen Blixen Camp Trust in Masai Mar, Kenya.
Parking is free, and admission is DKK 50 for adults and free for children under the age of 11.
Benno's tips for your day:
The most convenient way to get around to the many different places is by your own car. Parking is available everywhere and usually it is free.

The Christmas markets around Djursland are filled with creativity and nostalgia at prices that cater to everybody.

The outdoors is a wild and magnificent place, so do not forget to bring appropriate clothes so you can fully enjoy the experience.

The nearest Christmas lunch is never far away. You might want to make reservations in advance at a cafe or restaurant in Ebeltoft or Grenaa, so that you know what menu you can look forward to.

Do you have a friend who just has not reached that Christmas spirit yet? Bring him or her to a Christmas market and the atmosphere is sure to get to them.