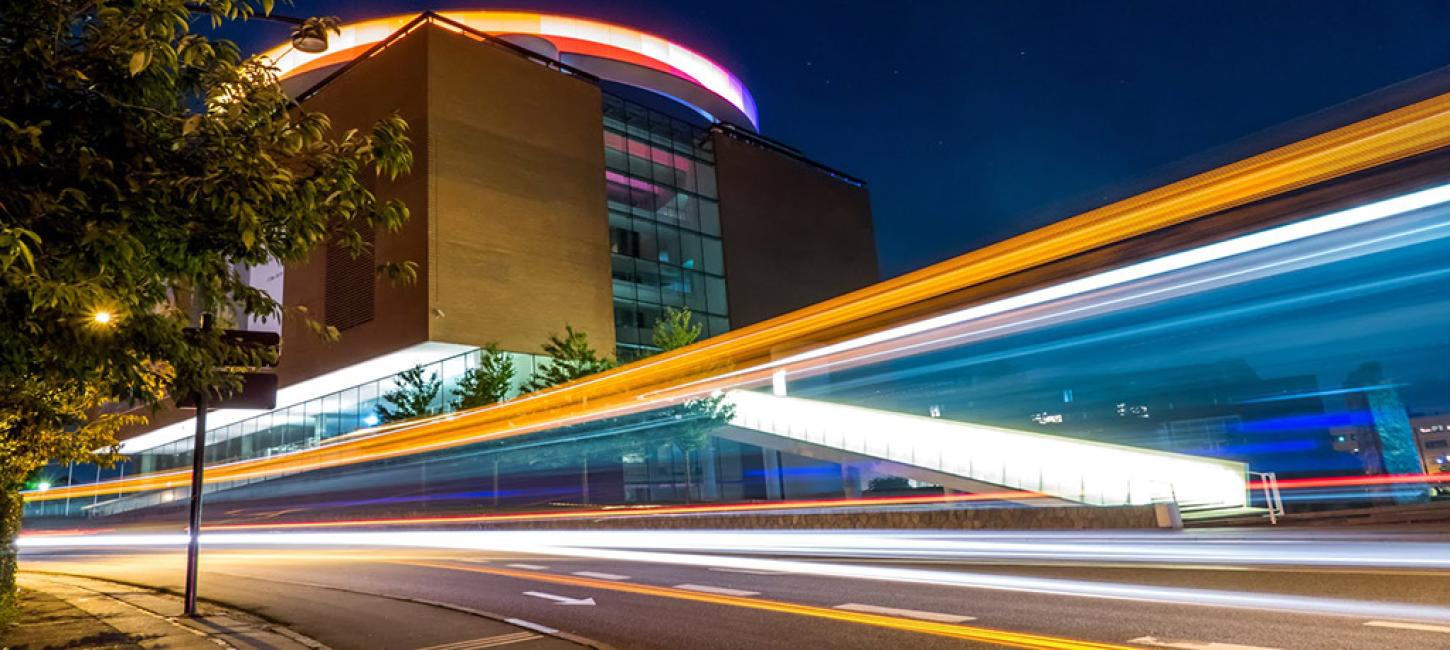 Art from the streets to beautiful gallery walls
Aarhus is the home of a diverse art world where you'll find everything from street art and crafts to internationally renowed art museums and galleries. 
ARoS Aarhus Art Museum
One of the perhaps most famous buildings in Aarhus is the art museum ARoS. The museum is one of the most visited art museums in Scandinavia – and probably one of the most iconic with the rainbow at the top of the reddish-brown brick building. The piece 'Your rainbow panorama' by Olafur Eliasson is a giant installation where you can walk around all the colours of the rainbow and enjoy the view over Aarhus.
ARoS also offers temporary exhibitions with world famous artists and a permanent collection with art works from the Golden Age until today.
Kunsthal Aarhus
Kunsthal Aarhus is a modern exhibition gallery for contemporary art at the centre of Aarhus. Here, you'll find art in a wide context and outside of the building you can go for a walk in Kunsthal Aarhus sculpture park with works by Danish as well as international artists. You can also experience the local art school Det Jyske Kunstakademi's graduate show every year.
Crafts and creative workshops
Aarhus is a treasure trove of small and cosy crafts shops and cooperative initiatives with a focus on art and creativity.
The Quarters
If you're interested in local craft makers it is a must to go for a walk in the streets of the Latin Quarter where you will find everything from jewellery makers, artists and ceramicists.
Make sure you don't miss going a bit further south to Frederiksbjerg where you'll find Jægergårdsgade. The lovely street offers a wide range of shops with for example ceramics and if you're the creative one you'll also find several shops with materials for you.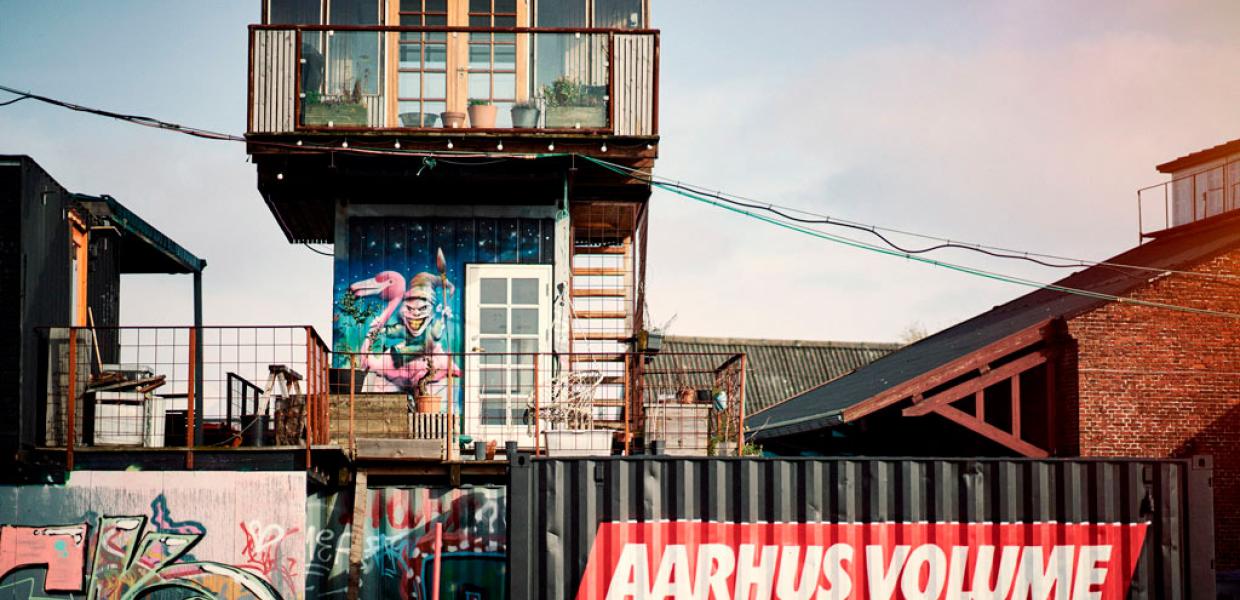 Photo: Photopop, VisitAarhus
Godsbanen
Godsbanen is thé place when you're in Aarhus to look at art and creative spaces in the city. Here, you'll find exhibitions and workshops with woodwork, jewellery, ceramics and textiles. Go for a walk in the modern building in Aarhus' newest area, Brokvarteret, and enjoy the hustle and bustle of creative work, diners enjoying a meal and a drink at the restaurant Spiselauget and the cosy atmosphere of this modern community hall.
On the weekend, you'll often find markets with second hand stalls, art, knitwork from small, local producers and many other things.
Right next to Godsbanen is the new architecture school so the whole area really oozes of creativity, life and art in all shapes and forms.
Aarhus is filled with galleries where you can go in search of the next artwork for your wall or simply enjoy art in beautiful surroundings.
In the lovely Vestergade you'll find many different galleries like for example Gallery Lene Bilgrav with modern sculptures and paintings or Gallery TESE, which has a love for (what the people behind the gallery describe as) artistic interdisciplinary and interactive processes with artists who think conceptually and in search with body and mind. In other words, in Vestergade there is something for everyone. 
A stone's throw from Vestergade is Gallery V58 in the historic and beautiful building 'Børnely'. The gallery started in Vestergade and has kept its iconic name V58 as an ode to the old address: Vestergade 58. The gallery has more than 400 square metres of exhibition space spread over two floors. The gallery represents over 35 professional national and international artists. Gallery V58 has a wide range of exhibition from solo to thematic.
The colours of the cityscape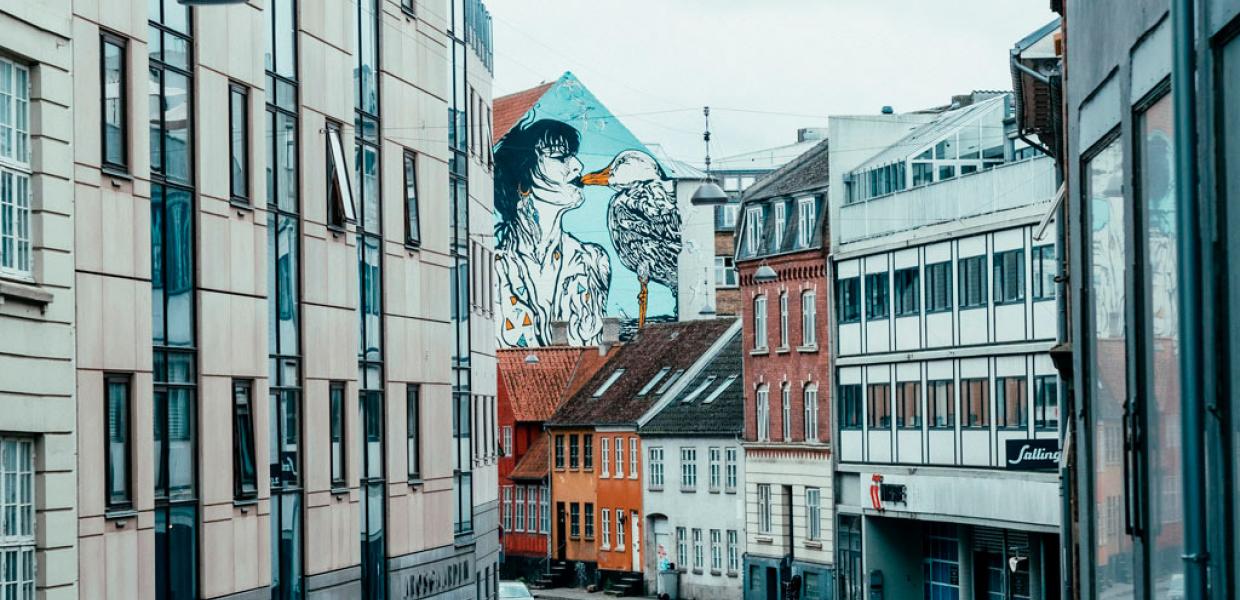 Photo: Kunstner Hans Krull, foto Frame & Works
When you want to go from gallery to exploring the art of the streets Gallery Grisk is a great place to start. Galleri
Street Art og gade-gallerier
Galleri Grisk is an untraditional gallery with art on the walls from both Danish and international street artists. The gallery is on Thorvaldsensgade 33a and here you can easily begin your tour around the streets of Aarhus. On Sonnersgade/Valdemarsgade you'll meet a piece by Peter Birk, one of the guys behind Gallery Grisk. Further down Valdemarsgade is another mural, the street art portrait of David Bowie by the artist Jesper Klikkenborg.
These streets are also around Godsbanen and Institute for X where you can find several pieces if you give yourself the time to really stop and look. Institute for X is a collection of shipping containers that have been transformed into quirky coffee bars, shops, workshops and bike repair shops among other things.
Continue your street art tour further into the city in the Latin Quarter where you'll find art works at the end of buildings, on walls and wherever else you find yourself gazing.
The centre of Aarhus has a lot of fascinating sculptures that you'll meet out and about in the streets. Make sure to check out 'Harbour workers by Dokk1' at Dokk1 by Jens Galschiødt, 'Poseidon' on Hack Kampmanns Plads by the artist group A Kassen and 'Bernhardt Jensen på cykel ved Magasin' right by Frederiksgade 1 by Jan Balling.
Content production is supported by Danmarks Erhvervsfremmebestyrelse.