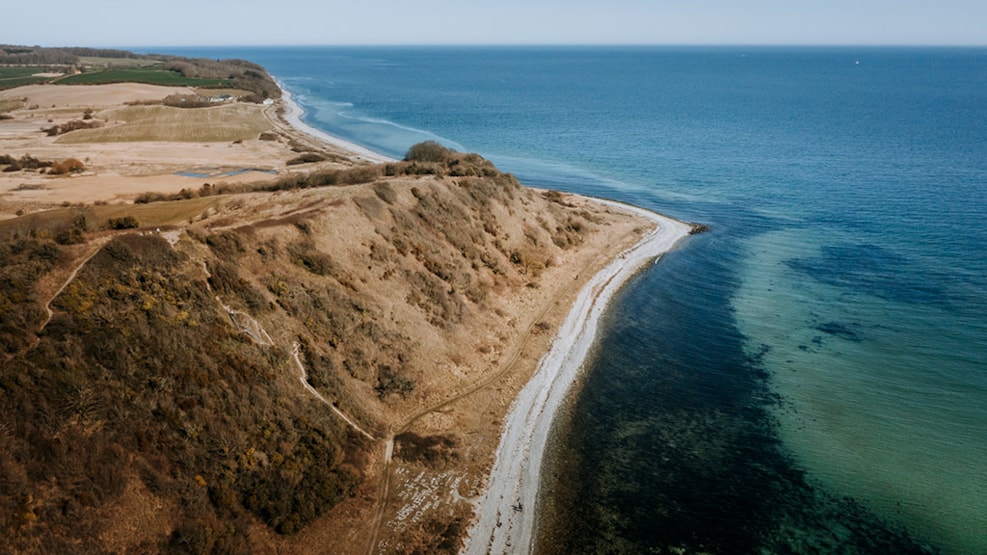 The Iron Hat Jernhatten
Jernhatten, which is a part of the National Park Mols Bjerge, is 49 m high. Here is a lovely view over the sea towards the island Hjelm.
The local climate with little rain and lots of sun, has created special conditions for plant and animal life. Plants can be found here which otherwise are normally only found in south-east Europe.
View of Helm's Deep
From Jernhatten, the view is incredible overlooking Hjelm Dyb and the island of Hjelm. The Danish historian, Casper Clemmensen, has conducted extensive research on the world-famous writer, J.R.R. Tolkien. In his book about Tolkien and the mythical Jutland, he presents strong argumentation to the idea that Tolkien was heavily inspired by people, sagas, and names of places that were related to for instance Djursland while creating his amazing fictional world, in which The Hobbit and The Lord of the Rings take place. One of these places is Hjelm Dyb, which Tolkien brought into his world as Helm's Deep.
Here, you can find out more about Tolkien's fascination by Djursland.
See what others are sharing on Instagram