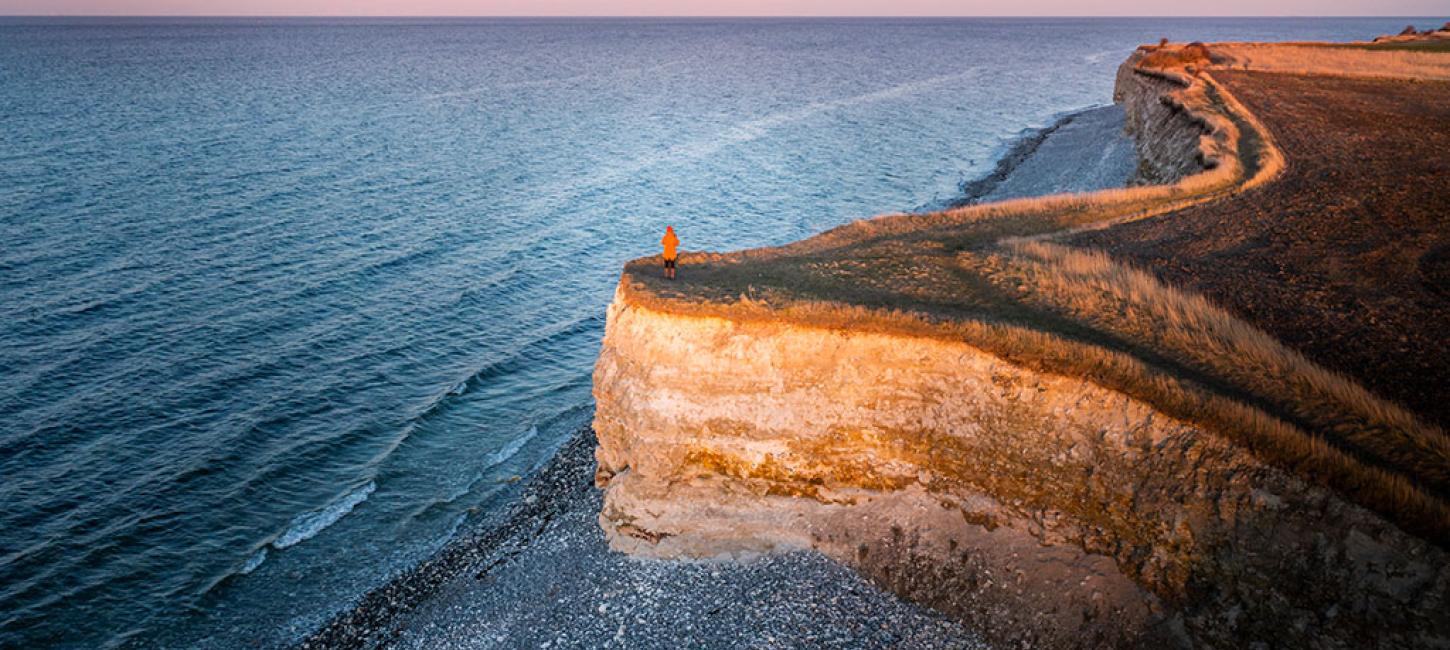 Into the nature in the Aarhus Region
A cool breeze blowing through your hair, the smell of heather, birds singing and nothing but captivating scenery as far as the eye can see - then you know you are in the Aarhus Region
Nature at its very finest in the Aarhus region
The exceptional landscape displaying indelible traces from the glacial period holds wonderful countryside experiences and a journey 10,000 years back in time, when massive glaciers pushed sand, rubble and clay over the area. Back then, the ice formed the magnificent and diverse landscape filled with lakes, streams, forests, hills and breathtaking lookout points.
In the unique landscape formed by vast glaciers in National Park Mols Bjerge, you may very well meet wild horses and grazing cattle on the warm and sunny pastures. The dramatic landscape surrounding Hald Sø and the heather covered Dollerup Bakker near Viborg are the absolute gems of Danish glacial geology.
Denmark's perhaps most beautiful landscape unfolds in the Lake District Søhøjlandet between Silkeborg and Skanderborg along Denmark's longest stream, Gudenåen (158 km) and the lakes surrounding the national treasure, Himmelbjerget.
Did you know that Gudenåen is 158 km long and Himmelbjerget 147 m tall - with access to many activities and experiences.
Nature for the Young Ones
Tag børnene med og udforsk de mange områder, vores natur byder på. En tur op i bjergene, ned under jorden i grubber, til fiskevande og actionparks, badesøer og badestrande.  
Angling in the Aarhus Region
Tag fiskestangen med, når du tager på ferie i Aarhusregionen. Her er et utal af muligheder for at nyde naturen, fiske, nyde stilheden og fordybelsen i at være ét med naturen. Når børnene er med er en fisketur også altid et hit.
You can also explore the underground caves in the world's largest limestone mine, Mønsted Limestone mines - and at a secluded location in the Kattegat sea you will find Anholt, an island for nature lovers, with sand dunes, white sandy beaches, open spaces everywhere you look and Northern Europe's largest desert.
In Denmark, you are never more than 50 km away from the sea, and it is hard to resist the temptation of going to the beautiful coastline in the Aarhus region. Here, you will find wide, white, sandy beaches with dunes as well as serene inlets framed by impressive limestone cliffs. The 360 km coastline is pure heaven for beach goers, fossil hunters and nature lovers alike.
The beaches encircling the peninsula of Djursland have shallow waters and are absolutely ideal for children. Several of the beaches are Blue Flag certified, which is your guarantee for clean water and well-equipped facilities. If you are feeling like a swim in Aarhus, jump in at the new harbour bath designed by world-renowned architect Bjarke Ingels.