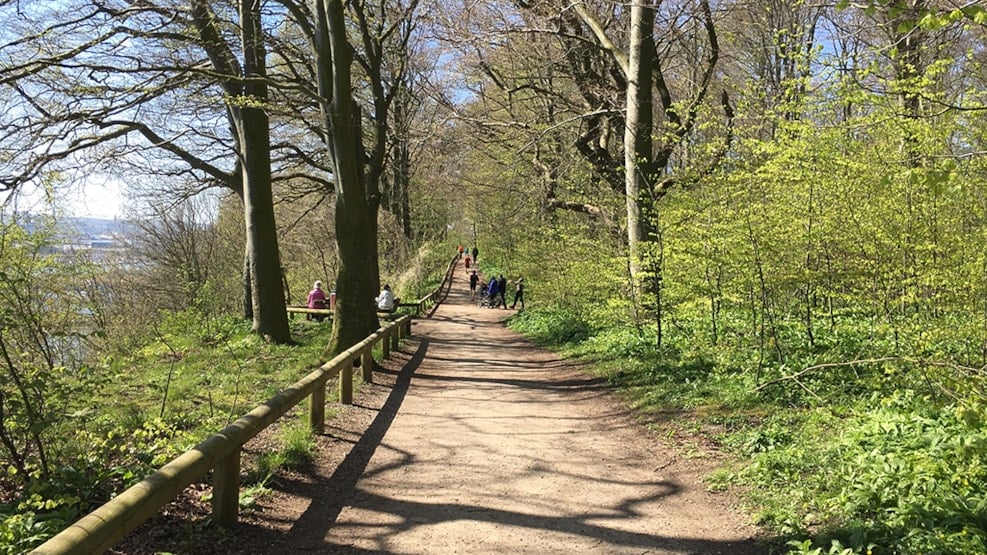 Riis Forest
Riis Skov is a recreative area for the citiziens of Aarhus and its visitors. You are welcome in Riis Skov 24 hours and all months the year. The forest consists of a varied vegetation as well as a good system of paths and smaller roads. 
Enjoy an excellent view of the Aahus Bay
From the western side (especially the south-western part) of the Riis Skov there is an excellent view over the Aarhus Bugt (Bay of Aarhus).
The history of Riis Skov
In the year of 1395 Her Majesty Queen Margrethe the 1st determined the demarcation of the common field at which the southern part of Riis Skov (Riis Forest) went to the town of Aarhus. The northern part of the forest was presented to the town by His Majesty King Christian the 3rd in 1542.
Riis Skov was bustling with entertainment offers
Riis Skov were the primary picnic destination for the citiziens of Aarhus in the 19th century and the forest became more and more visited. In the 19th century there was a wide range of entertainment including music three different places in the forest, at "Salonen" (now the restaurant "Sjette Frederiks Kro"), at Ferdinands Plads (square in the forest) and "Pavillionen" now a Danhostel inn, Aarhus Vandrerhjem.

From the town of Aarhus it was possible to take a horse-drawn cab or the "skovbåde" ("boats of the forest") which sailed until 1938.
Running trails
Red trail approx. 3,3 km, Yellow trail approx. 4,7 km. 
Starting points by the fitness equipment in the south of the forest.
See a map here.
 
Forests in and around Aarhus
Walking and running routes in Aarhus
See what others are sharing on Instagram