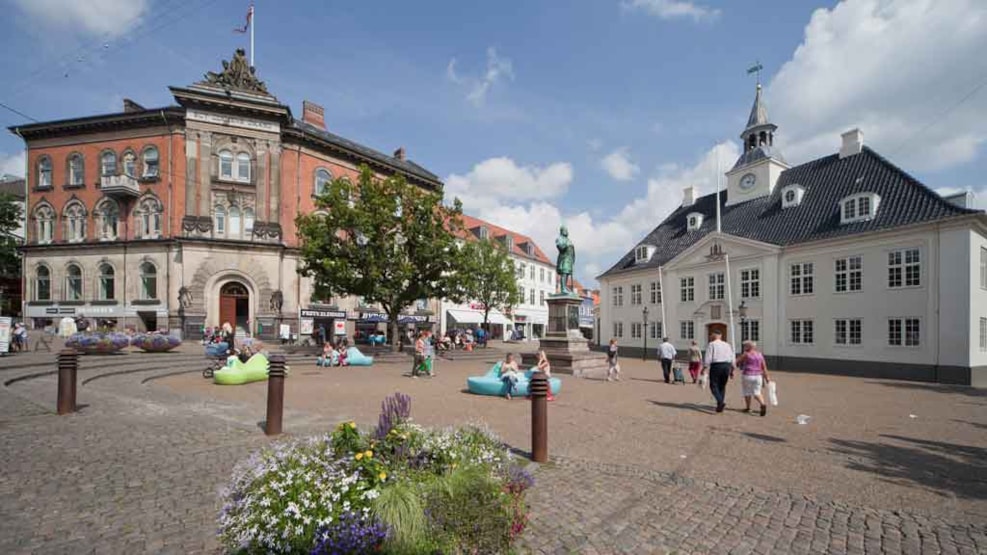 Rådhustorvet and Niels Ebbesen - A stop on the Star Route through Randers
The beautiful white building is the old city hall, which was built in 1778. It has not always been where it is today. In 1930 it was decided to move it 3 meters, because the road next to it had to be made wider.
There was a need for more space, as more cars had entered the city. The city hall was raised and steel beams were shoved under it. Then it was pulled with ropes to the new spot - this took 3 days. At the spot where city hall stood earlier, you can now see an angel in the sidewalk.
The statue in the middle of the city hall square shows Niels Ebbesen. He was a true hero. The Danish king had used too much money, and therefore had put all of Jutland in mortgage to a German count Gert. The count was starving the Danes with extremely high taxes. Niels Ebbesen snuck in and killed the count in 1340. The statue is made of old canons from a ship, and was made by F.E. Ring in 1882.
The Niels Ebbesen Statue is positioned looking south, to keep a lookout for the Germans.
Find out more on the Star Route through Randers.
See what others are sharing on Instagram