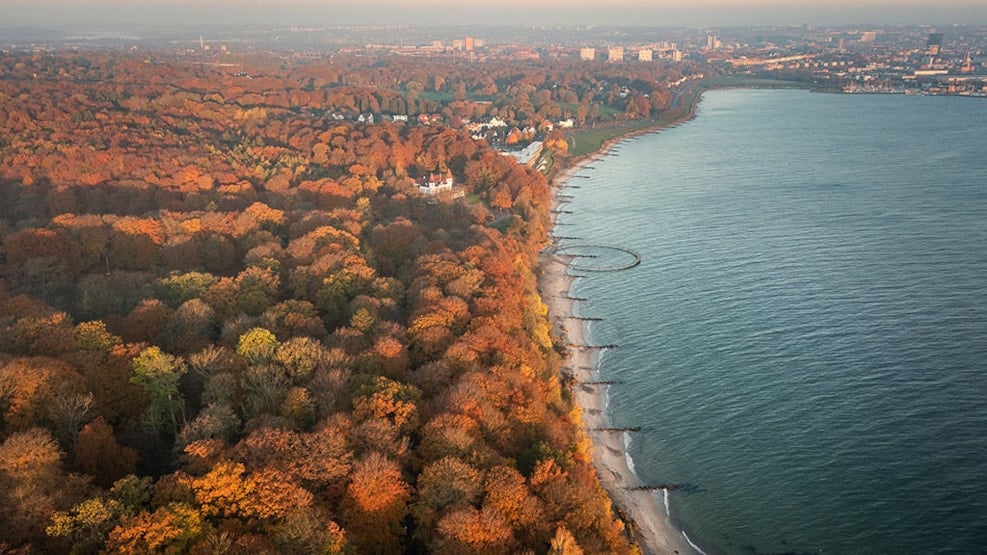 Marselisborg Forests
South of Aarhus a forest belt streches 7 kilometres along the coast. The part of the forest near the city is known as Marselisborg Skovene (the Marselisborg Forests). The large, continuous and old beech stands which can be seen in this area are quite unique in Denmark.
Hilly area
The ground in Marselisborg Forests is hilly with deep slopes. In some places the clay soil of the slopes has fallen down so that the trees lean towards the water.
Well-preserved trees and nature life
Around 1820 the forests were badly overcut. Therefore the present trees have practically all been planted after this period. However, some conifers have been planted in this century. 
200-300 year old beech trees 
Spread around the forests, especially in Moesgård Skov you will find a few 200-300 year old beech trees which have been preserved for aesthetic reasons. Today they are the breeding place for some species of birds brooding in caves.
Ourdoor activities
The Marselisborg forest is one of Denmark's most frequently visited nature resorts and is used for an endless list of ourdoor activities such as running and cycling events. Despite the forest's rugged terrain, it is very well-suited for hiking, just as horseback riders come in large numbers, as the forest has marked off riding trails.
Furthermore, a 25 km mountainbike trail runs through the forest, and the mix of flat grit-paths and steep hills and descends adds to the diversity along the way and makes for a great experience for everyone.

Walking and running routes in Aarhus