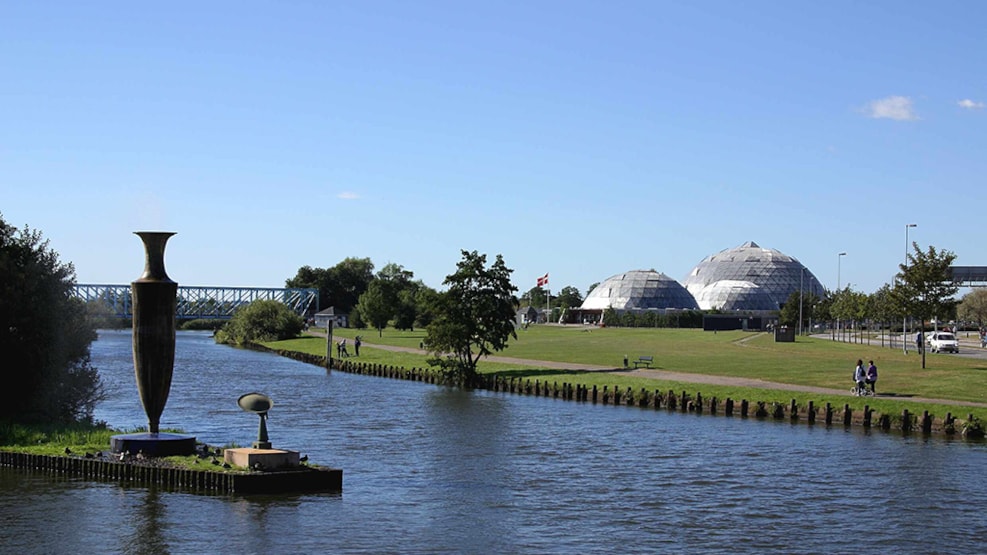 Cycling route: Along the old railway
Jutland's first railway was the section between Aarhus and Randers, which opened in 1862. The railway was built by the English company Peto, Brassey & Betts, and this company already in 1861 established a factory in Randers to build rail cars.
Length of the route: 30.0 km
Worth knowing about the route
Parking: Brotoften in Randers C
Road surface: Asphalt and gravel
Estimated cycling time: Approx. 2.5 hours (at 12 km/hour)
Traffic conditions: A few major roads are crossed.
Randers and the railroad
The factory's director Robert Rowan got the idea to also build a railroad from Randers to Hadsund, and it opened in 1833. It had its own railway station in Fischergade until the railway was closed in 1969 driving through a scenic area over Lem to Spentrup, is today a bike and hiking trail, and that is what you follow on this trip. From Spentrup the trip goes back to Randers via Bjergby and Borup.
Lem and Lem Church
If you want a short detour you can cycle to the village of Lem. Lem has a high proportion of conservation-worthy houses and on Lemvej you can see the beautiful, partially enclosed courtyard facades surrounding the road. The farm Syvager from 1872 was converted into apartments in 2009 and the farm is a good example of how agricultural buildings can be reused and transformed in a way that they continue to express the original purpose of the village and buildings.
Spentrup
The poet Steen Steensen Blicher was a priest in Spentrup from 1825 until his death in 1848, and here he wrote several his most famous poems and novellas, e.g. "E Bindstouw". In Blicher's memorial room in Malvina's House, one can see some of his manuscripts and personal effects such as his desk. The house is named after Blicher's much-beloved daughter Malvina who lived in the house after she married the administrator of the vicarage. Spentrup Church is a Romanesque church, constructed from granite ashlar blocks and with a late-Gothic tower. In the chancel arch, well-preserved chalk murals from approx. 1225 can be found, and the votive ship "Tordenskjold" was put on display for the first time in connection with Malvina's wedding in 1838. Blicher's burial plot can be found in the churchyard here.
Hvidsten
Hvidsten is first and foremost known for its royally licensedinn, which was founded back in 1634. Since 1884, the Fiil family has owned the inn, and today it is run by the fourth generation. Innkeeper Marius Fiil formed the Hvidsten Group in 1943, which was in charge of receiving weapons drops to the Danish resistance movement during the German occupation (read more under the route The Hvidsten Resistance Group).
Bjergby
Bjergby is an old village, and as it says in Danish it is situated on a hill. Today the town consists of 10 large farms and some few houses, and this has been the case during the last couple of centuries.
Borup
Borup Church has likewise been built of granite ashlar blocks in Romanesque style, whereas the tower is late Gothic. In the porch stands a rune store from the Viking Age. It was not found until 1995 under the bricked-up northern door, and the runic inscription goes as follows:"Ase (eller Æsi) rejste denne sten efter Thorgot, sin fader, Boves søn, den bedste Thegn" (Ase (or Æsi) raised this stone after Thorgot, his father, Bove's son, the best thegn). A "thegn" is an aristocratic retainer or a person of high military rank.
See more cycling routes in and around Randers right here.