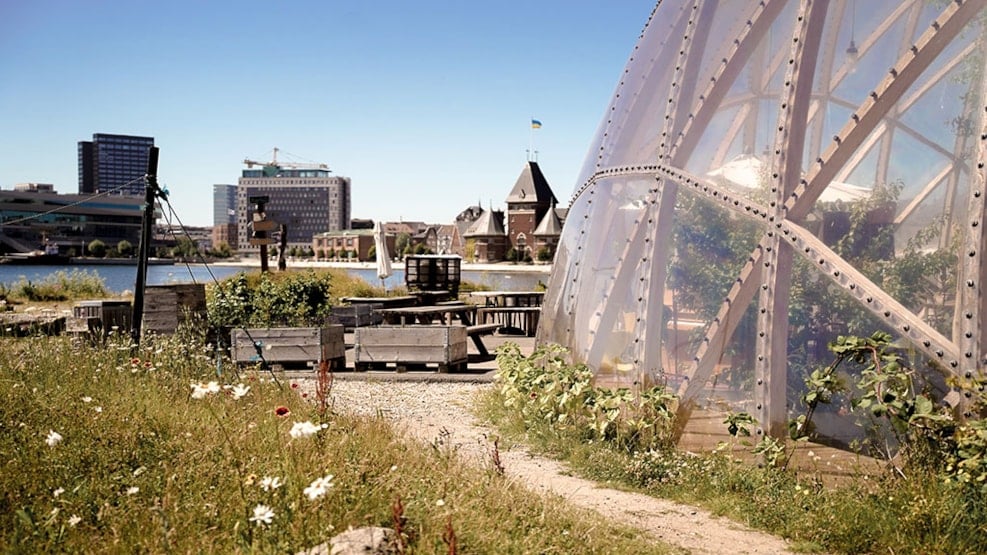 The Aarhus City Park at Pier 2
Close to the city center of Aarhus and right by the water, you will find the city park at Pier 2. Here you can experience a green oasis with plenty of opportunities to relax, be active, or enjoy Aarhus from a new perspective.
You don't have to go far from the city center before you encounter one of the city's new green oases. The temporary city park at Pier 2 in Aarhus Ø covers an area of 25,000 m2 and was inaugurated in 2022.
Focus on Sustainability
When you enter the city park, you are greeted by flower-covered hills, paths, and plenty of plants. The park is made using various recycled materials. The hills are made from sand from the seabed, and the paths are constructed from old asphalt. Furthermore, trees that have been felled from other places in Aarhus are placed in the park as habitats for insects and beetles.
Boat Tours and Beach Volleyball
Further into the city park, you have a multitude of activities to choose from. You can, for example, take a boat tour in Aarhus Harbor with a boat from GoBoat, play a game of beach volleyball on the beach volleyball courts, or sit down on one of the many benches scattered throughout the park.
If you take a break on one of the benches along the water, you can enjoy the view towards Aarhus and the harbor area. The view from the city park offers a new perspective of Aarhus that you may not have seen before.
In the middle of the city park, you'll find the Dome, which is a social venue housed in a large dome where you can purchase various refreshments. Bringing your own food and drinks into the Dome is not allowed.
See what others are sharing on Instagram