Claus Christensen
Photo:
Alexander Håkansson
Lokal in Aarhus
Claus Christensen was born in Næstved on the Danish island of Zealand, however today, he has been living in Aarhus for more than 50 years. According to Claus, the best thing about Aarhus is that this little big city can it all and has it all, and everything is within reach
The beautiful coastline facing east, the spectacular harbour setting, the historical city centre, that large selection of world-class museums and fascinating architecture dating back to different time periods ranging from the Viking Age and up to today.
Claus has had a career as a lawyer, but today, he has retired and spends some of his time as part of the "ReThinker" network within the framework of VisitAarhus. "ReThinker" is best described as a bank of volunteers, that cultural operators and institutions in the regions of Aarhus, Randers, and Syddjurs can draw on as staff for various projects and events.
For example, Claus works as a host when cruise liners arrive in Aarhus harbour, and he has greeted more than 40 ships and thousands of guests (an average of 1,750 passengers per ship) with a warm welcome to Aarhus. Claus is particularly delighted with meeting and having conversations with the guests. He speaks German, French, and English, and he simply loves sharing his recommendations with the guests – not to mention hearing about the highlights of their day when they return to the ship.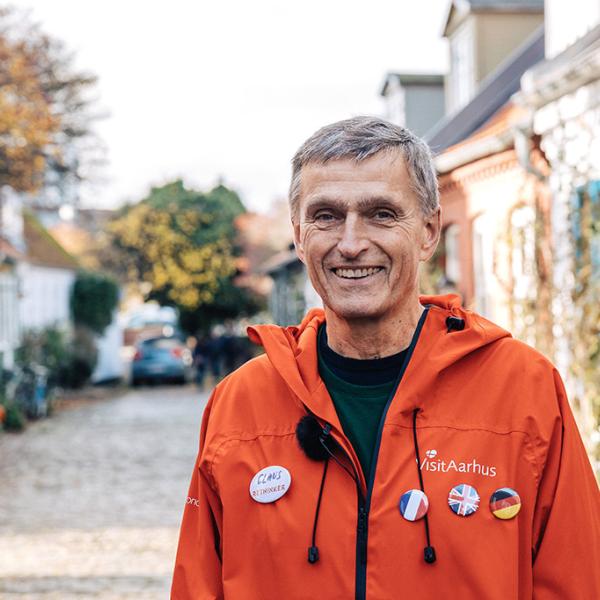 Photo: Alexander Håkansson
Interests: His garden and his greenhouse, golf, travelling, volunteering, and engaging in conversations with people from other cultures. And not least – the opportunity to use his language skills.
Claus' guide
Follow in Claus' footsteps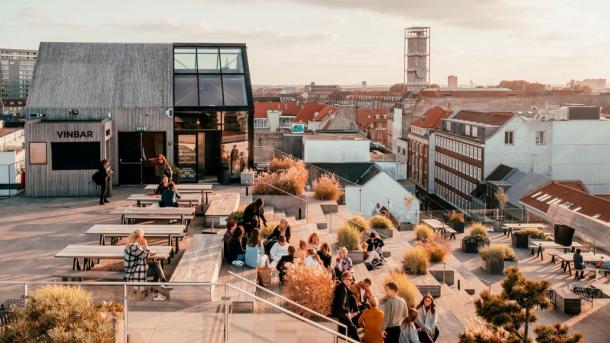 The new and the old Aarhus
There is so much to see in and around Aarhus, and you can easily spend several days here. However, I have met a large number of guests who are here for just one day, which is why my guide focuses on wonderful adventures to be had in a single day on foot around the central part of the city.