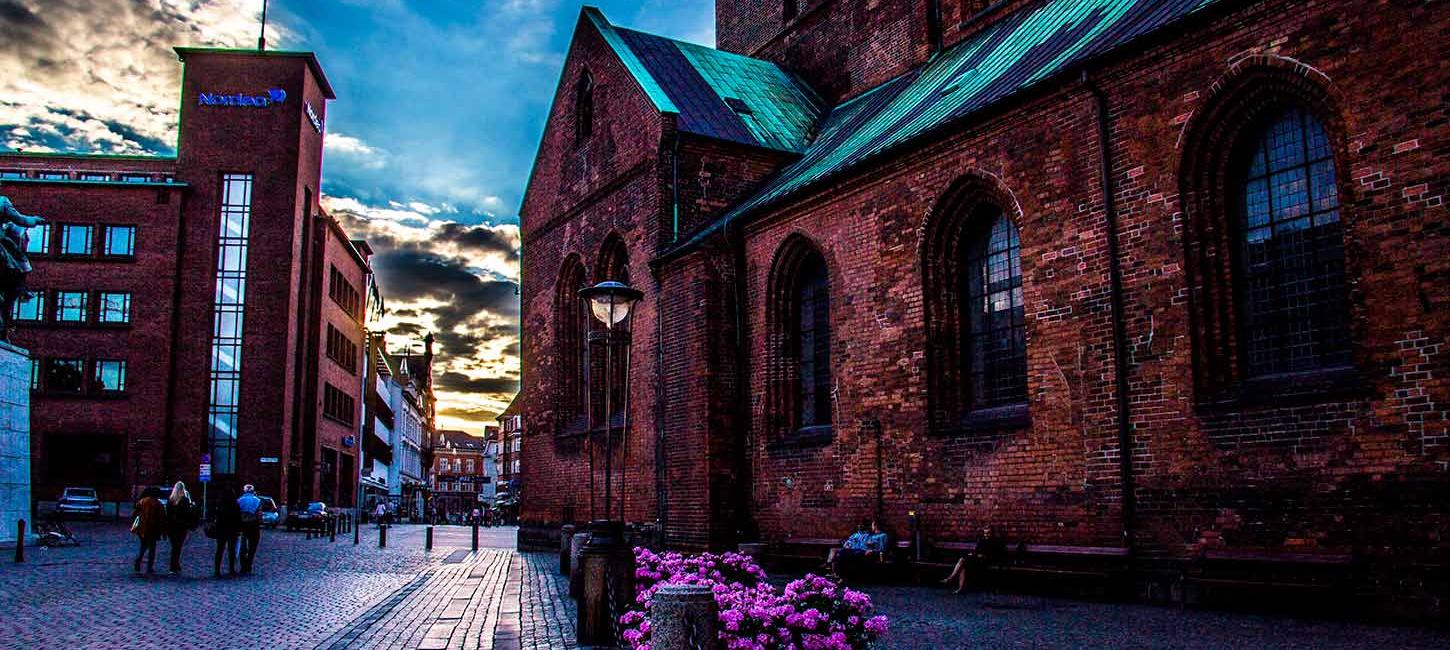 The History Route
Explore Aarhus on your own. Visit churches, museums, old highways and byways, and the City Hall - in several versions. Enjoy yourself!
The city's commercial community
We start in the streets of Nørreport and Mejlgade. Until 1850 this was the location of the city's north gate where duty was claimed on all goods entering the city. In Mejlgade you pass the large merchants' houses where business was brisk. It was also here in these houses that small industries began to emerge before industrialisation took off on a major scale towards the end of the 19th century.
Churches and convents – Police and peacefulness
From Mejlgade you arrive at the city centre and the cathedral. The foundation stone for this impressive building was laid in 1201, and the cathedral was completed in its present form during the first half of the 16th century. The City Hall was located in the city's main square, the Store Torv, in front of the cathedral until 1857 at which time the old city hall was torn down and a new one was erected to the north side of the cathedral – this building today houses the Women's Museum and the Occupation Museum.
From 1941 to 1983 the building held the police station. If you walk across the Main Square and the Small Square, where the gallows stood for many years, and then go on along the Vestergade street you reach the Church of Our Lady - yet another impressive church building and an old convent. From here you can carry on along Vestergade to Grønnegade and Møllestien, which is an idyllic old street with cosy well-preserved old houses.
The more recent part of Aarhus
If you walk from the Cathedral and cross the Clemens Bro bridge to go up the Strøget/Søndergade pedestrianised high street you enter a more recently developed part of the city. Aarhus expanded and developed significantly during the latter half of the 19th century, and many of the imposing townhouses along the high street were built during this period. Today this high street is pedestrianised and leads all the way to the central station – and the new shopping-centre, 'Bruun's Galleri'.
The present Central Station and the buildings around this square date back to the 1920s and the 1930s, as do the buildings in the Park Allé avenue. Park Allé is also the address of the City Hall which was inaugurated in 1941. From City Hall Square you can continue on to Frederiks Allé from where you can see some of the city's more recent major buildings such as Concert Hall Aarhus, the Scandinavian Congress Center, and the ARoS Aarhus Kunstmuseum art museum.
Explore more history and culture