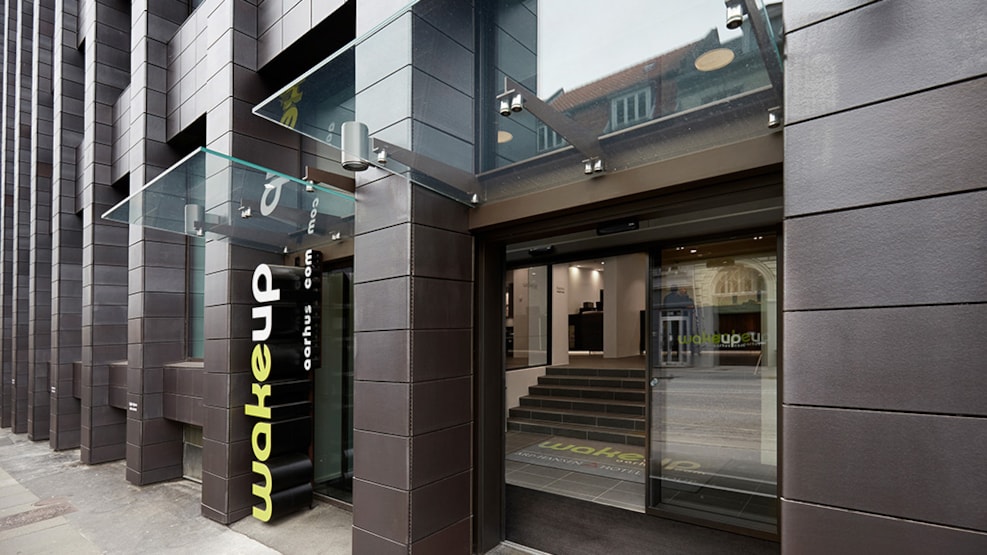 Green Experience
Wakeup Aarhus
Wakeup Aarhus is a cool and modern budget hotel designed by architect Kim Utzon - focusing on functionality and design.
Minimalistic design and quality
Wakeup Aarhus is a hotel that is ideal for those who want an affordable stay when visiting the "City of Smiles". Wakeup Aarhus is, like the other Wakeup hotels, beautifully designed with clean lines that recur throughout the hotel. There is emphasis on minimalist design and quality at the hotel's 315 rooms, all of which contains a flat-screen TV, work desk, air conditioning and free Wi-Fi.
A unique hotel with a unique location
Wakeup Aarhus is to find at the corner of M. P. Bruuns Gade and Jægergårdsgade – right in the center. This means that you can have an overnight stay with Bruun's Gallery next door and with Aarhus Central Station just around the corner. The location makes it easy and convenient to stay in Denmark's second largest city.
A great view
Although the hotel has 2 stars, it measures with a 3-4 star hotel experience. All rooms is completed and furnished with pieces from some of the best Danish furniture manufactures, and from the upper floors, guests will have a great view over the rooftops of the city. Wakeup Aarhus is a part of Arp-Hansen Hotel Group.
See what others are sharing on Instagram