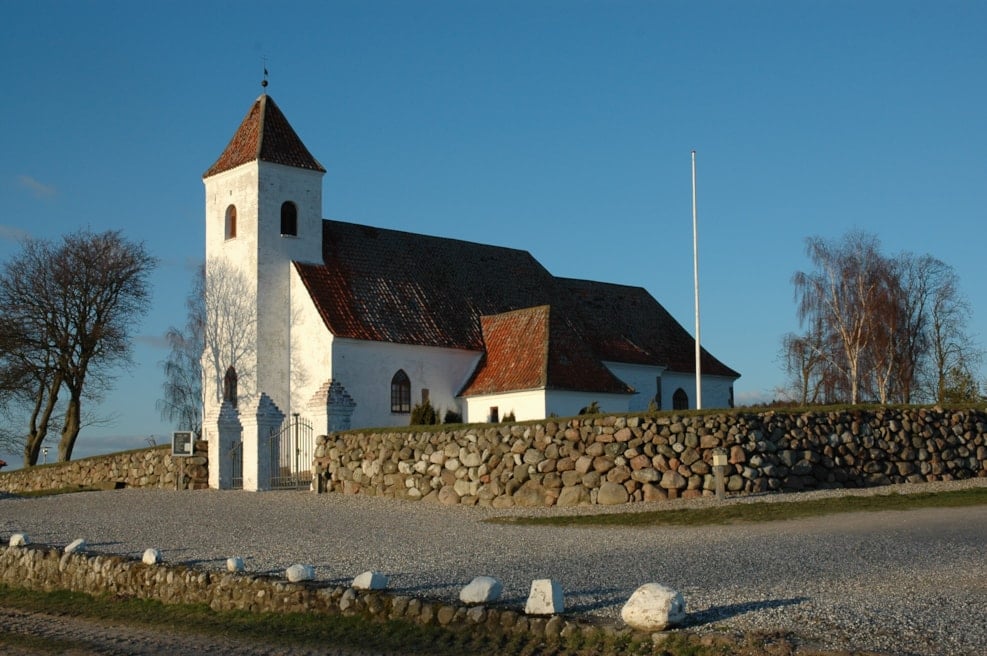 Vistoft Church
Vistoft Kirke was erected on a so-called "fake" hilltop a few hundred meters south of the village of Vistoft. The church is located approximately 60 meters above sea level, making it one of the country's tallest churches. From the church, there is a wide view of Knebel and Kalø Vig.
The church was likely built around the middle of the 12th century. It was built of raw and chipped boulders, with corners and door frames of squares. Originally, Vistoft Church, like other Romanesque churches, consisted of choir and ship. In the first half of the 16th century, the church was expanded to the south with a porch and to the west with a so-called "stilt tower" (tower with a high opening to the west). At the same time, a vault was inserted into the choir. The ship has a flat beamed ceiling.
From 1740-86, provost Erik Gjørup Begtrup lived in the rectory, which was located N for the church. He was one of the first private individuals in the country to create a flower garden. He was also a pioneer in both the school and the poorhouse, as well as agriculture.
The church underwent extensive renovation and redevelopment in 1774. The church was restored again in 1942 when several frescoes were uncovered.
The 13th-century church bell has been preserved, and it is still ringing at church services and weddings. The bell is one of the oldest in the country, as only a few church bells left from the Middle Ages.
In the past, there was a drill ground at the church.
The priest is not available to meet on Mondays.
The church is open every weekday between 8 am-16 pm.
However, the church may be closed due to ecclesiastical acts.