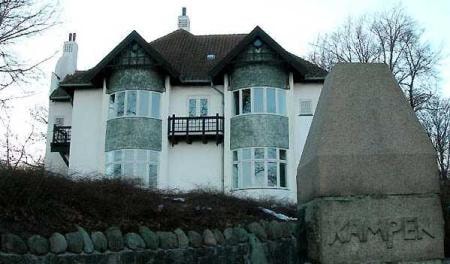 Villa Kampen
In the 1902, Hack Kampmann built a house for himself and his family on the Beach Road. Villa Kampen, which the house was called, is strongly influenced by the English architecture.
Although it does not look like it at first glance, the house layout is very irregularly built. This is typical of contemporary English villas. The differences in the terrain have been utilised in a great way, so it looks like the the house is growing out of the rock and grass.
Originally Villa Kampen was next to another house, which was identical and made by Kampmann for a bank manager in town. Both buildings were over a several years used as institutions. The twin house was unfortunately demolished and replaced by the large concrete building on the left side of the house.