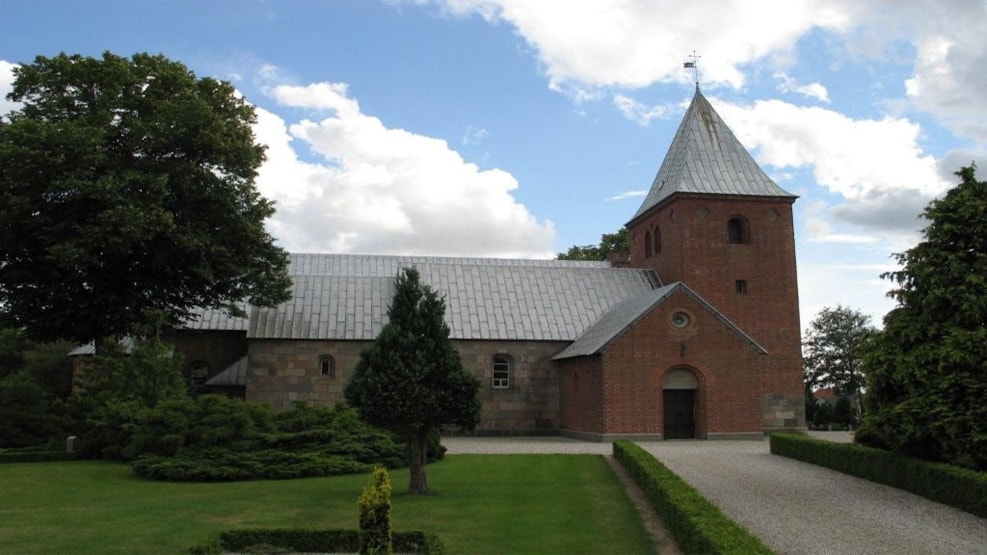 Vejlby Church v. Allingåbro
The church is a Romanesque church built in the twelfth century. Later, both the porch and the tower were built in red monk stones which presumably happened around the year 1500.
As it sits on a small hill in the old wasteland village, one can easily imagine that the peasants built the church in the middle of the farms, but lifted to the highest point in the village so they had to go up the hill to seek strength and comfort in the community of worship. In everyday busy activities with animals and land, they had to lift their eyes to see the church that had no tower in the first 3-4 centuries it lay there.
A round apse in large red bricks appears next to the old church's flat choir wall to the east. It reveals that there is a church ship south of the old one, built much later in new but large bricks, to fit the monk stones in both tower and porch.
In the west gable is an entrance door wide enough for one to get through with a coffin or to go in procession with a team of confirmands into the church and up to the altar through the wide aisle. This new door is placed in the middle of the most beautiful granite portal made by the famous stone master Hårder, who worked on Djursland in the 13th century.
Inside the church, you can see the elements of the old Romanesque church with round arches and star vaults, richly decorated with decorative frescoes with flower borders and strokes in variegated colors.
Open during the sexton's working hours