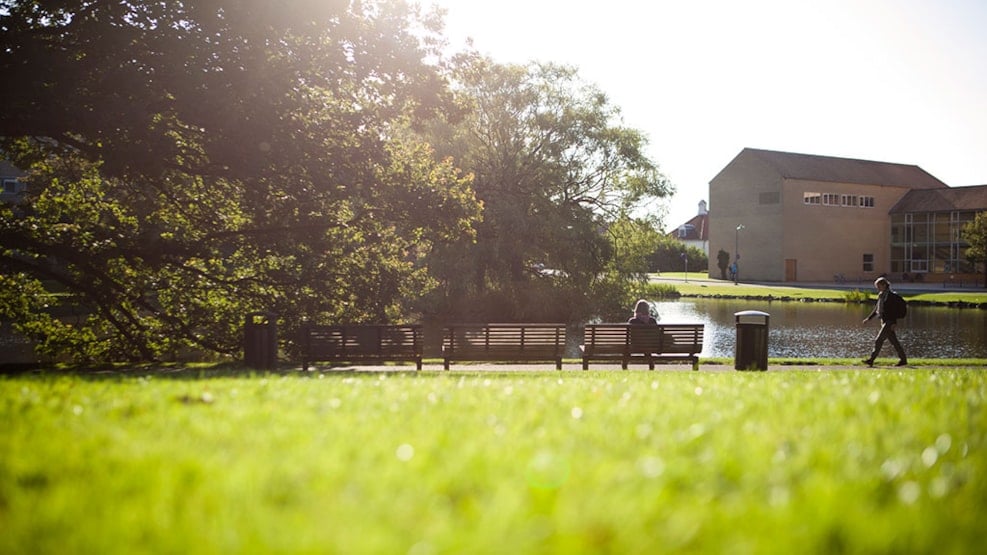 The University Park
Go for a stroll in Aarhus' University Park and experience the unique campus atmosphere. The University Park is a nice place to enjoy a sunny day on the vast grass lawns with their shady trees, and you are surrounded by the iconic buildings and dorms of Aarhus University, and you will also find Aarhus Natural History Museum on the premises.
The area is a lush, green oak park with a lake in the centre of the rolling moraine valley, where you will come across ducks and other wading birds. The University Park is a breathing space in the city for employees having their lunches, students studying for their exams, local children and visiting tourists.
Architecture, Museums And An Amphitheatre
You are in for all sorts of impressions and experiences when you visit the University Park. The acknowledged Danish architect C. F. Møller is the mastermind behind the yellow campus buildings, which in many people's eyes are amongst the most beautiful university buildings in the world. A walk through the park is an architectonic experience in a class of its own.
In the Northern part of the park you will find a gorge containing an amphitheatre from 1949. The place adds an extra dimension to the park and is often used for informal university events. In the University Park, you also have the opportunity to look deeper into the world of research at the Natural History Museum or you can travel back to ancient Egypt and Greece at the Antique Museum.
 
The Park is one of many green areas in Aarhus.
See what others are sharing on Instagram