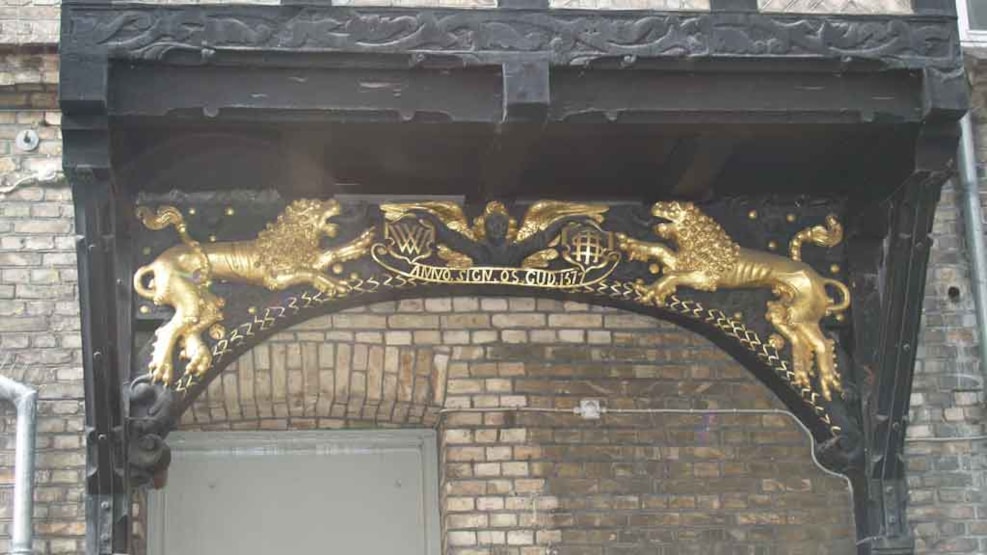 Torvegade and Kirketorvet in Randers
Torvegade (Market Street) in Randers is known from the medieval period and is part of the original main road through Randers.
Located at Torvegade 11 is Hotel Randers, Jutland's first proper hotel, which was built by merchant and wine trader C. G. Schmidt in 1856. The hotel has been restored several times.
From Torvegade, there are two passages to Kirketorvet (Church Square). One is located right next to number 12, where Løve Pharmacy was housed for 120 years. Løve Pharmacy in Randers, which is now located on Østervold, was founded in 1634 and is one of the oldest pharmacies in Denmark. In the gate to the passage, there is a floor mosaic that reads "1634 APOTEK 1908".
If you go through the passage and into the courtyard, you can see an incredibly beautiful gate hammer that dates back to one of the large merchant houses that existed in Randers in the 1500s.
The second passage is located at Torvegade 14, where Jydsk Kaffekompagni (Jutland Coffee Company) was housed for many years. Jydsk Kaffekompagni, which closed in 1974, was known for their "Salomons coffee". The coffee was named after Professor Dr. Salomon, who had constructed a coffee roasting machine.
In the passage, there is a relief that was donated by the staff on the occasion of Jydsk Kaffekompagni's 25th anniversary in 1906.
Formerly located on Kirketorvet was the cemetery of the Helligåndskloster (Holy Spirit Monastery) (1485-1536). In the 1820s, after the cemetery was closed, the area was converted into a square.
At the far end of the square is Helligaandshuset (House of the Holy Spirit), which was built in 1434. The building housed a Latin school from 1783-1857, where, among others, Steen Steensen Blicher was a student.
In the 1800s, there was consideration given to tearing down Helligaandshuset, but instead, it was restored and now functions as an exhibition and meeting building.
See what others are sharing on Instagram