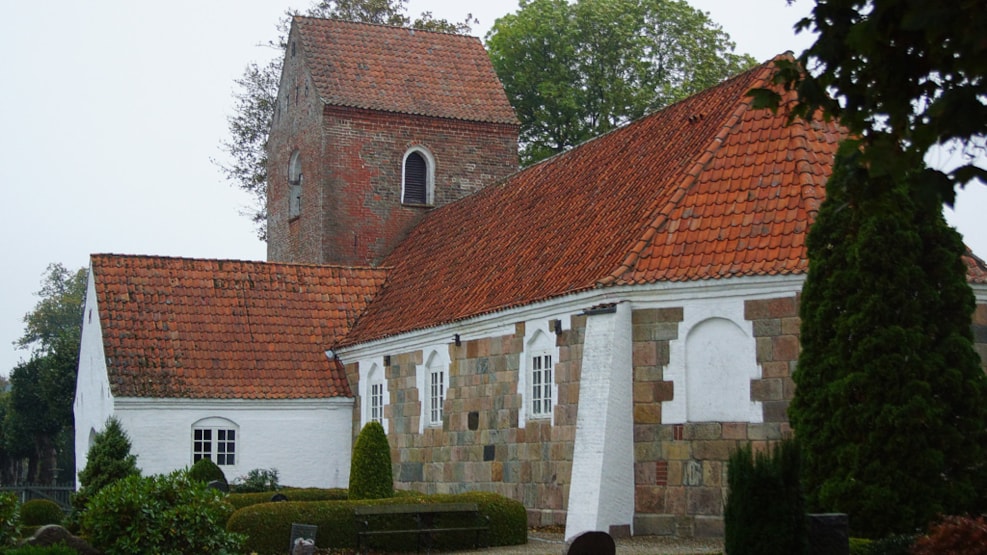 Toestrup Church
Tøstrup Kirke is originally a Romanesque granite square church, probably built in the latter half of the 1100s with the still-standing ship and a narrower square choir.
Today, the building itself appears largely as it stood after the reconstruction and extension around the year 1500.
In 1986, a thorough restoration of Tøstrup Kirke was completed. The old building was thereby put in the best possible condition, and the church room presents itself in a different way than before, where the furniture was painted dark brown with oak, walls, and vault covered with whitewash.
Now the room is marked by the uncovered frescoes from 1582 and the also uncovered decorations from 1839 on the altarpiece and pulpit.
Remodeled in a Gothic style with vaults. In 1582, the entire church was decorated with post-Reformation frescoes, the resemblance of which cannot be found anywhere else.
There are lively ornamental ribbons and leaf garlands in many colors. You get the impression of a vaulted parlor. In 19 vaulted fields, portraits of prominent prophets and apostles are placed within each flower lime.
The baptismal font is romantic Djursland-type granite, beautifully done with carefully carved foliage borders. In 1984-86 the church received a comprehensive restoration.
Open inquiry to the sexton.