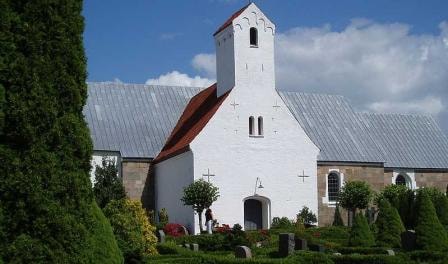 Todbjerg Church
The oldest parts of Todbjerg Church are as old as 1100 A.D.  The arches and the porch were added 1400 A.D and the little bell-tower was added in 1772.
The church preserves it's old original portals: On the woman's door tympanum a man holding 2 lions by the throat can be seen. On the capitularities there are gospel symbols. The portals' casing stones are special and a bit odd as both have been carved from the same stone.

The murals of the church were restored in 1906. They picture the expelling of humans from paradise and are among the oldest danish murals.

The alterpiece was made by Svend Havsteen-Mikkelsen and bear the motive of the shepherds visit at christmas eve.