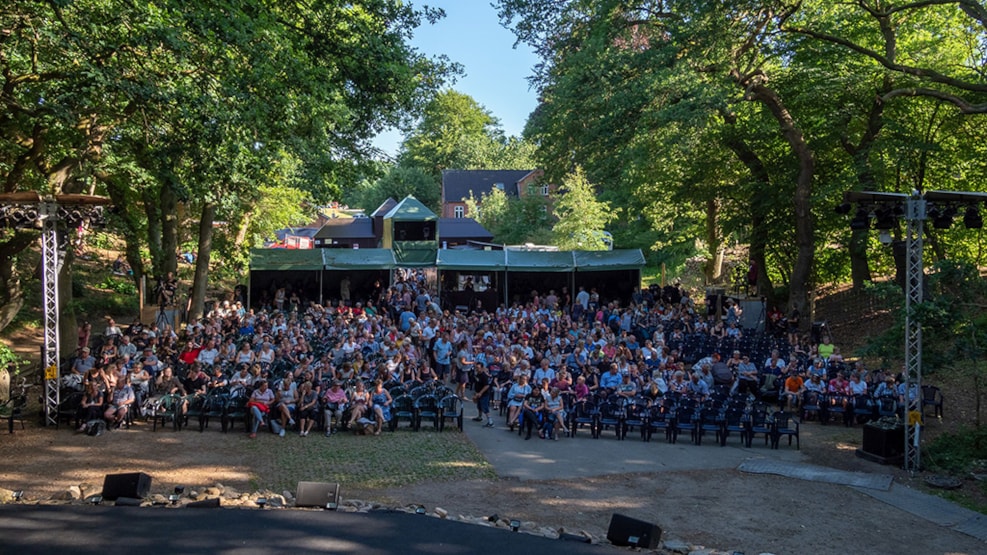 Thorning Friluftsspil
Thorning Friluftsspil is "Denmark's Most Enjoyable Outdoor Play" with seating for 585 audiences at each of the seven amateur shows at the beginning of June each year.
The outdoor scene is located in the town of Thorning with approx
1000 inhabitants - midway between Viborg, Silkeborg, Herning and Randers. The area of ​​the audience is surrounded by large old oak trees, creating an intimate atmosphere and a cozy outdoor "theater room".
160 volunteers are involved in the many functions of theater production such as actors, dancers, singers, musicians, stage builders, costume designers, makeup artists, technicians, PR teams, ticket sellers and even more.
Since the beginning in 1989, they have always focused on maintaining and developing the quality of the performances, and the ambitions are great for delivering high quality. Since 2006, the quality has been enhanced with professional instructor, choreographer, chaplain and choir leader, and they have received fine reviews from the audience.
Enjoy your food before the show starts
Bring a food basket and enjoy the food at the round garden tables with umbrellas before the show. Drinks, sausages, ice cream and coffee, etc. can be purchased at the kiosks. The forecourt opens 1½ hours before the performance.
This year's play
Look forward to this year's play "Folk og røvere i Kardemomme by". The play is for both children, parents and grandparents so bring the entire family and enjoy. 
See what others are sharing on Instagram