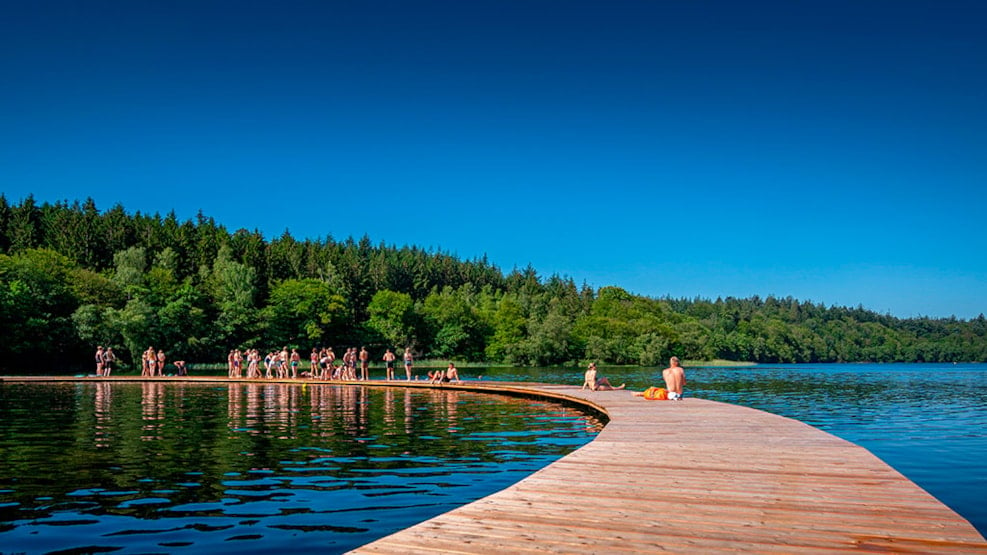 Swimming lake Østre Søbad im Lake District
The Lake Bath Østre Søbad by Almindsø, close to Silkeborg, is one of Denmark's cleanest lakes. There are two impressive round bathing bridges right next to each other, with a children's pool and facilities such as changing rooms, beautiful benches, toilets, and a sauna.
At the Lake Bath Østre Søbad, there is a lovely sandy beach and in the innermost bridge, which is only about one meter deep in the center, children can safely paddle and play. At the outermost bridge, however, there are good opportunities for diving and swimming in the clear water that is about 4.5 meters deep.
Not far from Østre Søbad is the Lake Bath Vestre Søbad, which also has two beautiful bathing bridges and facilities like those at the Lake Bath Østre Søbad.
Take a dip in Almindsø
Østre Søbad is located by Almindsø and is part of the entire Gudenå system, which runs through the beautiful Lake District Søhøjlandet. Almindsø is one of Denmark's deepest and cleanest lakes, with a depth of about 20 meters at the deepest point of the lake.
In the spring, the water is very clean and clear, making it incredibly popular among both adults and children. However, the lake bath is completely unique and a fantastic bathing spot both in summer and winter.
It is also possible to enjoy an ice cream, which can be purchased at the nearby kiosk.
See what others are sharing on Instagram