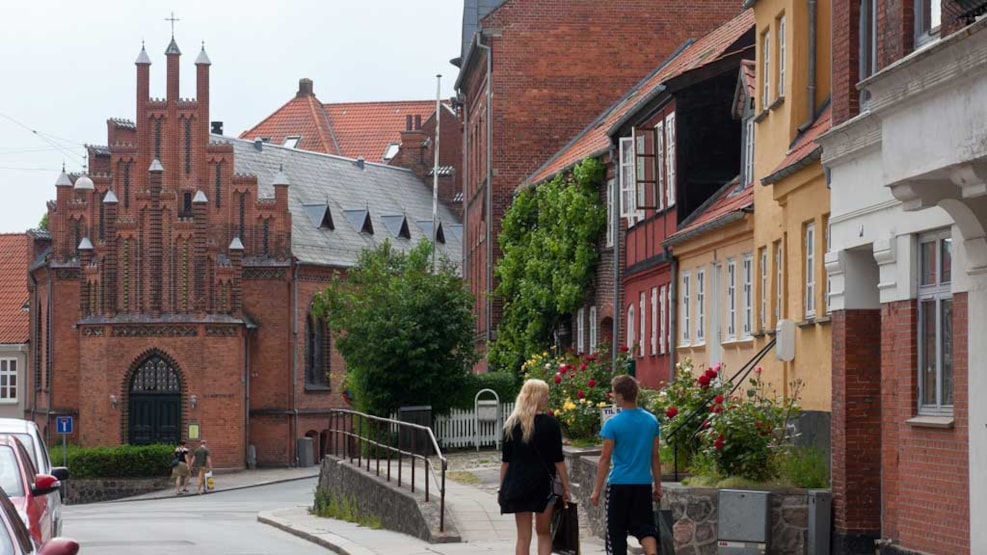 Staldgårdsgade in Randers
The area around Staldgårdsgade was in the late 17th century a part of a small suburb outside Vesterport, which among other things consisted of stable yards. A stable yard is a residence with a stable outside the former city walls, and in 1765 the area, which also included Von Hattenstræde and the innermost part of Vestergade, was called Staldgårdene.
The name Staldgårdsgade dates back to 1795.
Staldgårdsgade 2
At Staldgårdsgade 2 is Sct. Mortens Hus from 1896. The building, like many other prominent buildings in Randers, was designed by architect Jensen Wærum. The property has a very characteristic Gothic facade, with red stones decorated with glazed stones in brown, green, and yellow.
Sct. Mortens Hus
The building, which was intended to serve as a community center, was erected on the initiative of parish priest P. Scharling and several well-known Randers citizens. At the laying of the cornerstone in 1895, Scharling's account of the creation of the community center was written down and placed in a lead capsule that served as the cornerstone and was bricked into the wall.
In the early 1970s, the building was handed over to the parish council of Sct. Mortens Sogn. The house was later named Sct. Mortens Hus and today provides a framework for various activities such as lectures, teaching, and singing.
See what others are sharing on Instagram