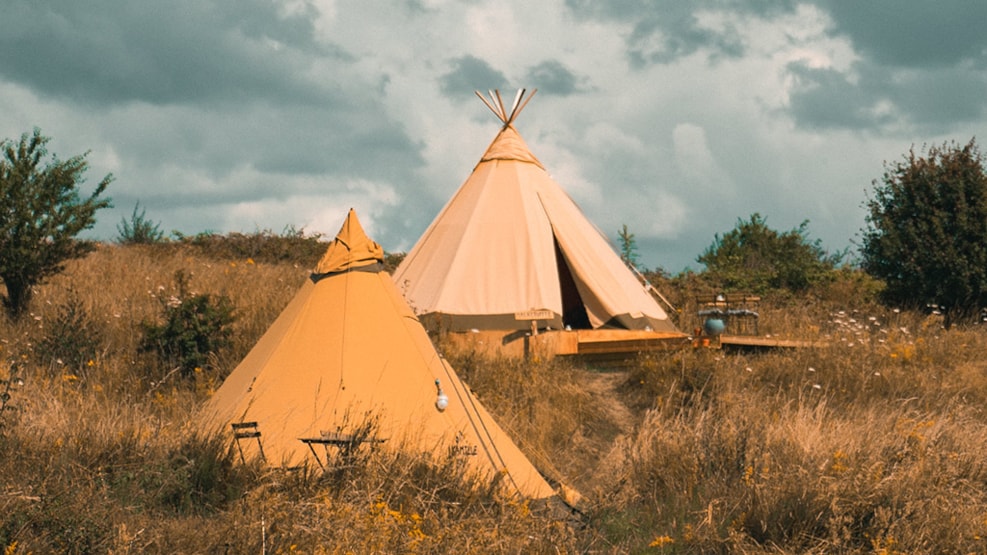 Spend the Night Under the Open Sky at Karpenhøj Naturcenter
Karpenhøj Naturcenter offers several kinds of open-air accommodation. Spend the night in nice shelters, in beautiful glamping tepees or at a hammock hotel.
Glamping Tipis
Karpenhøj Naturcenter's glamping tipis are located so high that you have a fantastic view all the way to Ebeltoft Bay, Hjelm, and Helgenæs. Here on the winding paths between wild grass and flowers lie the beautiful glamping tipis.
When you arrive at Karpenhøj Naturcenter, the tipi is ready for you with two comfortable field beds and a basket of all the necessary firewood and equipment you need to cook your own food on the campfire. The tipis come in five different sizes, so you can choose between the luxurious and the budget-friendly option. All of them have room for two adults in each tent. Children are welcome on their own sleeping mats at no extra cost.
Hammock Hotel
If you are going hiking in Mols Bjerge or simply looking for a different kind of accommodation, the Hammock Hotel in Basballe is the perfect base. Try an overnight stay with a view of the treetops and with delicious campfire food and cozy campfire included. After a good night's sleep in the hammock, you wake up to freshly baked bread and campfire coffee, ready for more great experiences in Mols Bjerge National Park and surroundings.
Shelters
Karpenhøj's shelters are large and with plenty of room for 6 people. There is a cozy campfire on the campsite and free access to campfire equipment for cooking over the fire. Choose between Karpenhøj's four shelters at the campsite, the luxurious west-facing shelter with a view of Begtrup Bay, or the forest shelter under the tree canopy. The latter two are secluded and invite more privacy on your shelter trip.
Book your open-air accommodation here.
Weitere Fotos auf Instagram