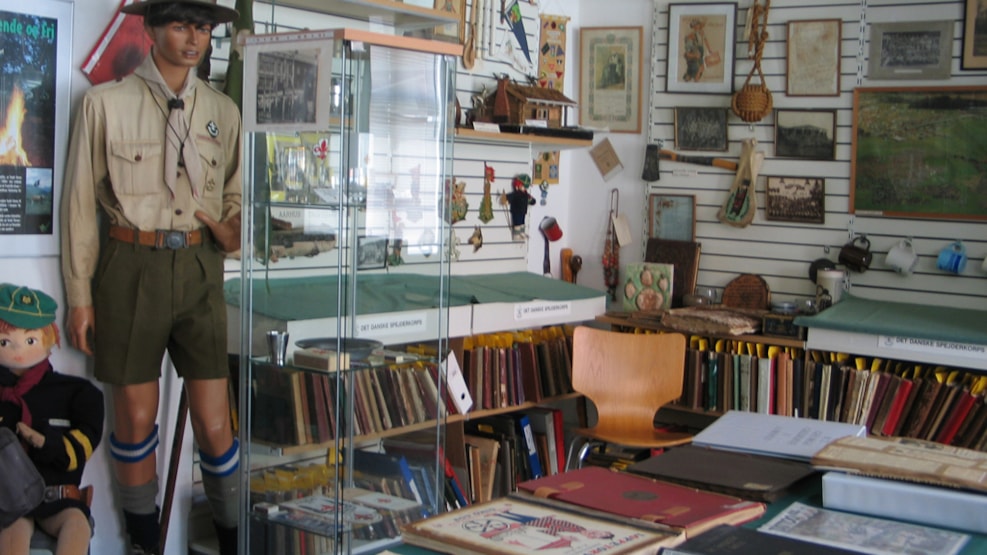 Spejdermuseet Århus 'The Scout Museum Aarhus'
In the Scout and Guide Museum in Aarhus you can experience, or re-experience, fond memories from the years of your youth and childhood of a movement which, ever since its beginning in 1907 in England, has played a major role in the lives of millions of children all over the world.
Baden-Powell the Aarhus way
The ideas of Lord Baden-Powell caught fire in Denmark in 1909. Soon after, in 1911, the movement caught on in Aarhus where it is alive and well to this day. The Scout and Guide Museum has existed for more than 25 years during which time it has collected an impressive amount of exhibits which portray the movement's work in the East Jutland area. For those who love to read, the museum also has a collection of scout and guide magazines and literature.
All colours of uniforms
The museum is for all major boy scout and girl guide associations in the area irrespective of the colour of their uniforms. The collections portray the Danish Boy Scout Association, the KFUM Scouts in Denmark (YMCA), the Green Girl Guides, and the now defunct Danish Girl Guide Association.

On display is camp equipment from the 'old' days and exhibits portraying the events and experiences which are common to the various associations, such as the grand jamborees and national camps. The first international Danish jamboree was held in the Aarhus area in 1913.
Once a scout or a guide, always a scout or a guide
Then there are of course those who kept it up. Many are still members of the scout and guide associations or the Danish branch of the International Scout and Guide Fellowship, which is also a part of the Scout and Guide Museum.

In fact the museum has one of the most significant collections of exhibits of Saint George the Dragon Slayer, who Lord Baden-Powell turned into a model for scouts and guides all over the world. And as a visitor to the museum you will most likely be received by someone who is still active in the movement.
See what others are sharing on Instagram