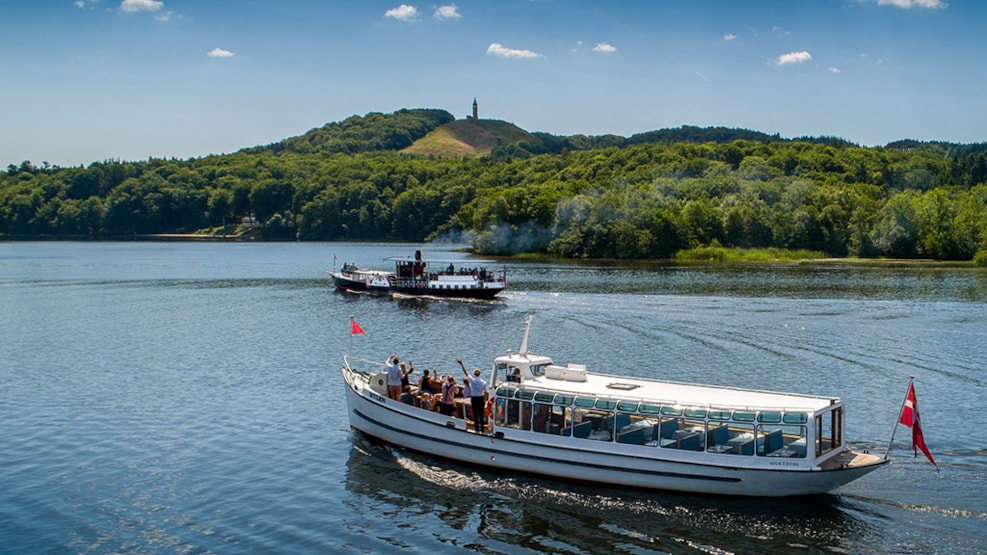 Sound theater on the Silkeborg Lakes
Experience sound theater at its best! Immerse yourself in the life of the Silkeborg Lakes and become a part of the fantastic stories about great kings and queens, skilled fishermen and diligent businessmen, heroic heroes, lake monsters, and all the fascinating characters who have sailed on the Silkeborg Lakes.
Join Hjejleselskabet for a fascinating sound experience - a sound theater where you find yourself in the midst of history, right on the lakes, and at the center of the events.
Sound theater in Denmark's most beautiful settings
Sail in the wake of Frederik VII and Countess Danner, where you will also encounter H.C. Andersen, Hostrup, and Caroline Pedersen along the way, experiencing their words about how Silkeborg and nature are an endless source of inspiration. Smell the cabbage of the barge haulers, feel the heartbeat of the resistance fighter, and listen to the music of the water. Enjoy a narrative that blends historical reality with folklore and music.
Book your ticket online and save money
You can experience the live sound theater on Hjejleselskabet's non-stop sailings from Silkeborg.
You can purchase the tickets at the ticket office by the harbor, but if you buy them online, you can save money on the ticket price.
Booking - here's how you do it
Select "Round trip Day / Evening"
Choose "Silkeborg" as the starting/ending harbor
Continue the booking process by selecting the number of tickets and desired date and time, then click "proceed to payment."
Before finalizing your booking, you have the option to add "Live Sound Theater."
Weitere Fotos auf Instagram